According to a recent report from App Annie, weekly downloads in mobile games surpassed 1 billion worldwide, up 15% year on year, maintaining the success seen in the second quarter.
During the third quarter, customer spend in mobile games across app stores accounted for $20 billion. The report indicates that, in 2020, mobile game spending is expected to extend its lead to over 2.8x over desktop gaming and 3.1x more than home game consoles. Google Play saw higher growth at 7% quarter over quarter, as compared to 4% on iOS. Games also accounted for the majority of consumer spend across both stores at 80% on Google Play and 65% on iOS.
On Google Play, most of customer spend in the third quarter was generated from the U.S., Japan and South Korea, while the U.S. was the largest market on iOS in terms of customer spend. RPG and Strategy genres generated the biggest share of the customer spend, led by popular titles including Pokemon GO and Rise of Kingdoms. Pokemon GO generated $445 million in player spending in the first half of 2020.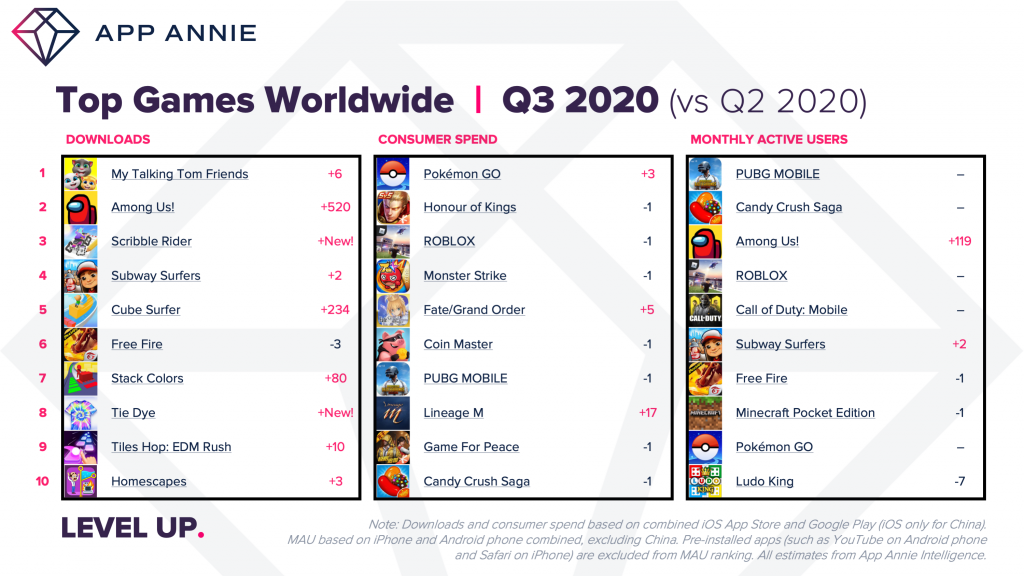 In the third quarter of 2020, there was also an increase in the number of games downloaded on both Google Play and App Store. However, Google Play surpassed the App Store in game downloads. While 2.6 billion games downloaded on iOS, Google Play accounted for 11 billion games downloaded in Q3 2020. Google Play saw a 20% year over year increase in the number of games downloaded. Games accounted for a higher share of overall downloads on Google Play than on iOS at 45% and 30%, respectively.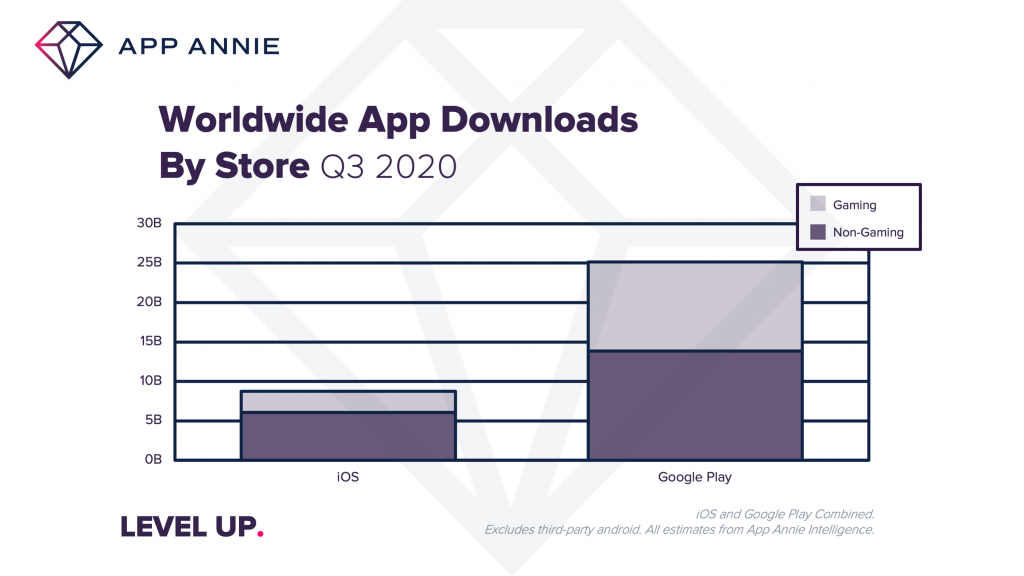 In terms of game downloads, India and Brazil were the biggest markets on Google Play, while the U.S. and China were the largest markets on iOS, in Q3 2020. The most downloaded game genres for the quarter was hyper-casual, puzzle, and simulation, led by popular titles including Scribble Rider, Homescapes, and Among Us! According to the data by Sensor Tower, Among Us has surpassed 120 million lifetime downloads and generated around $11 million in customer spendings.
Due to this intense interest, the mobile game industry has hosted very important mergers and acquisitions in 2020 so far. In the mobile gaming industry, there were 41 acquisition deals completed with a combined value of $4.6 billion in the first nine months of 2020.