Dealmaking activity in the game industry reached $71 billion in total deal value across 844 transactions in the first 9 months of 2021, up more than 2x as compared to the full year 2020, per Drake Star Partners report. 
Mergers and acquisitions represented $32 billion across 228 deals in the first 9 months of 2021. M&A continues to be primarily driven by the PC & console sector, with 79 closed or announced transactions with a $13.6 billion deal value. Mobile game companies accounted for 26% of total number of M&A deals with 60 closed or announced transactions.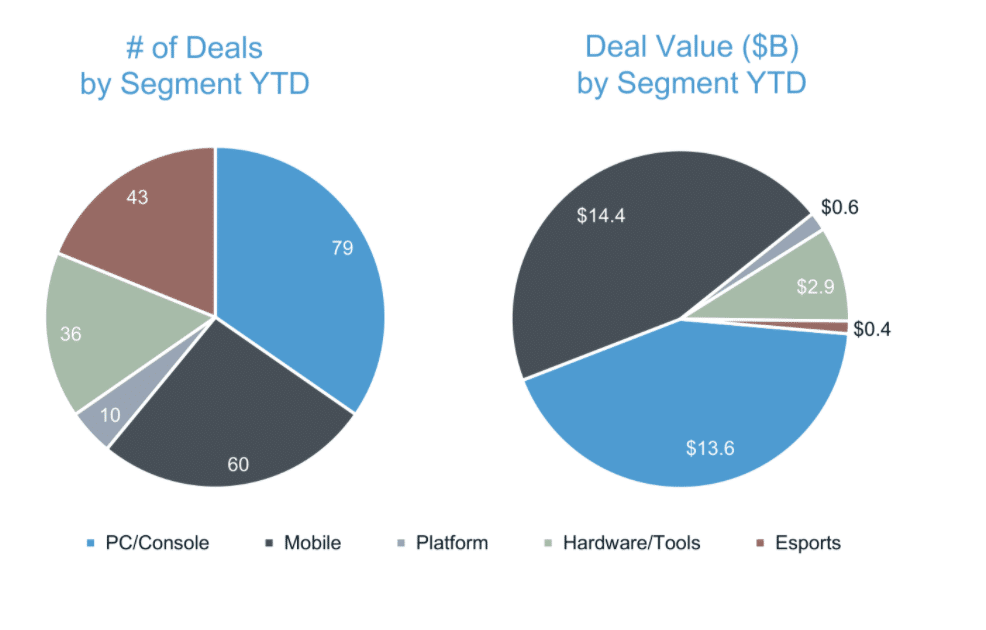 Netmarkble, ByteDance, and Tencent became the key acquirers of Q3 2021 with a total disclosed value amount of $4.96B.
Notable M&A Deals of Q3 2021
2021 has also been a year of high-profile IPOs, direct listings and SPACs, with Roblox, AppLovin, Playtika, Huuuge, PlayStudios, Krafton, Unity, and more. In the third quarter of 2021, Krafton completed its IPO raising a record $3.7 billion, Nexters completed its SPAC,  and Doubledown went public on Nasdaq through an IPO.
Fundraising
The investment activity in the first 9 months of 2021 has increased significantly with $9.0B capital raised across 493 deals, according to the report.
Notable Transactions of Q3 2021