Dealmaking activity in the video game industry reached $33.6 billion total deal value across 664 transactions in 2020 due to COVID-19 pandemic, according to InvestGame's annual report.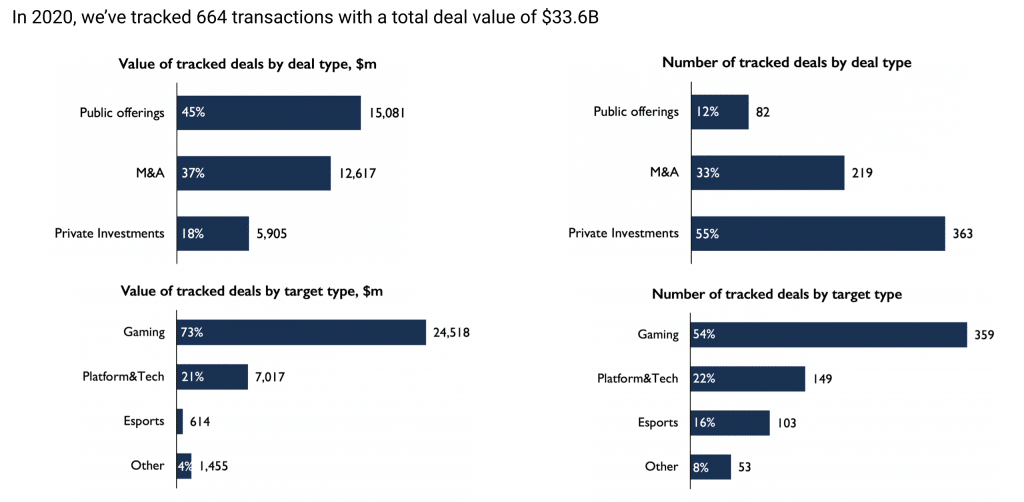 In the first three half of 2020, InvestGame had reported that the gaming industry reached an estimated $3.5 billion in mergers & acquisitions. The company reported a +100% increase in deal value and +50% in the number of deals during the second half of the year as compared to the first half.
The United States dominated the market with 36 percent of total deal value, followed by China with 27%.
Mergers and Acquisitions
Mergers and acquisitions represented $12.6 billion across 219 deals in 2020. Mobile game companies accounted for the 61% of total deal value with $6.5B. Tencent, Zynga, Stillfront and Embracer accounted for 60% of the total deal value and became the key acquirers of 2020.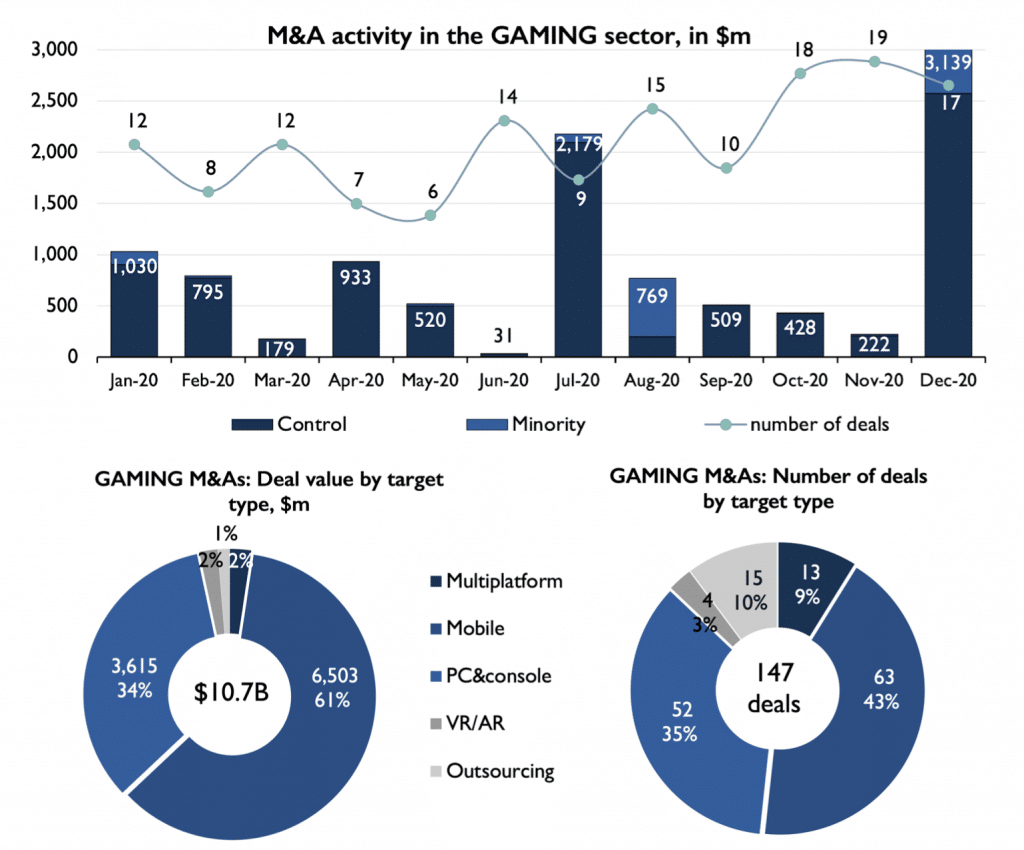 Back in May, Zynga announced the acquisition of Peak Games for $1.8 billion. In mid-December, Electronic Arts announced that it has reached an agreement to acquire UK-Based Codemasters in a deal worth $ 1.2 billion. Peak Games deal closed but Codemasters acquisition hasn't been closed yet.
VC and Corporate Investments
Despite high level of macroeconomic uncertainty, VC and corporate investments in the video game industry have increased and reached a record $5.9B in deal value across 363 deals in 2020. Major parts of these transactions, in terms of value (over 75%) and quantity (over 55%), are closed in the second half of 2020.
Early-Stage VC
Throughout 2020, the games industry saw robust Early-stage funding with game developers and publishers having raised over $426 million through 107 transactions, according to the report. Mobile remained the most extensive subsector with 42 deals (39%) worth $123 million (43%).
The United States accounted for the largest amount of Early-stage VC investments with 37 percent of total deal value.
Late-Stage-VC
After a relatively good start in Q1'20, Late-stage VC and Corporate activity has significantly dropped Q2'20 and bounced back in Q3'20, reaching over $2.9B with 48 closed deals, report said.
Mobile took the second place in terms of deal value with 25% and the first in the number of transactions with 30%. Multiplatform (primarily, PC & Mobile) accounted for around 70% of total deal value and included 6 transactions.
Public Offerings
In 2020, 11 game companies went public with $0.8B deal value. Public game dompanies have raised $4.7B across 39 transactions using PIPE and other types of public transactions.