Dealmaking activity in the video games industry reached $25 billion total deal value across 249 transactions in the first quarter of 2021, up 2x as compared to the first half of 2020FY, per InvestGame's report.
While M&As accounted for 57% of the total deal value of Q1'21 with $14.3B, public offerings demonstrated a "stunning" deal value of $8.3 billion, up 29X YoY growth with 3x number of closed transactions.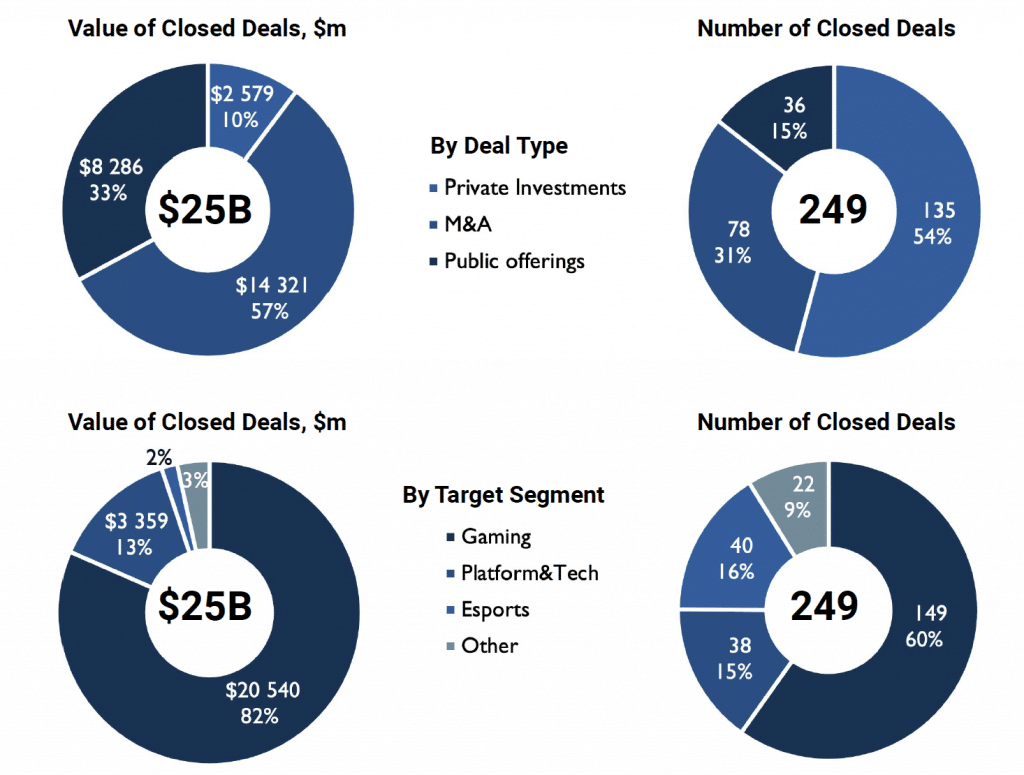 Mergers and Acquisitions
Mergers and acquisitions represented $14.3 billion across 52 deals in Q1 2021. M&A continues to be primarily driven by the PC&console sector, with 26 closed transactions representing half of all deals closed in Q1'21. Mobile game companies accounted for the 23% of total number of M&A deals with 12 closed transactions.

Microsoft, Embracer, and Electronic Arts became the key acquirers of Q1 2021 with a total disclosed value amount of $13.4B.
Largest M&A Deals of Q1 2021
Public Offerings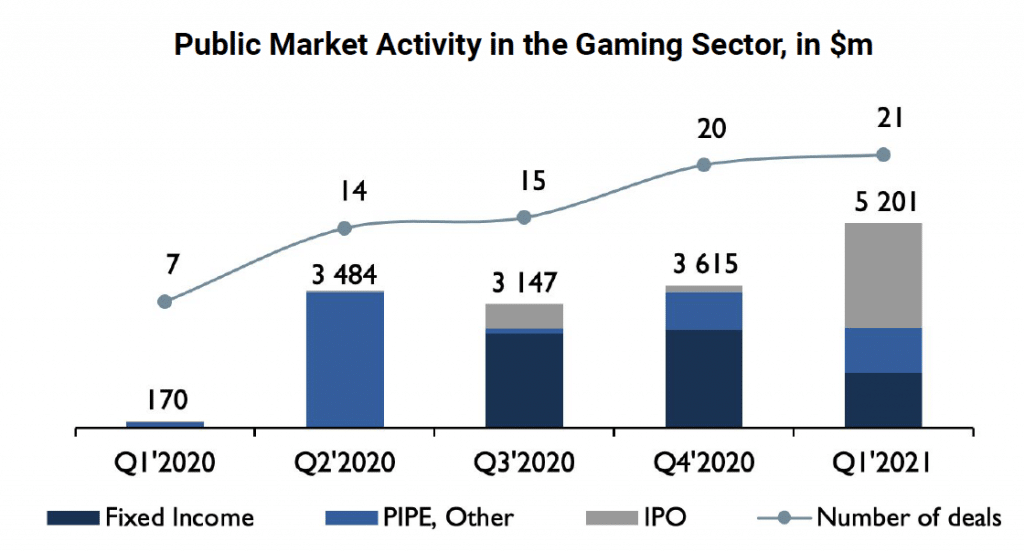 In Q1 2021, 7 gaming companies went public with $2.7 billion deal value across 21 deals. According to the report, the huge spike in public offering deals was concentrated in IPOs, accounting for over 50% of total value, and in $890m direct share issue by Embracer Group.
Notable announced IPOs and de-SPACs
VC and Corporate Investments

The investment activity in Q1'21 has increased significantly with $2.2B (+235% YoY) capital raised across 87 deals. According to the report, PIPE activity is dominated by European companies: Embracer, MTG, Remedy, and Dontnod raising $1.1B in total.
Early-stage VC activity reached $226m of capital (+120% YoY) raised by game developers and publishers across 45 deals (+61% YoY) in Q1'21.
35 Seed rounds and 10 Series A rounds were closed in Q1'21, with over ~55% of money raised in Seed rounds. The average Seed and Series A rounds' check sizes in the first quarter were $4.7m and $11.8m respectively, showing a +120% and +25% increase over the full 2020.
Notable Early-Stage VC Transactions
The total value of late-stage VC and corporate deals hit $0.8B across 31 closed deals in Q1'21. Mobile game publishers and developers were the hottest area of investment, accounting for almost 68% of total number of transactions.
Notable Late-Stage Transactions