According to a recent report from InvestGame, in the first three quarter of the year, the gaming industry saw an estimated $20.5 billion in initial public offerings, private investments, and mergers & acquisitions.
The intense interest towards games on PC and consoles, mobile devices, and multiplatforms due to the pandemic increased the activity in the gaming industry. InvestGame's report doesn't cover gambling companies because it doesn't fit its "gaming" definition. If the amount of a deal has not been disclosed, it is either estimated or not included in the report.
According to the data, in the first three quarters of 2020, the total number of deals in gaming was 211 and those deals generated around $15,35 billion. While platform and tech companies targeting gaming market generated $3, 97 billion from a total of 112 deals, esports organizations, leagues, and fantasy sports generated $685 million from 89 deals.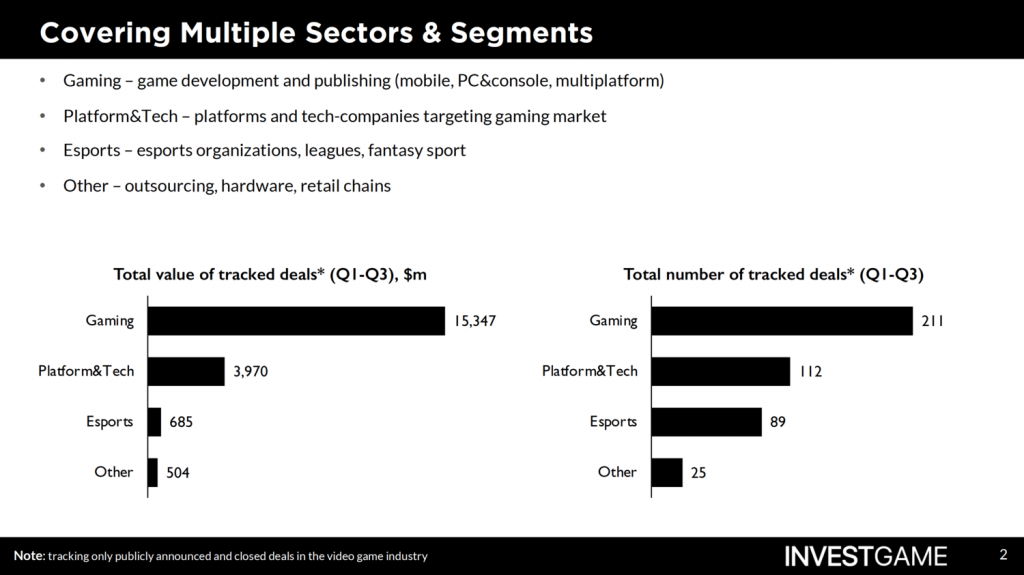 The data also says that the number of IPOs, private investments, and acquisitions in the game market decreased in May 2020 due to the pandemic but starting from June, the game industry has started to see a recovery in deal sizes in terms of investments and acquisitions.
Private Investments
From quarter one to the third quarter, game developers and publisher have generated around $2.7 billion with 100 transactions closed. According to the report, there are three transactions accounted for 78% total capital injection:
Mergers and Acquisitions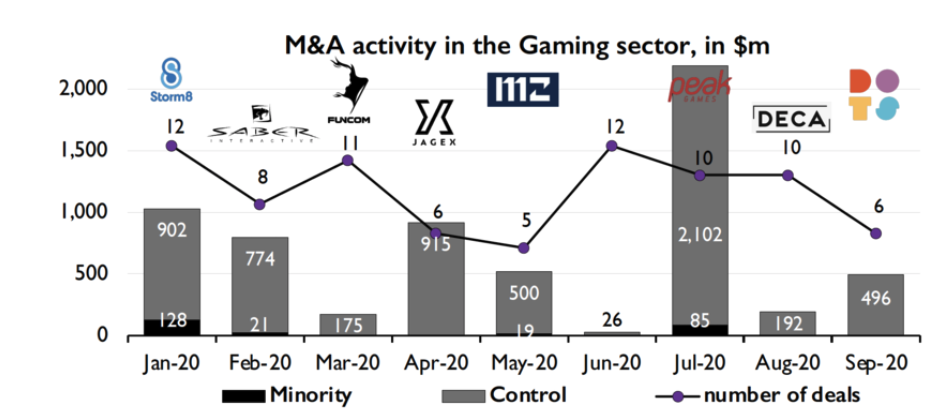 The largest two deal announcement of 2020 was being Peak Games acquired by Zynga for $2 billion and Zenimax in the process of being bought by Microsoft for $7.5 billion cash (the second largest deal in the gaming industry)
Here are some of the important acquisitions of 2020:
In the mobile gaming industry, there were 41 deals completed with a combined value of $4.6 billion over the course of nine months.
IPOs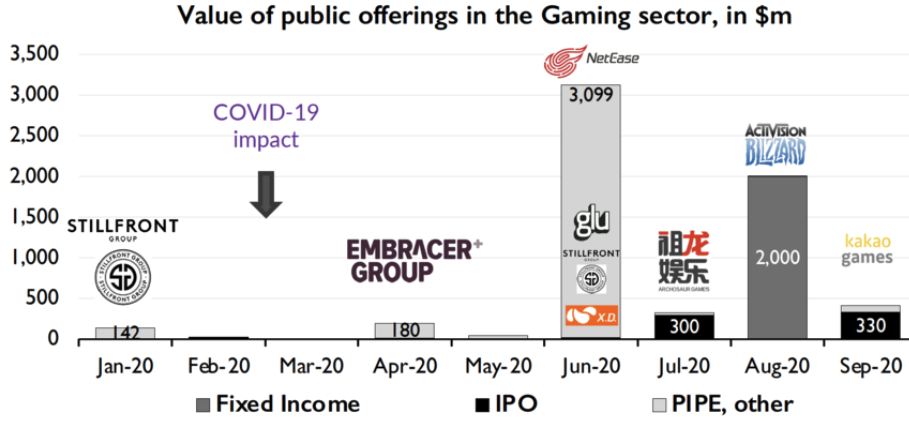 From January to May 2020, the Public market activity almost stopped. With IPOs of Kakao Games ($330 million) and Archosaur Games ($280 million), things have started recovering in the market.
Applovin, Roblox, Huuuge, Krafton Playtika, People CAN Fly, and tiny Build are among the companies considering IPO.
So far in 2020, the most active strategic investors and buyers in the gaming industry in terms of deal value was Microsoft, Zynga and Tencent.