Snap Inc. reported a 66% increase in revenue with $770 million in the period ended March 31. The company reached 280 million in daily active users, an increase of 51 million, or 22% YoY.
According to data compiled by Bloomberg, analysts had predicted on average $744 million in revenue and 275.4 million in DAUs.
The company's shares also gained around 5% in extended trading.
"We began 2021 by achieving our highest year-over-year revenue and daily active user growth rates in over three years during the quarter, and delivering positive Free Cash Flow for the first time in Snap's history as a public company," said Evan Spiegel, CEO. "The strength of our business underscores our relentless focus on product innovation and is a testament to our team's ability to execute well together over the long term."
Snap Inc emphasized in the quarter report that for the first time, the majority of its daily active users for the quarter were on the Android version of its app. DAUs increased sequentially and year-over-year on both iOS and Android in each of North America, Europe, and the rest of the world.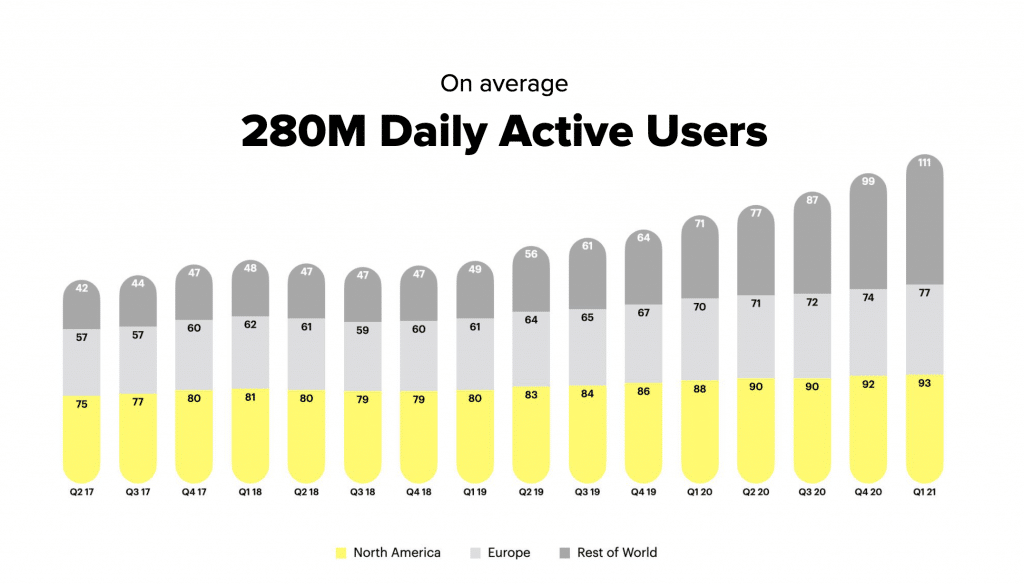 The company also reported 125 million monthly active users in the first quarter of 2021.
Santa Monica, California-based social media giant says over 5 billion snaps are created every day on average and more than 200 million Snapchatters engage with its AR every day on average. An average Snapchat user opens the app 30 times a day.
In March 2021, Snap Inc. acquired Berlin-based Fit Analytics, a technology startup that delivers accurate sizing recommendations to shoppers worldwide.
Back in November, Snapchat launched Spotlight, a tool bringing together the most liked and shared videos of the platform. it promised to give away $1 million a day to video creators who produce viral content using Spotlight.
Snap Inc. revenue is projected to be between $820 million and $840 million in Q2 2021, compared to $454 million in Q2 2020.
Back in February, Snapchat owner Snap Inc warned that Apple's upcoming privacy feature could pose a risk to Snap's ad business, despite its positive fourth quarter earnings.
"Our ad tech is at parity with the largest players," Jeremi Gorman, Snap's chief business officer, told investors on Thursday during the company's earnings call. "It's table stakes with goal-based bidding [and] with pixel-based conversions – and we're going to continue to invest there."
Gorman said Snapchat's number of advertisers doubled YoY in Q1 2021.