With the ATT framework that Apple will put into effect as of April 26, digital advertising platforms and advertisers using these platforms are preparing to adapt to a new era.
Facebook published an explanation on what limitations advertisers with mobile apps on iOS devices will face and what they need to do to minimize disruptions. And now, TikTok outlines the changes in the ad campaigns for iOS 14.5.
"From April 26 on, the only way to target iOS 14.5 users for app install ads will be through TikTok's iOS 14 Dedicated Campaigns. This feature is available for all advertisers, and campaigns can be created by choosing the app install objective or catalog sales objective with app prospecting, selecting the iOS app and setting the toggle for 'Deliver to iOS14+ conversion events' to ON at the ad group level."
Non-dedicated Campaigns will still be available to target users with iOS 14.4 and below versions but TikTok warns advertisers that audience size in these campaigns will decrease in time as people will upgrade to iOS 14.5.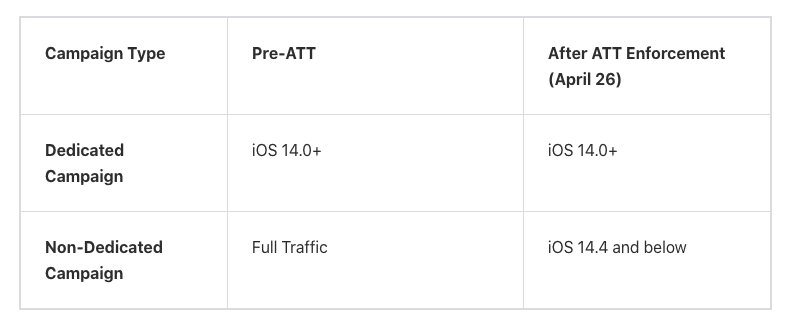 TikTok also added that performance of iOS 14 campaigns will differ from their existing campaigns with an expected higher cost per action. This is mostly because of delayed postback of the SKAN API so it's important to consider looking at cost per action over a longer time horizon with a sufficient lookback window. "We recommend closely monitoring the performance and delivery of all iOS 14 app campaigns and, if necessary, adjust budgets and bids to achieve campaign goals."
---
Also read: Apple to roll out new ad spot in the App Store to boost its ads business
---
TikTok also announced that it will roll out the iOS 14 dedicated campaign experience over the coming weeks. "Advertisers can begin familiarizing themselves with all the changes for iOS app campaigns, while optimizing and reporting based on SKAdNetwork data. "
It also recommends below actions to advertisers:
​Update your Mobile Measurement Partner SDK. Updating to the SKAN-supported version of the MMP SDK will ensure that your app is registered for SKAN-based attribution and gives you the ability to optimize and measure installs and post-install events from iOS 14 users.
​Complete the Conversion event configuration in their MMP interface.This ensures that ad networks like TikTok can receive post-install events and event values from SKAN API in order to provide optimization and measurement for iOS 14 campaigns.
Send all events to TikTok via your MMP. In order to help improve performance of your app campaigns, we recommend sending TikTok all data – including unattributed data – from your MMP. This will allow our downstream systems to better adjust and optimize to the SKAdNetwork. Please check with your MMP on how to enable sending full channel data including unattributed event data to TikTok.