Adobe's software Photoshop, which has become cult in the design world, has been an industry standard for years.However, because of the higher processing power of smartphones and tablets and the need for simplicity, many alternatives have emerged. In fact, those alternatives have now turned into platforms where you can do your work at a professional level.
If you are looking for a Photoshop alternative, you can give the apps on the list a chance. You can see the best Photoshop alternative photo editing apps that you can use on mobile devices and choose according to your taste. While some of the apps are only for making small touches to the photos, you can use some of them for advanced photo editing.
The Best Alternatives to Photoshop (Mobile)
VSCO
PicsArt
Afterlight
Snapseed
Adobe Photoshop Express
LightX
Prisma
VSCO
VSCO is a simple and free-to-use photo editing program that allows you to give your photos the look of a film frame. As one of the best photo editing apps for iPhone and Android, VSCO includes 10 free presets and brightness, perspective, contrast, and saturation settings. In addition to all these, you can share your work on VSCO with the community.
You can also adjust or play around with your photo perspectives with the Crop and Skew feature. One of the best features of the photo editing app is that it allows you to save and recreate your favorite edits with Recipes.
Google Play: Store Link
App Store: Store Link
---
Also Read: The Best Camera Apps for iPhone
Also Read: The Best Camera Apps for Android
---
PicsArt
PicsArt, one of the most popular mobile photo editing apps, is a very good program because it offers almost as many tools as Photoshop, although the ads are sometimes annoying. You can apply frames, many filters, color corrections, saturation, brightness, contrast and collage work to your photos.
Other important features of PicsArt, which has been downloaded more than 1 billion times across Google Play and the App Store and has become one of the best photo editing apps for iPhone and Android users, include; a background eraser that allows cutting photos and removal of backgrounds; removing objects to get great photo retouching; text adding option using over 200 aesthetic fonts; beautification tools including hair color changer and makeup stickers; and photo background blurring with the smart selection tool.
Google Play: Store Link
App Store: Store Link
---
Also read: The Best Video Editing Apps for Android
---
Afterlight
Afterlight is one of the best photo editing apps for iPhone and Android users who are just starting to edit photos. You can even spend hours exploring the app with tons of features and tools. You can make a good introduction to the world of photo editing thanks to its simple interface and tool icons that you will immediately see what is happening.
It provides adjustment tools to enhance your images to perfection with ease; fully adjustable original filters, guest filters by various Instagram users, and the new seasons filter pack including more than ten filters; cropping and transforming tools with different presets, and adjustable frames paired with Instagram.
App Store: Store Link
Snapseed
Snapseed is a good Photoshop alternative for those who are starting to edit photos on the mobile platform. To start using it, you need to know a little about photo editing beforehand, but since the app is user-friendly, you can easily learn what you do not know. With many filters and tools, you can organize your photos as you wish.
It offers 29 tools and filters including Enhance, Brush, Structure, HDR, and Perspective; opens JPG and RAW files, allows you to save your personal looks and then apply them to new photos, and provides a selective filter brush.
Google Play: Store Link
App Store: Store Link
---
Also Read: The Best Photo Backup Apps Alternative to Google Photos
---
Adobe Photoshop Express
Photoshop Express app, which Adobe offers to mobile platforms, is free and offers many useful tools. Although the regular version of Photoshop is for professionals, Photoshop Express has a very simple and easy-to-use interface. Even if you have not used Photoshop before, you will not have any difficulty using this app.
Google Play: Store Link
App Store: Store Link
---
Also Read: The Best Apps to Resize Photos for Instagram
---
LightX
LightX, a very popular photo editing app, has advanced features. For example, you can cut an animal in a photo very practically and integrate it into a different photo. It is also possible to change the color of an outfit with just a few steps.
In the app, which allows you to change the background, there are also options for teeth whitening and removing stains on the face. You can download and start using LightX for free, where you can also change the color of your hair.
Prisma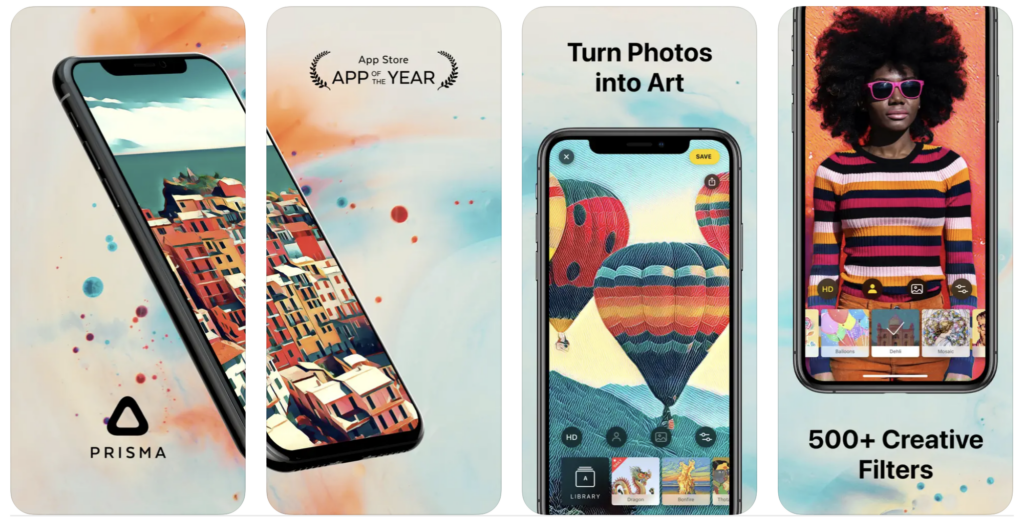 Just like VSCO, Prisma is among the photo editing apps with its own community. Prisma, which is a very dynamic app with its diversity and brand-new filters, can even enable users to discover a new feature every time.
Prisma, which attracts a lot of attention with its modern and artistic filters, is also in a privileged place with its ornaments and patterns designed following the footsteps of famous artists. Offering the opportunity to share quickly is also among the user-friendly features of the Prisma app.
You can also try 500 different styles that you can see in the Prisma library, a never-ending feature. You can try the app for free for 3 days before purchasing a subscription, and then you can use it as a subscriber.