Editing a photo can sometimes be more difficult than taking it. After catching the right angle, you can make a difference from your social media accounts with photo editing apps, as well as earn money from sites where you can upload your stock photos.
Photo editing apps, which offer many features such as effects, cutting, filtering, and video rotation, allow you to easily edit photos as well as take them from your phones. In this article, we've brought together the best free photo editing apps for Android that offer unique filters and advanced photo editing features. 
---
Also Read: The Best Video Editing Apps for Android
---
The Best Free Photo Editing Apps for Android
VSCO
VSCO, one of the best free photo editing apps for Android, is also a platform where you can share your edited photos in the news feed, just like on Instagram. Photo editing app VSCO, which stands out with its unique filters, promises to make you stand out from the majority who use stereotypical filters.
Allowing you to adjust not only its filters but also many settings such as exposure and light adjustment during shooting, VSCO allows you to more easily adjust the most suitable values for your environment by giving you the pleasure of a DSLR.
---
Also Read: The Best Instagram Story Apps
---
Facetune
Especially appealing to selfie-takers, Facetune has many features. With more than 100 million downloads, you can whiten your teeth very easily thanks to the app that attracts attention. In addition to teeth whitening, you can quickly shape your face, eyes, nose, and eyebrows. It is possible to remove the spots on your face in a very short time. The app also includes many filter options.
Snapseed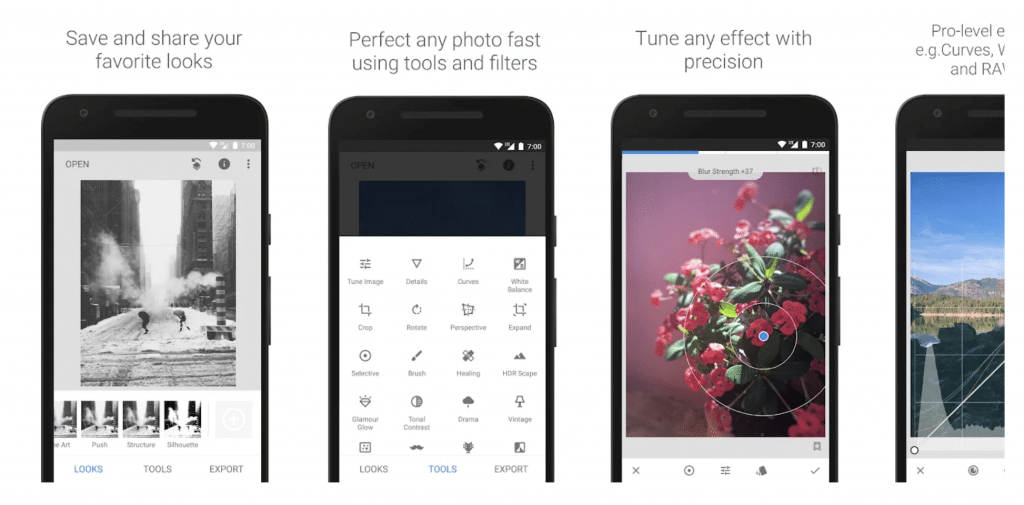 Snapseed, which is a mobile photo editing app developed by Google and stands out with its free filters, is also one of the photo editing apps that receive the most positive reviews. One of the most important features that distinguish Snapseed from other photo editing apps is that it allows you to create your own filters.
Targeting those who are looking for a simple and stable photo editing app compatible with Android and iOS, Google includes many settings that you can make with other apps, which makes Snapseed one of the best free photo editing apps for Android.
---
Also Read: The Best Android File Manager Apps
---
Prisma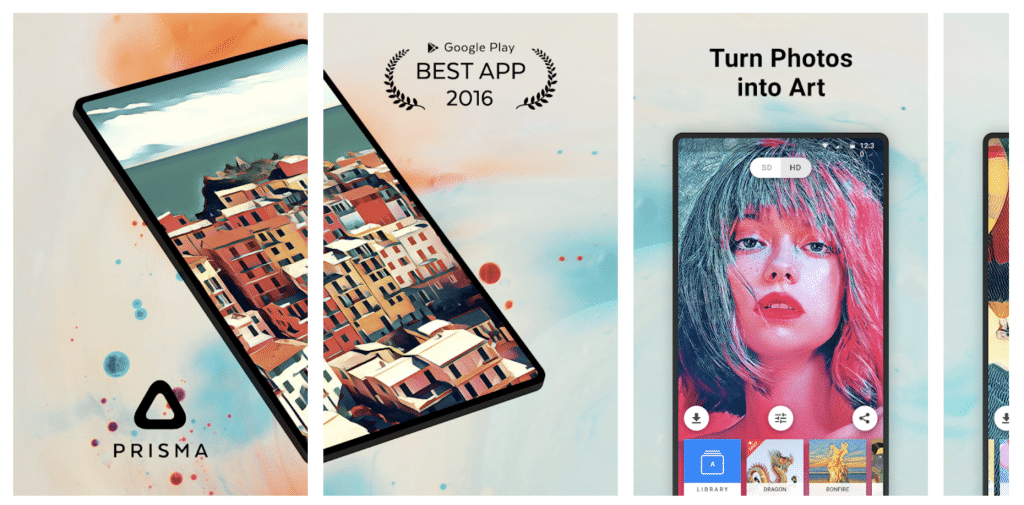 The biggest feature that distinguishes Prisma, one of the best free photo editing apps for Android, which has a unique community like VSCO,is that it offers its users new filters every other day.
Using Prisma, you can fine-tune your pictures with image enhancement tools, choose among more than 500 art filters, and discover new creations to get some inspiration. Although the popular photo editing app offers monthly and annual subscription packages, its free version is also quite enough to reach its creative filters and adjustment tools.
BeFunky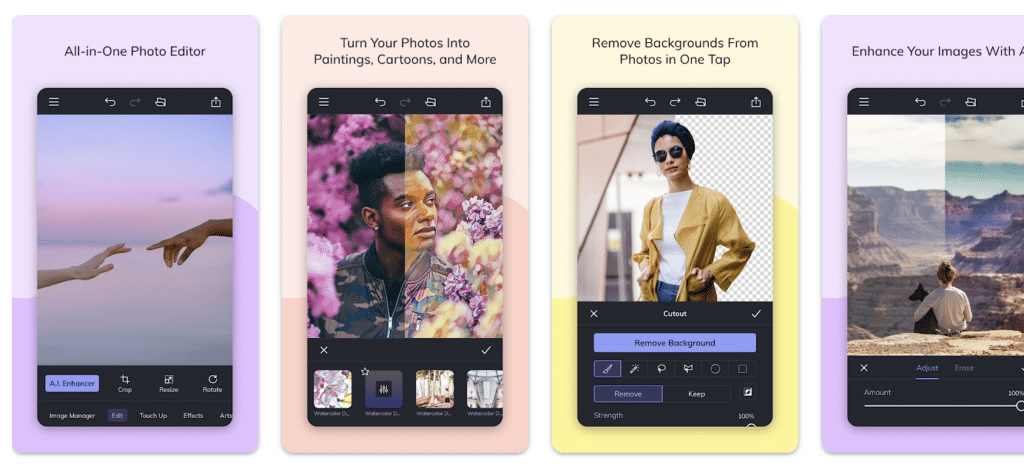 BeFunky offers easy-to-use photo editing tools that enable users of all levels to easily achieve professional results. Having a neat and user-friendly interface, the app makes it easy to find the right tools and see the effects on the image in real-time. It is possible to see all edits in the photo's history and users can easily undo and redo actions if necessary.
The photo editor offers a wide range of tools, from basic editing such as exposure and contrast to portrait retouching capabilities, assertive effects, and creative overlays and textures. Each of these sections offers free and premium features that users can test beforehand.
---
Also Read: The Best Camera Apps for Android
---
Adobe Lightroom
Next in our list of the best free photo editing apps for Android is Adobe Lightroom, a powerful camera app that is suitable for both beginners and professionals. Providing filters, presets, adjustment tools, and more, Adobe Lightroom is one of the most preferred apps for photo editing with over 100 million downloads on Google Play.
There is also a desktop version of the Adobe Lightroom app, which looks quite functional as a mobile photo editing app where you can create a library and access all the technical information of a picture.
Adobe Lightroom on Google Play
Pixlr
You can perform some editing operations on your photos very easily through Pixlr, which is available to users for free. There is no need to register to make photo edits in the app. This is a great detail for users who don't like to sign up.
The app, which allows you to quickly crop and resize images, allows you to correct the color of your photos with one touch. In addition to effortlessly correcting red-eye, Pixlr also has functions such as skin smoothing and teeth whitening.
---
Also Read: The Best Apps to Hide Pictures and Videos
---
Picsart
The most obvious disadvantage of Picsart, one of the most popular mobile photo editing apps for Android, is the ads it contains. With the PicsArt app, which you can use more effectively by editing your videos with GIPHY animated stickers if you say you don't mind the ads, you can edit your photos and videos with free creative improvements. 
In order to get rid of ads and use all the features, you need to start a paid PicsArt gold membership.
Hypocam
If you want to specialize in black and white photos, we can say that Hypocam is the best photo editing app for Android for you. With this easy-to-use mobile photo editing app with its stylish and simple interface, you will not only be able to experience black-and-white photography culture but also by following inspiring photos from the news feed.
---
Also Read: The 7 Apps to Add Text to Photos
---
Afterlight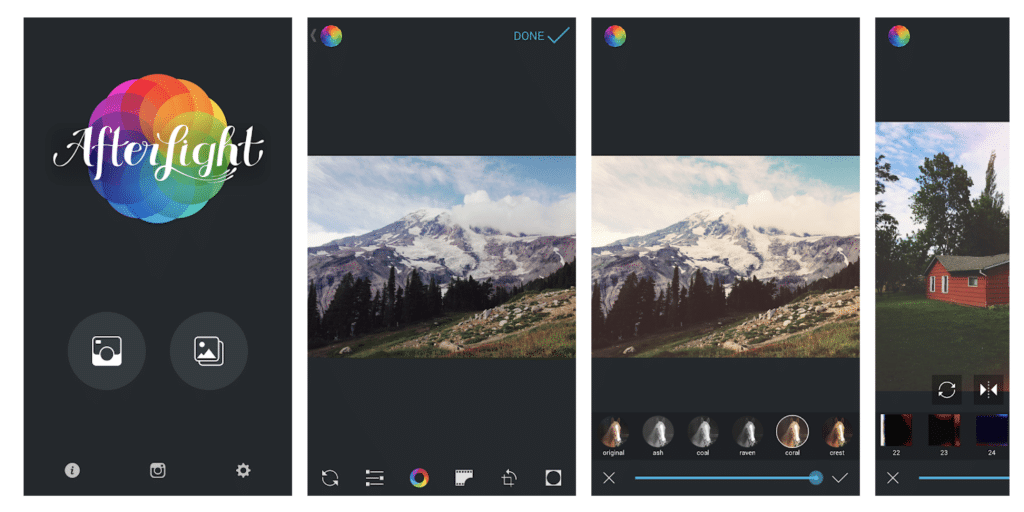 Afterlight is a complete photo editing app where you can add frames to your edited photos, do texture correction, adjust saturation, brightness and contrast with advanced toolkits.
As with most other photo editing apps, you need to subscribe to this app for full access to its content but it deserves to be on our list of the best free photo editing apps with its free offerings.
Adobe Photoshop Fix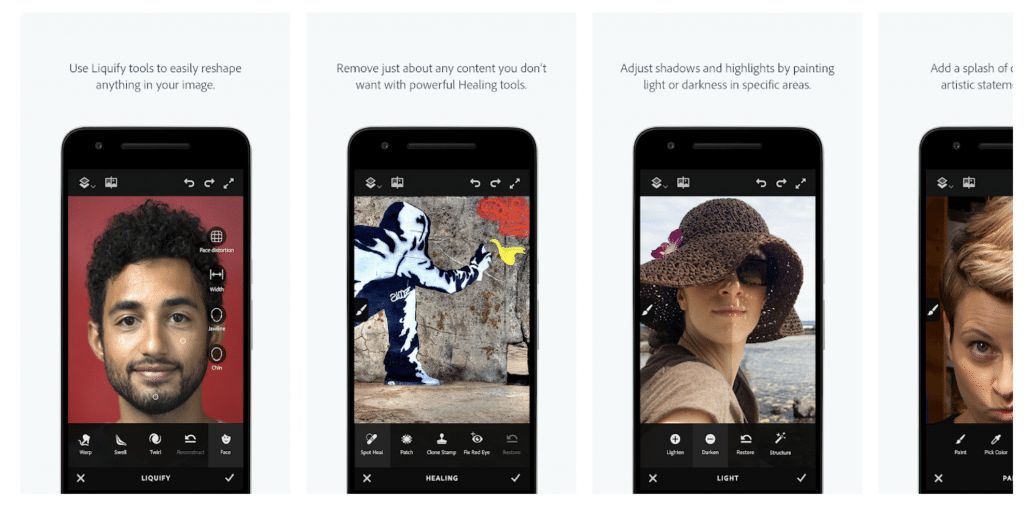 Adobe Photoshop Fix, the second Adobe app on our list, is ideal for the ones looking for the best free photo editing app for Android for image retouching and restoration. The app allows you to have a precise look for your pictures with tools for healing, smooth, liquify, lighten and make other edits and adjustments.
Adobe Photoshop Fix on Google Play
---
Also Read: The Best Drawing Apps for Android
---