Are you looking to enhance your photography skills? If your answer is yes, you're at the right place! In this article, we covered the world of the best apps for photography. Whether you're a professional photographer or just a hobbyist, these apps are designed to take your photos to the next level. In this article, you will explore the top-rated applications that will help you capture and edit stunning images with ease. Without further ado, here are the best apps for photography!
Photoshop Express Photo Editor
Price: Free/In-App Purchase: Up to $34.99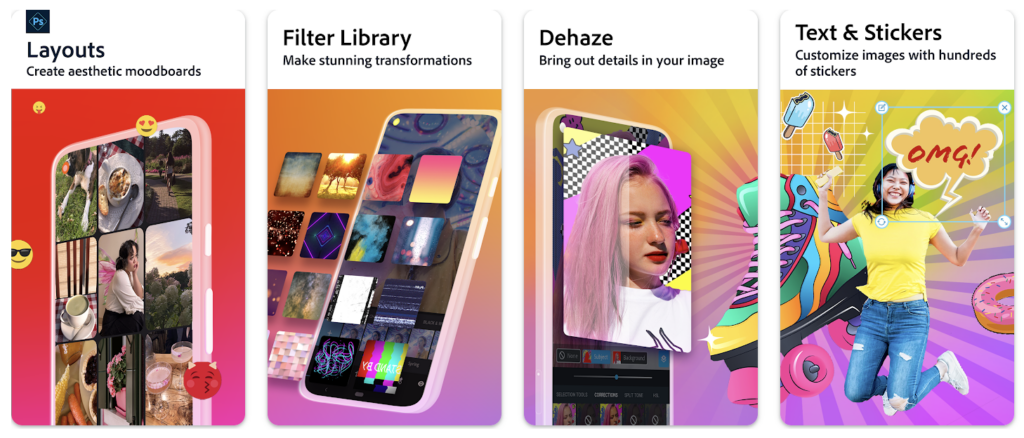 Photoshop Express Photo Editor is a feature-rich app that brings fun and simplicity to photo editing. With its intuitive one-touch transformations, users can easily turn their ideas into stunning, share-worthy images. The app offers a wide range of tools, including filters, overlays, and stickers, allowing users to add personalized touches and create unique effects.
Moreover, the photo enhancer and retouch features help improve the overall look of photos, while the industry-best picture collage functionality allows for creative compositions. With easy photo-sharing options, the app is a must-have for both beginners and experienced photographers.
Photoshop Express Photo Editor on Google Play
Photoshop Express Photo Editor on the App Store
VSCO
Price: Free/In-App Purchase: Up to $29.99
VSCO, one of the best apps for photography, offers a comprehensive set of features to enhance your creative journey. With a vast library of over 200 premium presets and tools, this photo and video editor empowers users to create stunning visuals. The free version provides access to 15 presets, including options to adjust contrast and saturation and add film-like effects with grain and fade.
Also, advanced editing tools like HSL and Dodge & Burn are available for VSCO members. The app also features a video editor, allowing users to apply presets and effects to videos, trim, crop, and even reverse them. VSCO offers Montage and Collage features for creating multimedia stories and customized gel colors. With a supportive creative community, inspiration can be found in VSCO Spaces and Discover, while weekly photo challenges encourage users to explore new horizons. Visit VSCO's website to learn more.
---
Also Read: The 6 Best Camera Apps for iPhone
Also Read:The 6 Best Camera Apps for Android
---
Lightroom Photo & Video Editor
Price: Free/In-App Purchase: Up to $119.99
As one of the best apps for photography, Adobe Photoshop Lightroom is a powerful photo and video editor that allows users to capture and edit stunning images with ease. With its extensive collection of presets and filters, you can quickly enhance your photos with professional-grade adjustments. The app offers a user-friendly interface with intuitive editing tools, including precise sliders for light settings, color mixing, and color grading. You can also fine-tune your photos with features like clarity, texture, dehaze, and grain sliders.
Furthermore, Lightroom Premium membership unlocks additional tools such as exclusive presets, Healing brushes, masking, geometry, and cloud storage. The app's AI technology recommends presets that best suit your photos and videos, while the Discover section allows you to share your editing process with other users. Lightroom Photo & Video Editor is a comprehensive and versatile tool for photographers and videographers, delivering top-quality editing capabilities for captivating visual creations.
Lightroom Photo & Video Editor on Google Play
Lightroom Photo & Video Editor on the App Store
Google Photos
Price: Free/In-App Purchase: Up to $99.99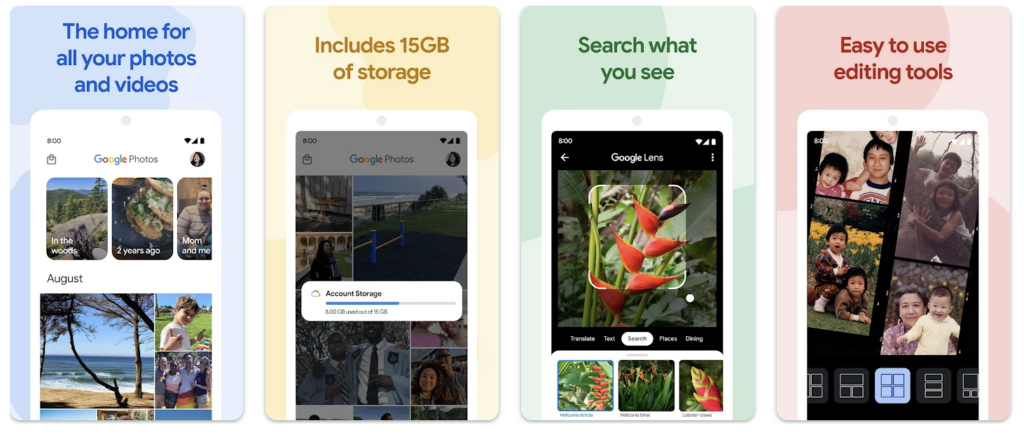 Google Photos is an incredible app for photography, offering automatic organization, easy sharing, and advanced editing features. With 15 GB of free storage, you can back up and access your media from any device. The app provides powerful search capabilities and integrates Google Lens for text translation and object identification. It also offers a range of editing tools and creates stunning automatic creations.
Besides, sharing photos is effortless with smart suggestions and shared albums. Google Photos ensures privacy, with no ads or data usage for advertising. For additional storage, Google One subscriptions are available. It's a comprehensive and user-friendly app for all photography needs and stands out among the best apps for photography. Browse Google Photos' website for more information.
Google Photos on the App Store
---
Also Read: The 9 Best Light Meter Apps
---
PicsArt
Price: Free/In-App Purchase: Up to $119.99
With over 150 million creators worldwide, PicsArt is a dynamic photo and video editing community. Powered by AI, the app offers a multitude of tools to unleash your creativity. From trendy filters to background erasers, object removal, and stylized photo filters, PicsArt has it all. The AI Image Generator turns text into unique, customizable images, while AI Enhance sharpens low-quality images. With a vast sticker collection, photo effects, drawing tools, and a subscription option for exclusive content, PicsArt is a go-to app for photographers seeking to elevate their content and stand out in the crowd. Go to PicsArt's website to learn more.
Sun Surveyor (Sun & Moon)
Price: $7.99 for Google Play / $9.99 for the App Store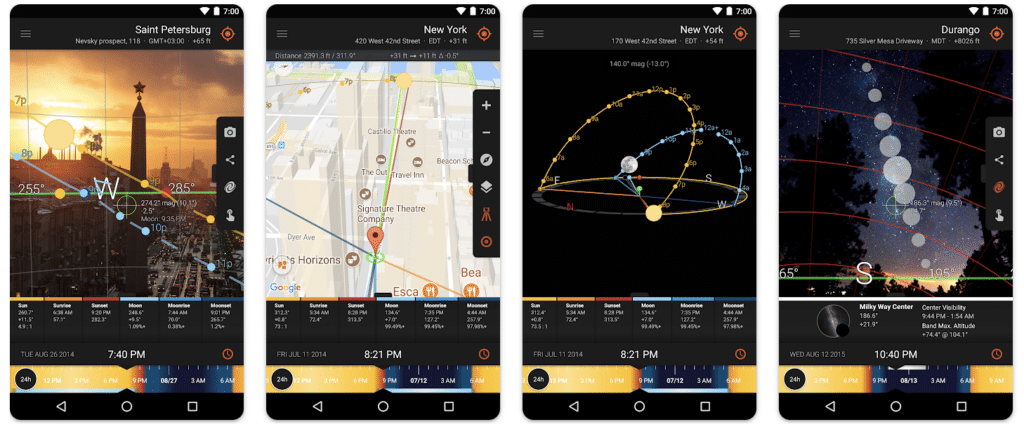 Sun Surveyor is a powerful tool that eliminates the guesswork when it comes to capturing the perfect sunrise, sunset, and moon phases. This app equips photographers and filmmakers with essential information, allowing them to scout locations, plan effectively, and achieve stunning shots. With features like Live Camera View, an interactive map, a 3D Compass, and a detailed Ephemeris, users can visualize the paths of the sun and moon, determine optimal shooting times, and prepare for night photography with the Milky Way and star trails.
In addition, the app caters to solar industry professionals, architects, real estate agents, and gardeners, providing valuable insights into sunlight quality, shade analysis, and seasonal variations. With additional functionalities like Photo Opportunities, Position Search, and offline usage, Sun Surveyor offers a comprehensive toolkit for precision planning and capturing breathtaking moments and deserves to be one of the best apps for photography.
Sun Surveyor (Sun & Moon) on Google Play
Sun Surveyor (Sun & Moon) on the App Store
---
Also Read: The 9 Best Photo Sharing Apps
---
Snapseed
Price: Free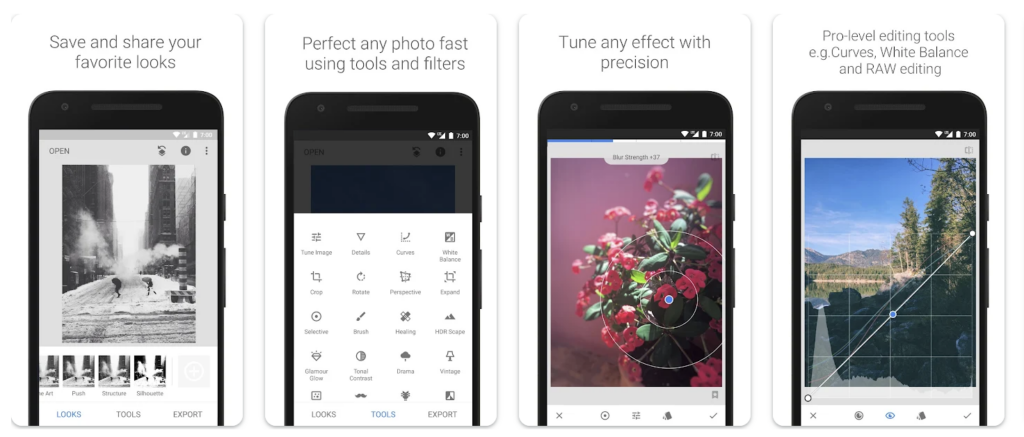 Snapseed, developed by Google, is a comprehensive and professional photo editor that offers handy features and tools. With 29 tools and filters, including Healing, Brush, Structure, HDR, and Perspective, this app provides precise control over image adjustments. It supports both JPG and RAW files, allowing for flexibility in editing. Snapseed allows users to save their personal looks and apply them to future photos, ensuring consistency in their editing style. The selective filter brush enables targeted adjustments, while the Control Point technology allows for enhancements to be applied with ease.
Additionally, Snapseed offers features such as cropping, rotation, white balance adjustment, text addition, and the ability to create stunning effects such as lens blur and tonal contrast. With its impressive range of functionalities, Snapseed is undoubtedly one of the best apps for photography, providing professional editing capabilities in a user-friendly interface.
PhotoPills
Price: $10.99
PhotoPills is a comprehensive, all-in-one app that unlocks your creative potential and helps you capture legendary photos. The app serves as your personal assistant in all photographic matters, providing tools and features that enhance your planning and shooting processes. With its 2D Map-Centric Planner, Sun and Moon alignment Fast Finder, and 3D Augmented Reality capabilities, PhotoPills allows you to visualize and calculate the exact positions of the Sun, Moon, and Milky Way for any desired moment. The app offers key information such as sunrise and sunset times, golden hour, blue hour, moonrise and sunset times, and supermoon dates, enabling you to plan your shots effectively.
Also, PhotoPills includes calculators for long exposure, timelapse, star trails, hyperfocal distance, depth of field, and field of view. With PhotoPills, you can create a to-do list of planned photos, adjust your frame for optimal composition using augmented reality views, and explore and save locations of interest. The app provides daily information through widgets and offers educational resources and support. As one of the best apps for photography, PhotoPills empowers photographers to push their creative boundaries and capture truly remarkable images. Check out the website of PhotoPills for more detailed information.