Everyday, millions of mobile users around the world are using their smartphones to listen to their favorite songs whenever and wherever they want. Keep reading if you're one of them. Cause in today's article, we're going to be talking about the 5 best lyrics apps that will allow you to keep up with real time song lyrics, discover the stories behind tracks, artists, albums and more.
Musixmatch – Lyrics For Your Music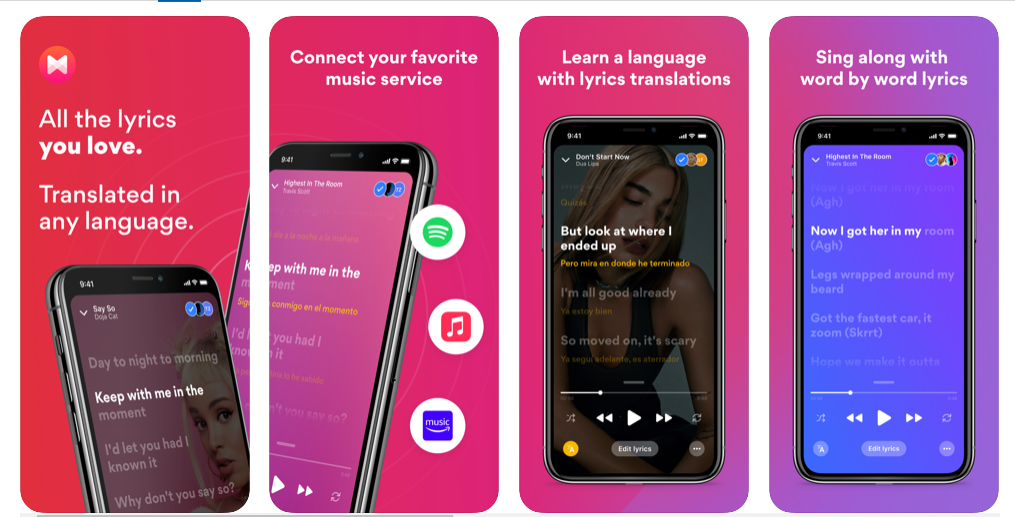 Musixmatch is one of the best lyrics apps for Android users, with over 50 million downloads on the Play Store. It is also available on the App Store but has a relatively smaller audience there than it has on the Android market.
Musixmatch allows users to access synchronized song lyrics for all the songs in their music library. You can connect your Spotify or Apple Music account to access real time song lyrics, view them on your lock screen, translate them into other languages, find the songs you don't know the name of, search for your favorite tracks by title, artist or lines and more!
Shazam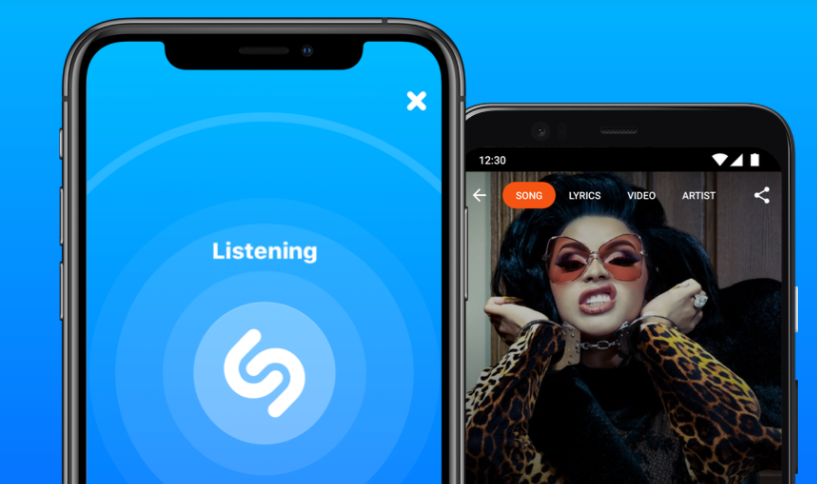 Our second best lyric app for iPhone and Android users is Shazam by Apple with over 1 billion installs on Google Play Store and App Store.
Shazam is very good at identifying the songs that you can't find the name of. Just open the app, click the Shazam button and that's it.
When a song is identified, it will be saved to your Shazam library. The app also allows you to add songs to your Spotify and Apple Music playlists, catch up with real time song lyrics, watch music videos from Youtube or Apple Music, see what's trending in your city and country, get personalized recommendations based on your listening activities, share your favorite songs with your friends on social media channels including Snapchat, Twitter, Facebook, Instagram, WhatsApp and more.
---
Also Read: The Best Music Recognition Apps for iPhone and Android
---
Genius – Song Lyrics & More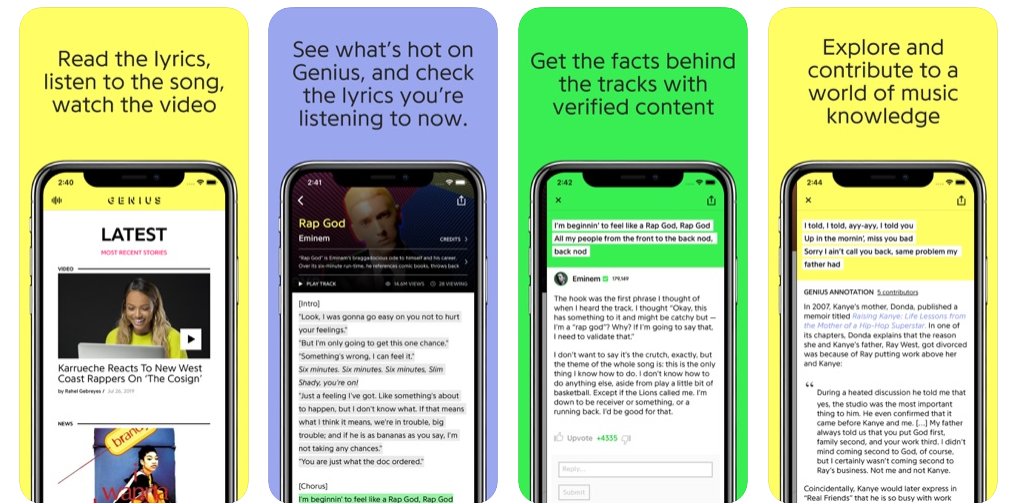 Our next best lyric app is Genius with over 1.7 million songs. It is available on both App Store and Google Play Store.
The Genius app allows users to find song lyrics in seconds. It also makes it very easy to watch thousands of videos related to music including celebrity interviews, find out what's trending on its platform, get verified facts behind the songs and find the name of the tracks playing around you just like Shazam.
SoundHound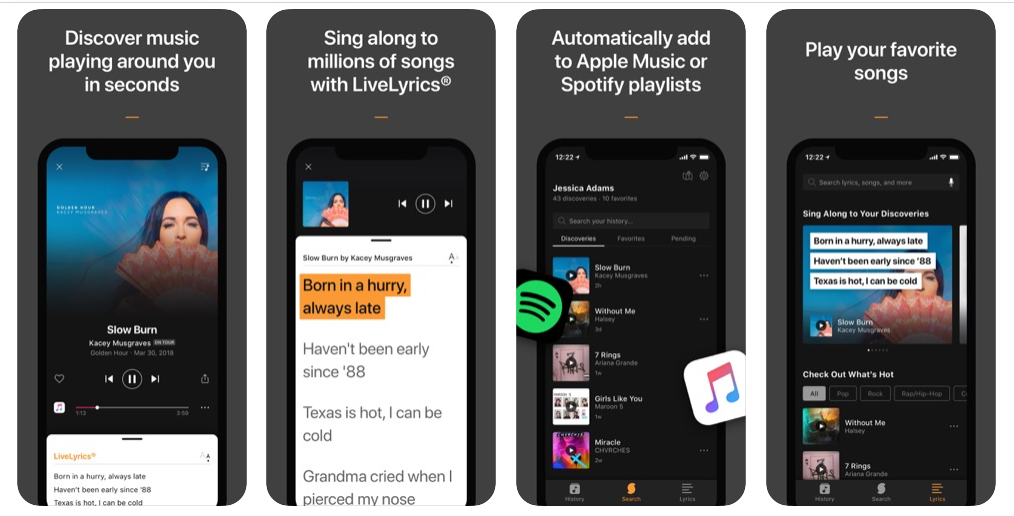 Let's continue with Soundhound, a quite popular music discovery & lyrics app on both Android and iOS markets with over 300 million app downloads.
SoundHound makes it very simple to find out the name of the music playing around you or stuck in your head, play them with its very friendly music player, view live lyrics of millions of songs, add them to your playlists on Spotify or Apple Music, get information about the songs, albums and artists, see what's trending, discover new tracks and much more.
---
Also Read: The Best Music Apps for Apple Watch
---
Spotify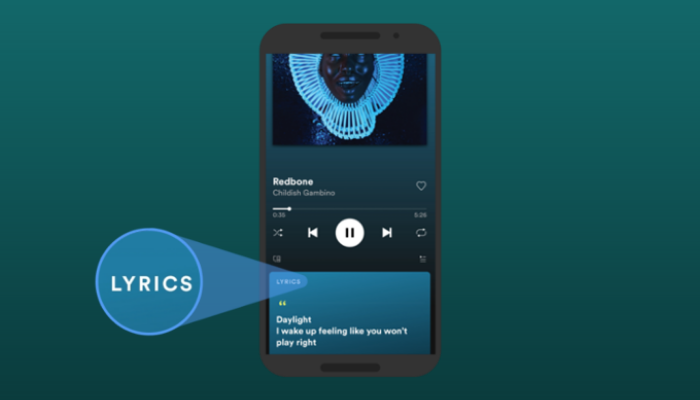 Our last app is Spotify which is, in fact, one of the most popular music streaming apps but also shows you lyrics and information about the tracks as you play them. You can find and download it on both Google Play Store and App Store.
This music player with lyrics works integrated with Genius to show you the lines and the stories behind the songs. Also, it teamed up with Musixmatch and rolled out a real-time lyrics feature in 26 markets around the world.
---
In today's blog post, we talked about the best lyrics apps for Android and iOS users with their main features. Which one of them is your favorite? Let us know.