Besides our usual work schedule, we all have a dozen other jobs to be completed within a certain time frame. However, most of the time, we cannot complete these additional tasks within the given time or we can completely forget about the task.
In fact, due to Covid 19, many of us are looking for ways to be efficient while working from home or continuing our university education from home. Just keeping the agenda and being organized is no longer sufficient for a digitalized world.
There are some methods to overcome this problem. The best known of these methods is to create a task list. These reminder task lists have become practical apps that have reached our mobile phones today.
For this reason, we have listed the best reminder apps for iPhone and Android devices that will help you manage your time well, complete your tasks on time, boost your memory, and increase your productivity.
The Best Reminder Apps
Google Keep 
BZ Reminder
Remember The Milk
Galarm
CARROT
Google Keep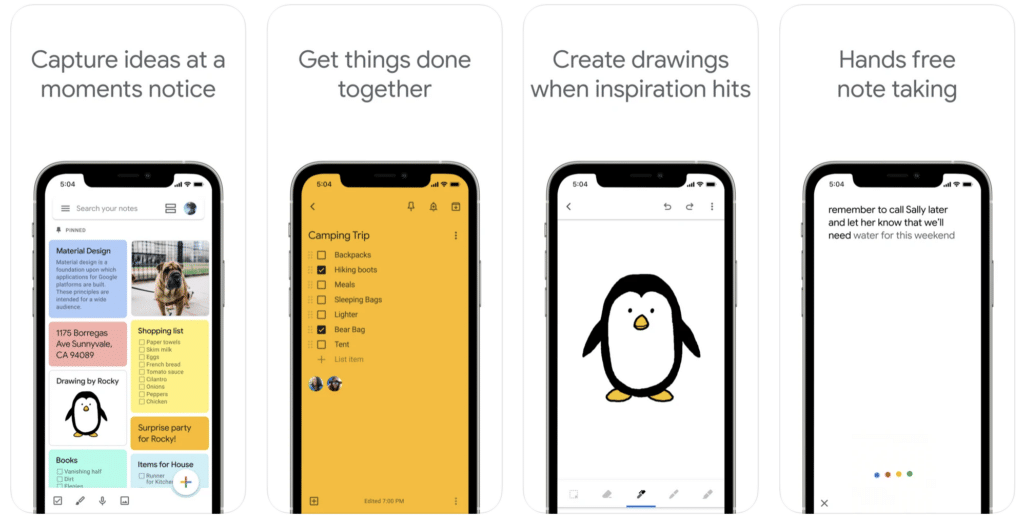 Price: Free
Google's productivity tools are generally satisfactory on all platforms. As one of the best reminder apps for iPhone and Android, Google Keep is among these products with more than 1 billion downloads.
Google Keep is an easy-to-use reminder app with a simple user experience that lets you quickly add anything that comes to your mind and set up reminders at certain times or places.
The reminder app allows you to capture what is on your mind in different formats including voice memos, photos, drawings, texts, notes or lists. It also lets you organize your notes with custom labels and colors.
You can also share your notes with your friends or family to organize an event and collaborate.
Another good feature Google Keep provides you with is setting and firing location-based reminders.
As with all other Google productivity tools, you are also free to synchronize all your other Android devices including wearables, tablet, and computer.
Google Play: Store Link
App Store: Store Link
---
Also Read: The Best Apps for Productivity
---
BZ Reminder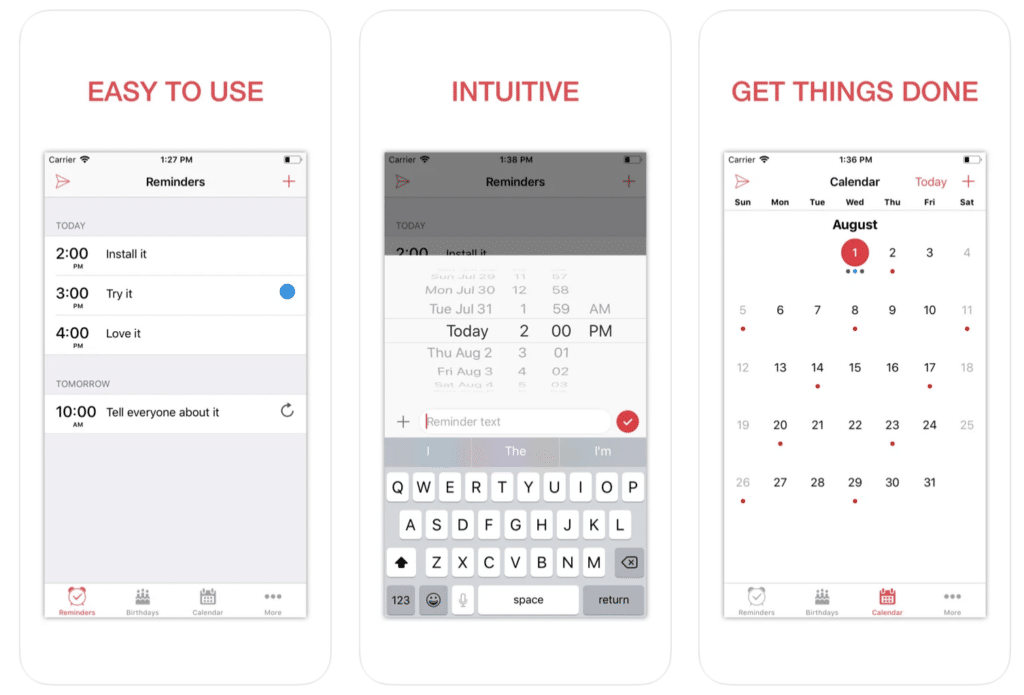 Price: Free / $4.99
BZ Reminder, which has a very simple interface, is very popular with more than 1 million users, especially on Google Play. The application works with a simple reminder logic. With recurring tasks, birthday reminders, alarms, snooze tasks, color-code tasks, and a calendar with reminders, you can find all the features you need in BZ Reminder.
The Android version of the app also offers support for the Android wear smart watch, which allows you to create a reminder with voice recognition, snooze or complete a reminder.
Google Play: Store Link
App Store: Store Link
---
Also Read: The Best Free Apps for Android
---
Remember The Milk
Price: Free / $39.99
Remember The Milk is a smart reminder app that allows you to set up reminders and get reminders via different channels including Twitter, email, mobile notifications, and more. As one of the best reminder apps for iPhone and Android, it provides you a simple way to search your tasks and notes as well as organize them the way you want to with due dates, tags, priorities, and more.
Using the reminder app, you can integrate many more tools including GSuite tools, Twitter, and Evernote. It also allows you to sync all your devices.
Another important feature of Remember The Milk is that you can share your to-do lists and tasks with other people to collaborate with them. 
Google Play: Store Link
App Store: Store Link
---
Also Read: The Best To Do List Apps for iPhone 
---
Galarm
Price: Free / $0.99 per month / $6.99 per year
Galarm is a social reminder app that offers a little bit of different experience and features as compared to the other reminder apps in the list.
One of the features that makes Galarm different from the other apps in the list is to set group alarms and reminders for friends and family as an event planner for any social activity. A group alarm for an event fires in each person's device at the same time so that people in the group decline or confirm.
Another feature that makes Galarm one of the best reminder apps is adding backups to your alarms, which means you can add a family member or a friend to an alarm to remind you of your task in case you miss it.
The third feature that differentiate the app from the others is called BUDDY ALARMS. You can create an alarm for someone else to remind them of a task or a to-do. When the person you send an alarm marks it done, you are notified.
Besides these, as with the other reminder apps on the list, you can create personal alarms for a certain date and time and choose from hourly, daily, weekly or monthly repetition options. It also allows you to set custom ringtones.
Google Play: Store Link
App Store: Store Link
---
Also Read: The Best Flashcard Apps for iPhone and Android
---
CARROT
Price: $2.99
"You do NOT want to make CARROT upset."
The most important feature that distinguishes this reminder app from others is its gamification. It has a personality.
When you complete a task, the app gives you such "fortune rewards" as mini games and upgrades. However, when you don't complete a task, you lose all the rewards you've earned.
The best part of CARROT is this losing situation. Because in human psychology, losing is a very heavy punishment. Since you don't want to face this punishment, you try to mark all your to-dos done. As a result, your productivity increases significantly.
CARROT is one of the best reminder apps for iPhone.
App Store: Store Link
---
Also Read: The Best Habit Tracker Apps
---
BONUS: Personal Assistant Apps
Personal assistant apps including Amazon Alexa, Google Assistant, Cortana by Microsoft, and Bixby of Samsung can be a good alternative as daily reminder apps. Those apps can help you to create a task and set up a reminder to do it.
You can decide on which personal assistant app to use according to your device. If you want a reminder app for Android, Google Assistant may meet your needs. If you want to use your reminder app across your Amazon devices you can choose Alexa app as a reminder.