​​Does anyone know the benefits of drinking water? You will always hear sayings like 4 glasses or 6 glasses of water should be drunk a day. So which one is correct? Apps to remind you to drink water help you solve this problem. These apps calculate your daily water consumption by taking personal information such as height, weight, gender, and age. It helps us to consume water correctly and effectively for our body. Who wouldn't want a healthier body, a fitter body, beautiful skin, and a low-stress life? You can take the first step by downloading a hydration app. We have listed the best water reminder apps for you. Here are the best ones.
---
Also Read: The 5 Best Yoga Apps for iPhone and Android
---
Hydro Coach | Hydration App
Price: Free / In-App Purchases: $2.99 – $59.99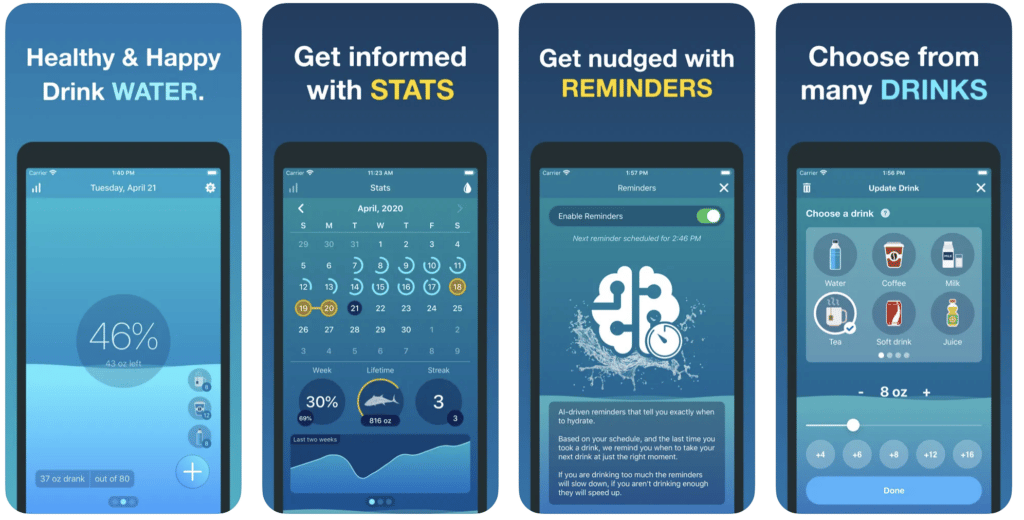 Drinking water is something we should do often, but most of us forget. Did you know that about 75% of people are chronically dehydrated? Water is a super medicine that reduces stress, flushes out toxins, and improves your daily performance.
Hydro Coach helps you keep your hydration in check with an elegant graph that shows your serial number, weekly performance, lifetime water consumed, and your hydration level over the past two weeks. 
Also, this app estimates the amount of water you should drink according to your gender, weight, and lifestyle based on scientific research and generates data accordingly. The app is pretty easy to use, you record the drinks you drink daily, and the app guides you to drink more or sends you motivational greeting notifications when you reach the goal.
Moreover, the subscription periods of the app are 1 month and 1 year.
---
Also Read: The 10 Best Free Workout Apps for iOS
---
My Water: Daily Drink Tracker
Price: Free / In-App Purchases: $1.99 – $39.99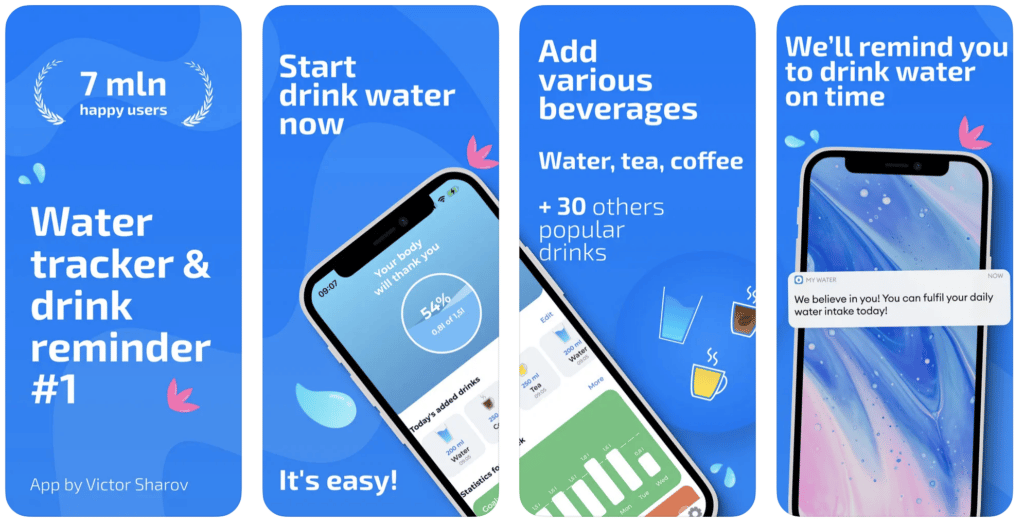 My Water: Daily Drink Tracker is one of the best water reminder apps, and the app is compatible with Apple Watch. As with other apps, the app calculates the daily water requirement according to personal data and displays the water amount in metric and fl oz units. It allows you to follow your progress more closely with daily, monthly, or yearly statistical graphs.
In addition, while the app gives helpful tips about water, it always tries to keep your motivation high with motivational rewards. When people are busy, they do not think about drinking water, My Water: Daily Drink Tracker sends notifications to remind them to drink water and allows them to reach their daily goals. For those who want a more detailed water tracking and reminder system, the premium version of the app is offered for $4.99 per month and $19.99 per year.
Furthermore, you can visit the website of My Water: Daily Drink Tracker for more detailed information.
Water Drink Reminder
Price: Free

Water Drink Reminder is an app to remind you to drink water and is supported by Google Fit. The app calculates when and how much water users need to drink during the day from the personal information users enter, and uses a personalized container and standard (oz) or metric (ml) units when presenting it to users. Users can also use this app to stay in shape and reduce skin and nail health or disease risks because the principal purpose of the app is to regulate daily water consumption and help users protect their health.
Also, if competition lover users want to create a competition among themselves, users can set the start and end times and compete with themselves. With the reminder notifications sent by the app, users can be motivated and drink more water.
Water Drink Reminder on Google Play
---
Also Read: The 5 Best Pilates Apps
---
AQUALERT: Water Tracker Daily
Price: Free
AQUALERT: Water Tracker Daily is among the best water reminder apps. The app is quite simple to use. AQUALERT: Water Tracker Daily calculates how much water you need to drink daily and sends reminders to you with automatic bedtime mode, and it does not send notifications at night. The notifications include informative messages such as why to drink water, when to drink water and how much water to drink.
In addition, users can follow their data from the consumption table history or daily charts.
Daily Water – Drink Reminder
Price: Free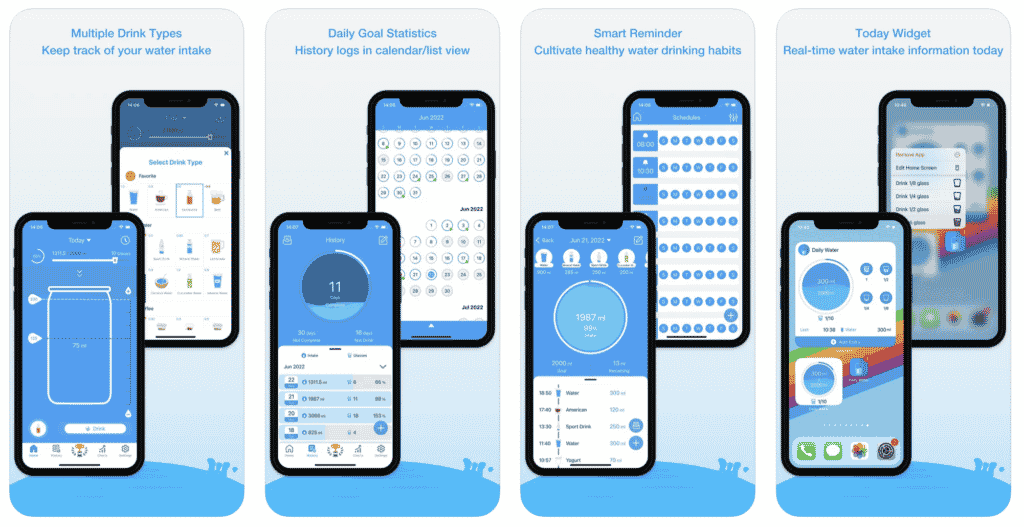 As we all know, 2/3 of our body consists of water and we can say that water is the gasoline of our body. But are we consuming enough water? With the hustle and bustle of life, we forget to drink water. Thus we often feel stressed and without energy.
Furthermore, as heart disease, hypertension, nephrosis, edema, etc. We should drink water regularly and as much as we need in order to protect ourselves from diseases. Daily Water – Drink Reminder, which is among the best hydration apps, comes to our aid here.
Moreover, this app offers us many features such as daily water target, the opportunity to see the water we drink, water drinking programs, and past water drinking data. With the support of Wi-Fi backup and restore, your data is always with you and if you are an Apple Watch user, this will be an indispensable reminder app for you.
Daily Water – Drink Reminder on the App Store
WaterMinder
Price: $4.99 for iOS / Free for Android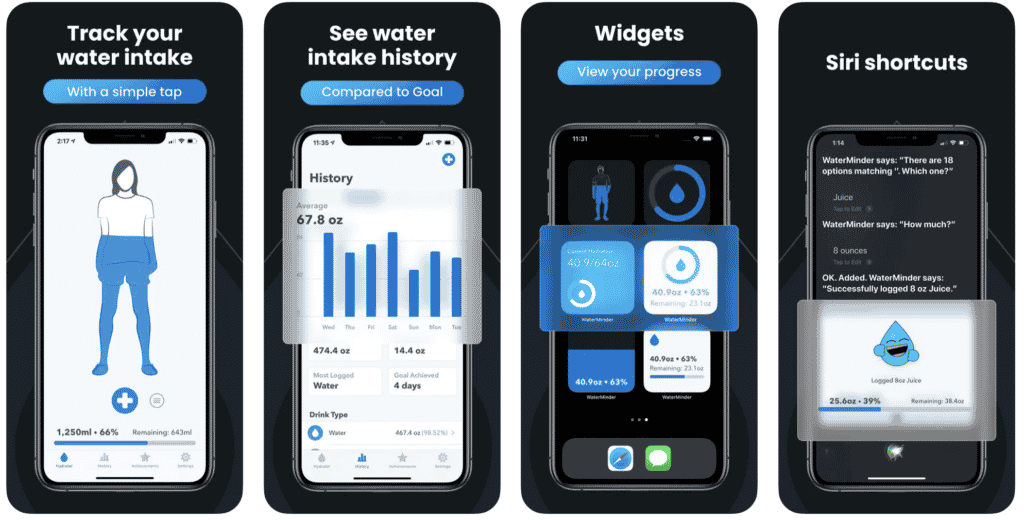 The WaterMinder app, mentioned by The New Yorker, Apple, Women's Health, Glamour, Techcrunch, Gizmodo, MacStories, Venturebeat, The Telegraph, BGR, Mashable, and many more, are among the best water reminder apps.
Its developers have designed the app to be easy for people of all ages to use and added many different features to the app. Dark mode, standalone Apple Watch app, Siri shortcut, cross-platform water tracker, custom glass creation (icon, color, size), custom water tracking reminder creation, graphic data, and country-based units are just a few of them.
In addition, those who want to examine the app in more detail can browse the app's website.
---
Also Read: The 8 Best Pedometer Apps for iPhone and Android
---
My Water: Daily Drink Tracker
Price: Free / In-App Purchases: $4.99 – $59.99
My Water: Daily Drink Tracker is an app that attracts attention with its design and style among the apps to remind you to drink water. The app will make you love to drink water, and you will be motivated by the notifications it sends. With different beverage types categories, users can record all the liquids they drink and even look at the old data whenever they want. My Water: Daily Drink Tracker, like other programs, calculates the daily amount of water drunk according to personal information and presents it with graphical data.
Furthermore, the app subscription is $7.99 per week, $19.99 per month, and $59.99 per year.