Due to the ongoing Coronavirus Pandemic, we're now spending most of our time at home. As a result, we're not able to move as much as we used to which resulted in most of us gaining unwanted weight quickly. But thanks to our mobile devices, we don't need to go to the gym to stay fit during the pandemic.
These free workout apps we're about to introduce you will provide you with everything you need to train your body no matter if you're at your home or running in the park.
---
Also read: The Best Calorie Counter Apps for iPhone and Android
---
Before we start, I'd like to tell you that I didn't categorize the apps by gender so this is not a ''best free training apps for men'' or ''best free training apps for women'' list. All of the apps above provide workout plans for both genders and most of them asks your gender first to personalize your work outs.
Now, let's take a closer look at the best 10 free workout apps for iOS, with their main features, ratings, download links and more.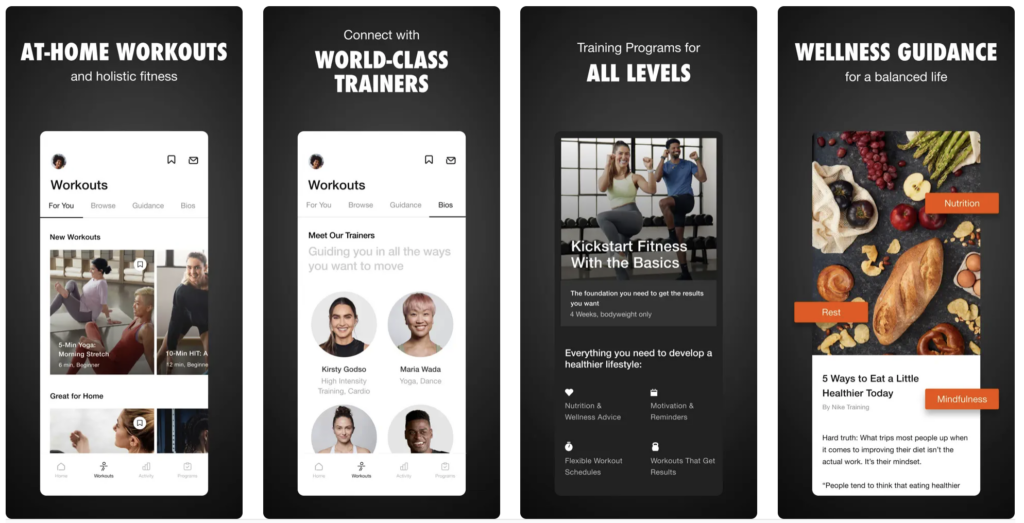 Let's start with the world-renowned Nike Training Club app, which the company made free in March 2020 when the coronavirus case numbers started to rise rapidly and many countries introduced curfews to slow down the spread.
Personally, I've been using it since then and it has helped me a lot to stay fit. This one is my favorite, so I wanted to start our list with it.
Nike Training Club offers more than 185+ free workouts, which you can do with or without equipment, designed by experts for all levels.
The first time you run the app, it asks you some details including your gender, age, weight and equipment preferences to customize your work out plan. While using it, you'll encounter some famous names like Maria Sharapova and Jessie J who will motivate you even more to work out. 
As one of the best free workout apps for iOS, Nike Training Club works in harmony with Apple Health. You can also connect your Apple Music library to play songs while working out and your Apple Watch if you want to focus on your sport and less on your iPhone. 
Freeletics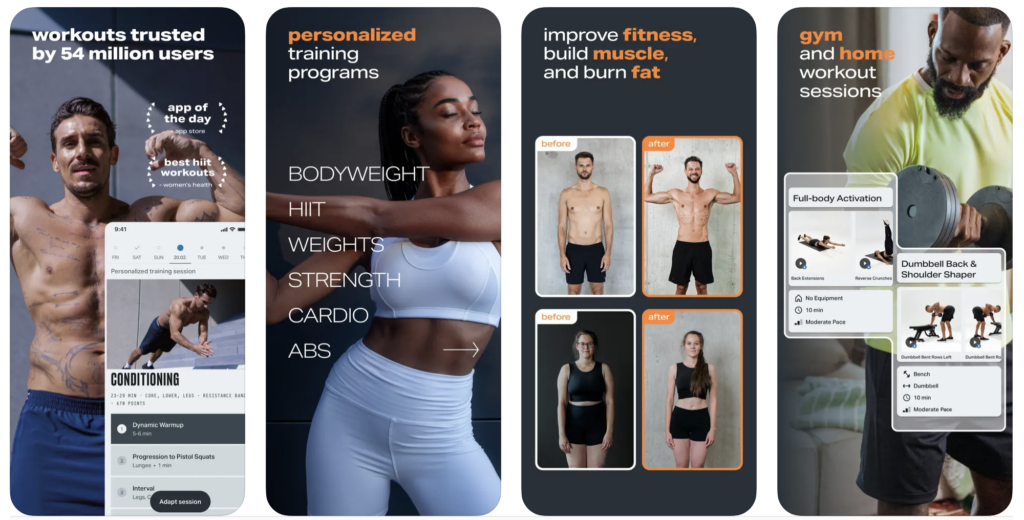 Our second app is Freeletics, which you've probably seen on your friends Instagram stories many times before. It is the #1 fitness app in Europe, with more than 42 million active users.
Freeletics' guided video tutorials and audio sessions will help you burn fat, lose weight, keep fit and build muscle whenever and where you want.
It offers very effective training plans that are tailored to your special needs. Its AI-powered algorithm will learn from your exercises and improve your plan for better results.
Freeletics promises to give you a fully personalized fitness experience. It says ''no two people get the same workout plan''.
---
Also Read: The Best Running Apps for Apple Watch
---
Peloton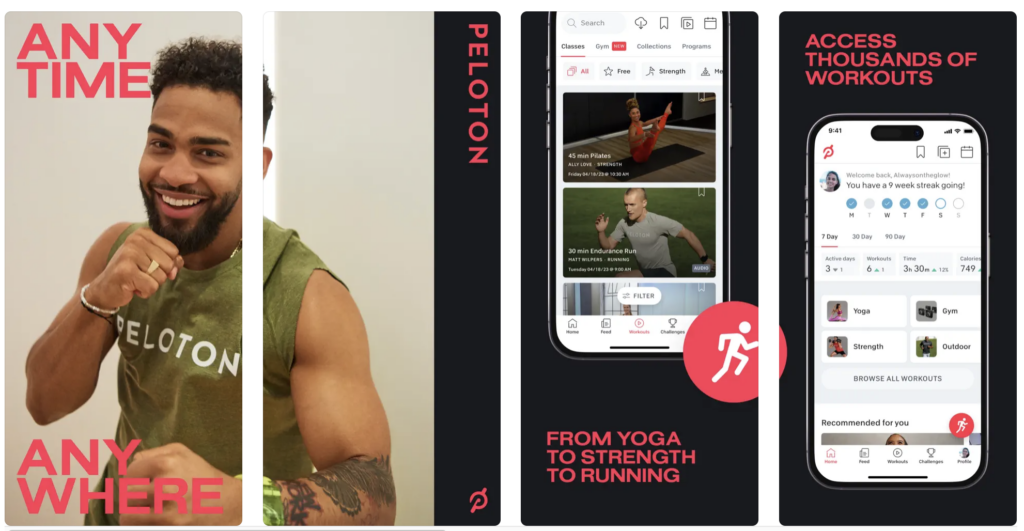 Next in our list of the best free workout apps for iOS is Peloton which was named by Forbes Magazine as the ''Netflix of the workout world''.
Peloton is not a free app, but you can try it free for 30 days and then decide if you want to keep using it. By the way, if you are a Peloton Bike or Tread owner, you can use it free without a limit or a payment.
Peloton allows you to ''meet your fitness goals' with its indoor & outdoor running, HIIT, strength, yoga, cycling, meditation lessons and more.
It is one of the best free workout apps for iPhone and you can also use it on your iPad, play it on your TV with AirPlay, Chromecast or its own Apple TV app.
There are various training programs in the app that are 4 to 18 weeks long, designed by world-class instructors for all levels and you win medals & badges for your accomplishments.
In my opinion, the best feature of Peloton is that it enables you to work out with your friends and other community members, which is quite motivating to me.
It works with Apple Health and you can use it on your Apple Watch too. You can also connect your heart-rate monitor and cadence sensor via Bluetooth.
---
Also Read: The Best Meditation Apps
---
Run Keeper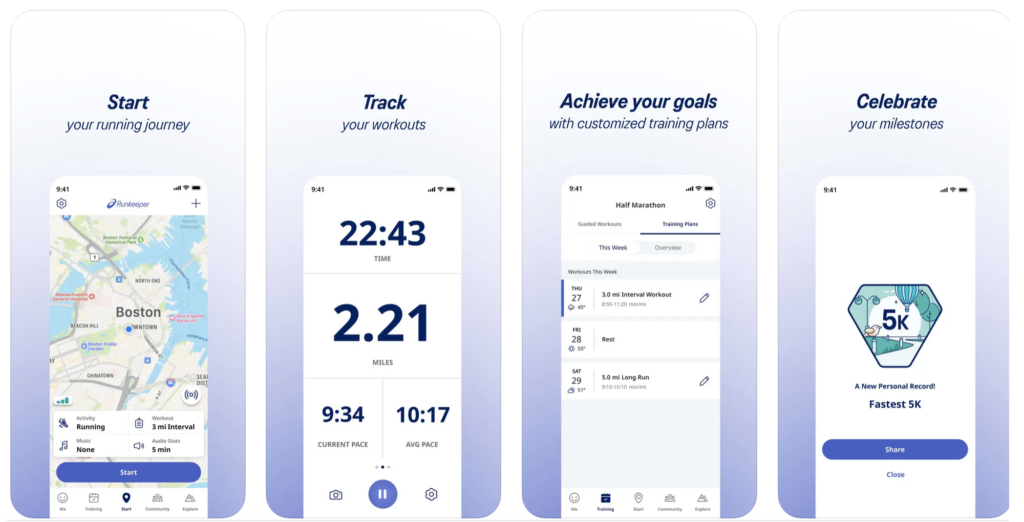 Run Keeper is an app that lets you track your workouts like running, walking, hiking or biking, and see your progress. How does it do it? It works via GPS.
With 5 additional very-motivating voices, it gives you audio updates and informs you about your speed, distance and time.
Run Keeper also allows users to start running groups so that they can work out together.
Strava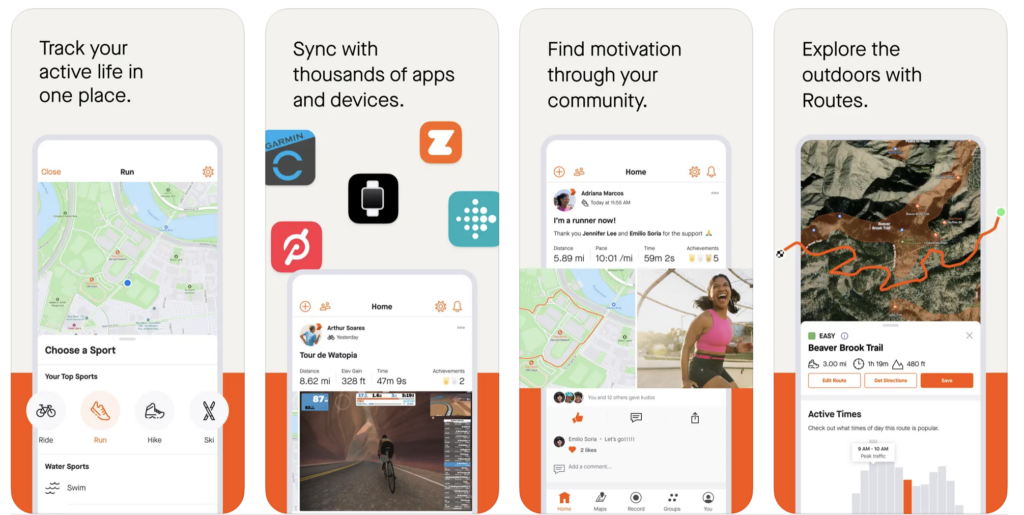 Let's continue with Strava, which was chosen as the best app for runners in 2019 by the Running Awards. It is also used by a very large cyclist community.
Strava lets you track your runs, rides, workouts and shows your training development over time. You can access your analyses via your iPhone, Apple Watch or any GPS device.
It also helps you explore new places for your workouts and its virtual segments allows you to challenge the other athletes in the community.
Adidas Training by Runtastic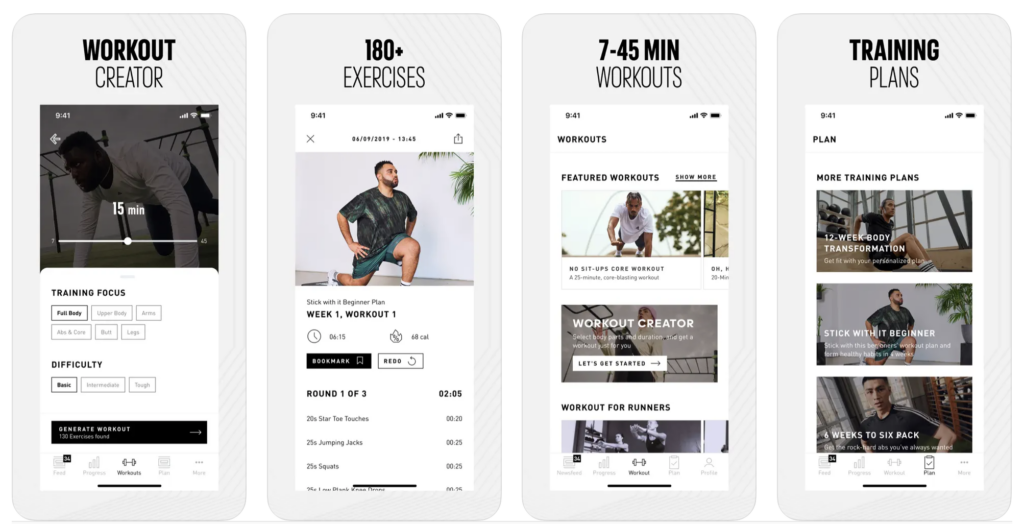 The next best free workout app for iOS is Adidas Training by Runtastic which offers more than 180  focused exercise videos that will help you ''get your dream body''. It creates a personalized training workout for you according to your needs and fitness level. 
You can use it on your iPhone, iPad, Apple Watch and Apple TV.
And it works integrated with Apple Health to provide you with useful details of your workouts including how much calories you burn.
---
Also Read: The Best Apps for Cyclists
---
Adidas Runtastic Running App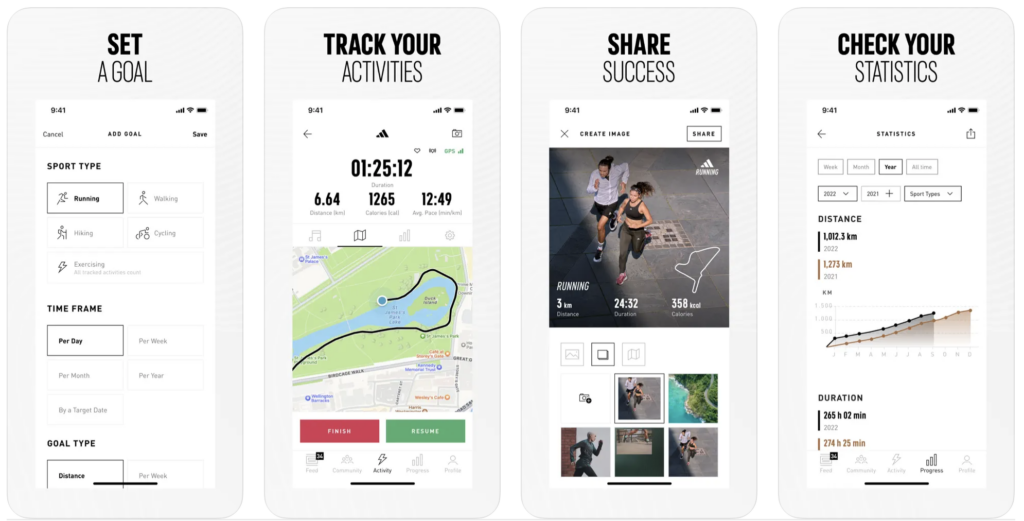 Here is another app by the same developer, but this time it's for running.
Set your goals. Then, just like Run Keeper, Adidas Runtastic Running app lets you keep track of your activities via GPS and the Voice Coach in the app sends you audio feedback throughout your workouts.
You can workout with your personal plan, or join millions of other Adidas runners and run with them.
The Live Tracking & Cheering feature allows you to feel your friends' support and let them motivate you just like when they're standing on the sidelines waiting for you to finish your marathon. It also enables you to share your success on social media.
It has a very easy-to-use app interface and allows you to customize your dashboard for a better app experience.
It also offers the Shoe Tracking feature which lets you know when it's time to get a new pair.
Home Workout – No Equipments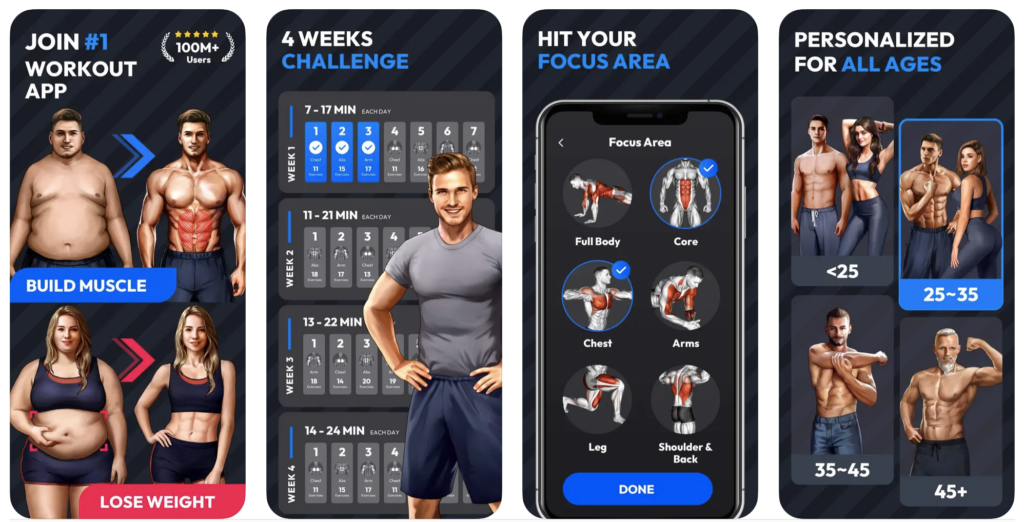 The 8th app in our best free workout apps for iOS list is Home Workout – No Equipments which has become quite popular especially after the coronavirus pandemic broke out. Unlike the apps above, it shows animations instead of videos.
It aims to help you see changes in just 4 weeks, with its 50+ muscle focused workouts, without requiring any equipment.
RockMyRun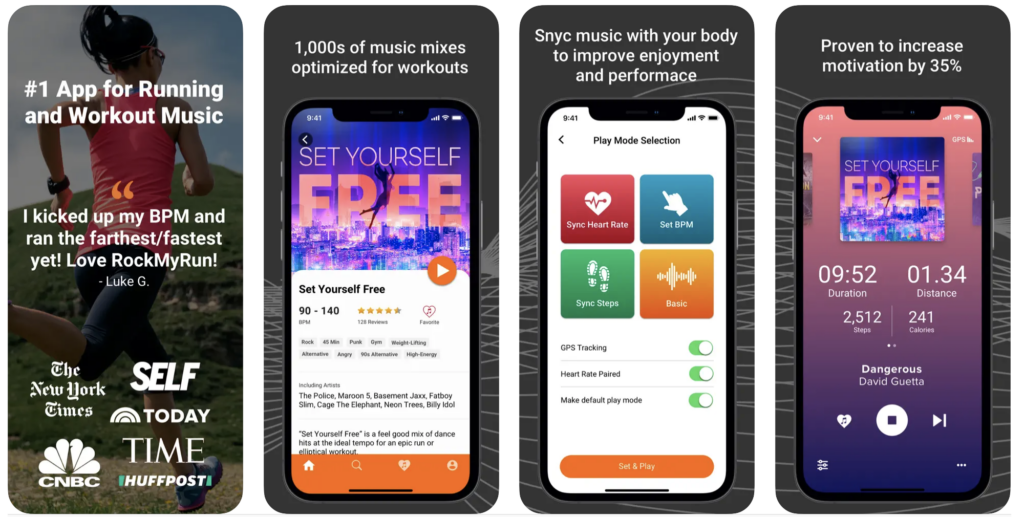 As you know, motivation is a key factor in sport and music is a very powerful source of motivation.
RockMyRun app offers you the best workout music that will help you maintain your tempo and burn more calories. It gives you great control over your music according to your tastes and workouts.
"Music can be a great help to runners, but sometimes putting together a playlist can be a chore. So leave the song selection up to RockMyRun." – New York Times
''Great variety; it's easy to find something to your tastes. Choose from oldies, dub step, hip-hop, country and a dozen other genres, then personalize it via preferred beats per minute, clean or explicit lyrics.'' – LA Times
"These Pre-Made Music Mixes Will Change Everything" – Glamour
MyFitnessPal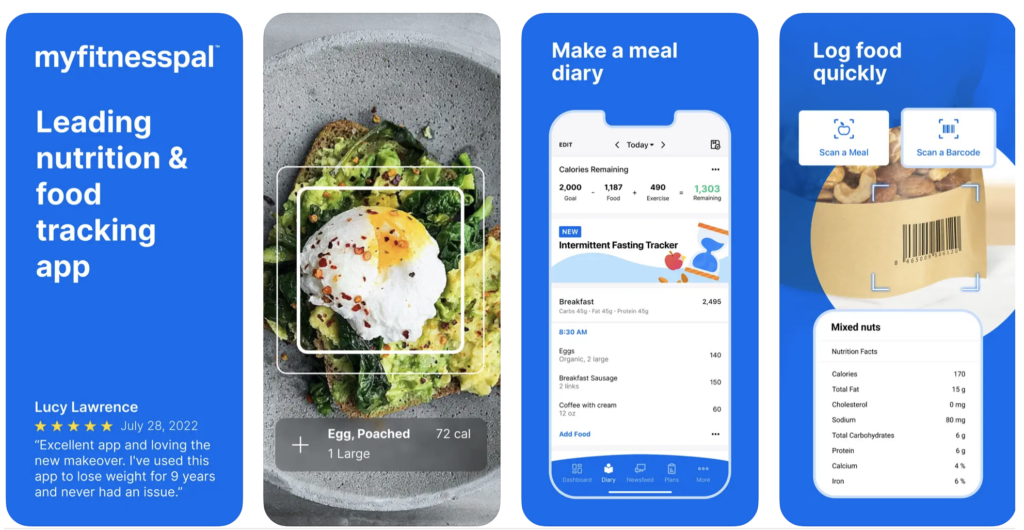 We're closing our list of the best free workout apps for iOS with MyFitnessPal which helps users track their calories, macros and more.
As you know, you must maintain a healthy diet to maximize the efficiency you will get from your work outs. Otherwise, you may harm your body instead of strengthening it.
MyFitnessPal enables you to track what you're eating and provides you with healthy plans and recipes. It also lets you scan barcodes for nutrition facts.
---
Leave a comment below and let us know which one of these workout apps for iOS is your favorite one.
Don't forget to check out our Top Mobile Apps category for more!