The ads we come across while browsing the internet can be annoying after a while. iOS devices can become more useful with ad blockers for iPhone. While playing games, surfing the internet, watching videos, we may be constantly exposed to ads. This situation, which annoys the users, can be easily fixed with the apps we will mention below.
In this article, we have gathered the best ad blockers for iPhone that you can use in Safari to get rid of ads on the internet.
The Best Ad Blockers for iPhone
AdBlock
1Blocker
Wipr
AdBlock for Mobile
Ka-Block!
AdGuard Pro
AdBlock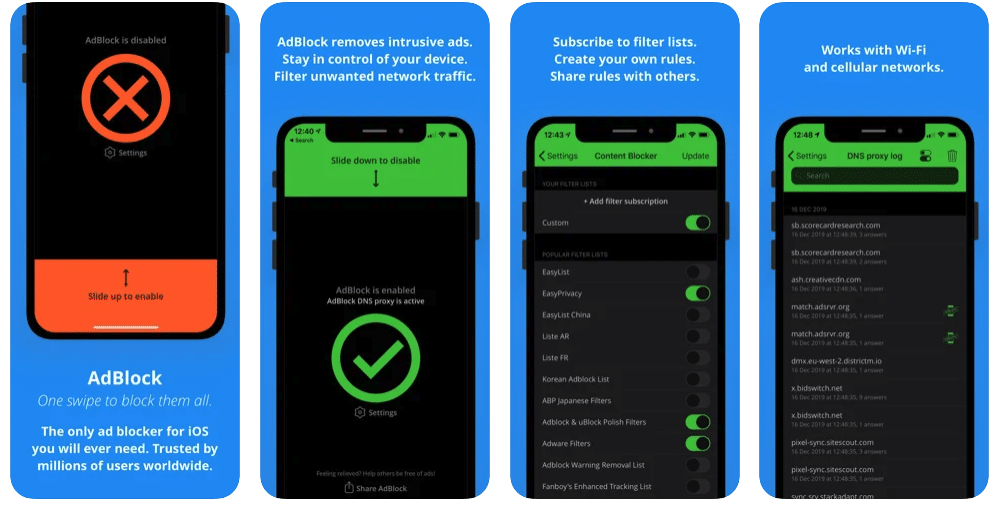 Price: $1.99
One of the best ad blockers for iPhone, AdBlock allows you to block 99% of popups, banners and video ads. It comes with a built-in local DNS proxy service, which also helps in protecting your privacy, limiting bandwidth usage, speeding up your iPhone and saving battery.
No subscription fee is required, other than the payment you make when purchasing the popular app that allows you to block ads on your iPhone.
1Blocker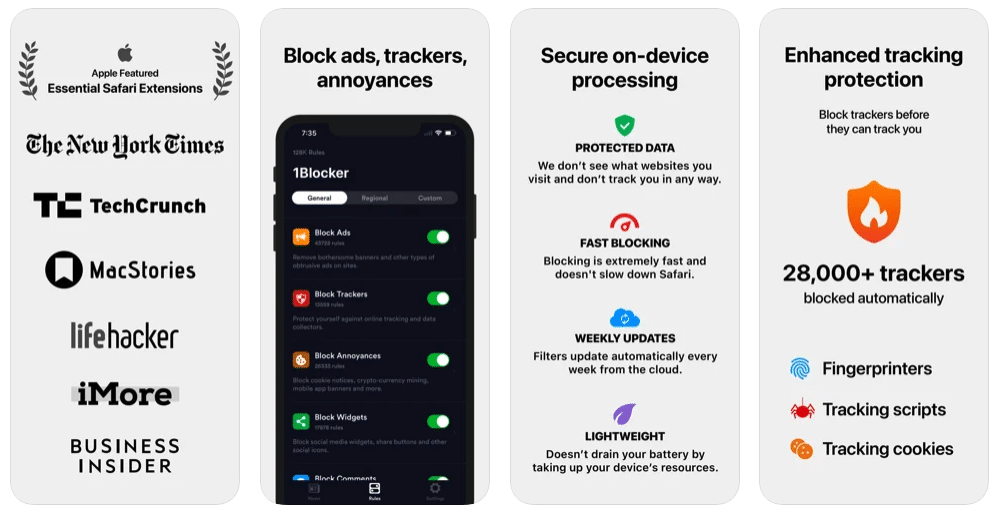 Price: Free
Allowing you to block annoying ads, sneaky trackers and annoying elements on sites, 1Blocker does not consume your battery by taking up your device's resources. Ad blocking is pretty fast because the app only provides filters to Safari and doesn't modify web pages in any way.
In the app, you can also create custom rules that block any URL by providing a regular expression or hide any element by CSS.
---
Also Read: The Best Spam Call Blockers for iPhone
---
Wipr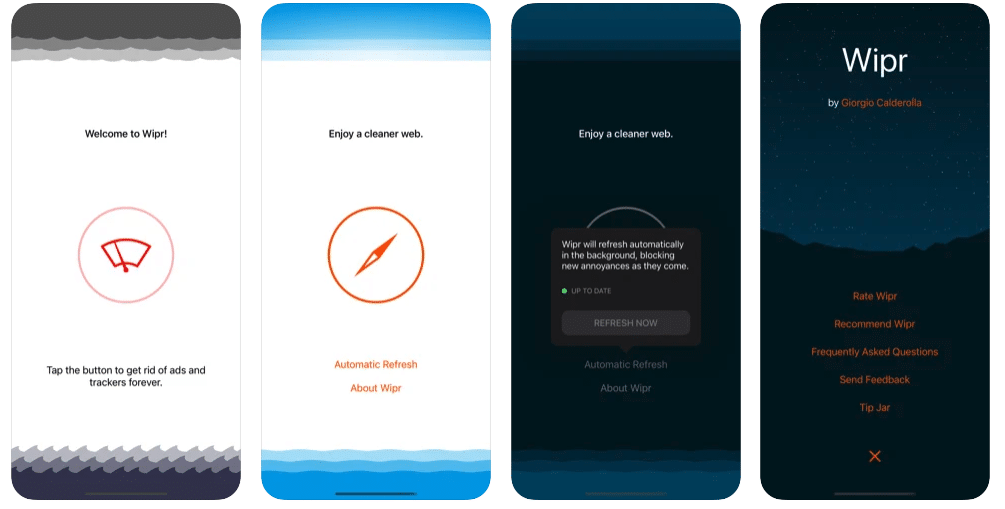 Price: $1.99
A very comprehensive ad blocker, Wipr allows you to block all ads, trackers, cryptocurrency miners, EU cookie and GDPR notices and other annoyances. It works in Safari and any apps that use Safari to view web pages. Wipr, whose block list is updated twice a week to keep up with the ever-changing web, also makes web pages load much faster.
AdBlock for Mobile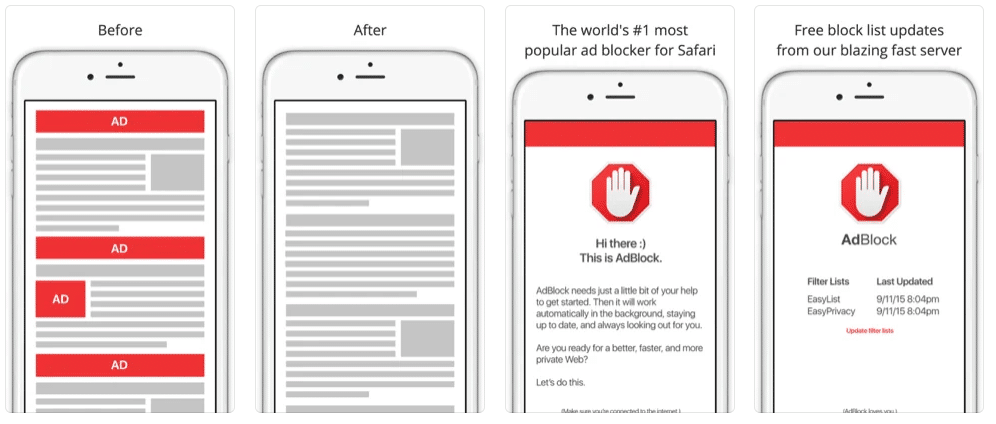 Price: Free
If you are looking for a free ad blocker for iPhone, you can give a try to AdBlock for Mobile. AdBlock for Mobile is one of the best ad blockers for iPhone with its custom language setting to block region-specific ads, built-in privacy protection with anti-tracking, simple interface and many more.
AdBlock for Mobile on the App Store
---
Also Read: The Best Password Managers for iPhone
---
Ka-Block!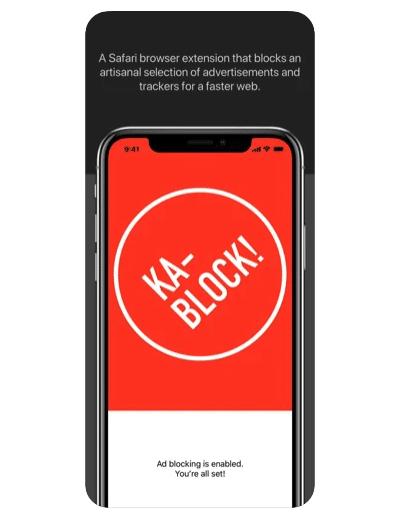 Price: Free
Ka-Block! is an ad blocker for Safari that prevents ads and tracking scripts from slowing down the web pages you visit. You can also use Ka-Block!, an open source app, for Safari on Mac.
AdGuard Pro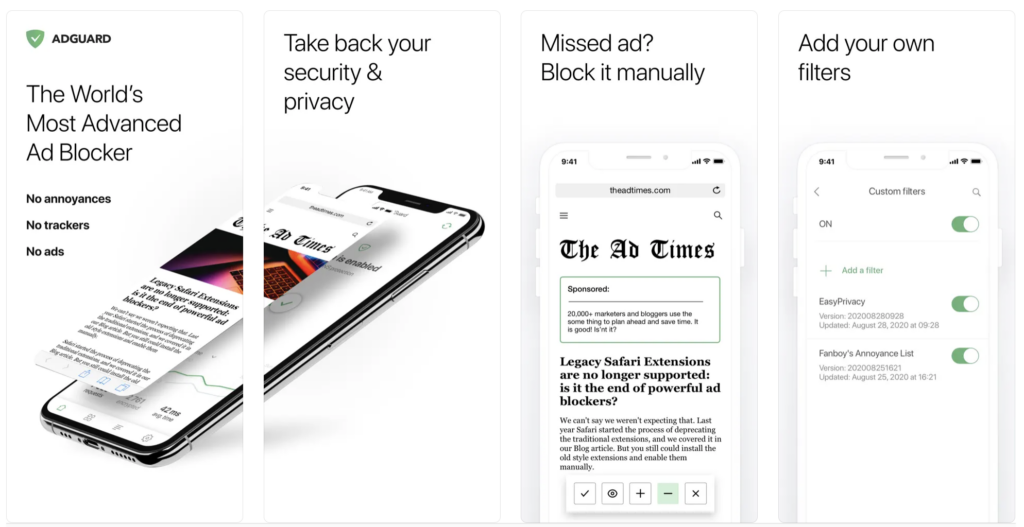 Price: $9.99
AdGuard Pro, the most expensive app on our list, works with VPN and HTTP Proxy mode and easily blocks ads. You can manually block the ads missed by the apps, which removes annoying pop-ups, banners, and video ads that appear in Safari. Offering features such as privacy protection and speed acceleration, AdGuard has all the features you need to have an ad-free and secure experience using your iPhone.
–
We've come to the end of our list of the best ad blockers for iPhone. Do not forget to share your comments with us if you use an app that is not on the list, and your suggestions if you use an app that is not on the list.