Tired of annoying ads that interrupt and distract you right at the place of excitement while watching an interesting video? I can hear you say "yes"! Many of us are disturbed by the fact that these ads appear frequently, take a long time and steal from our time. But are these ads just stealing from our time? No, heavy media ads consume your battery and data on your device. So, how are you going to deal with this situation? We have presented the solution to this problem and prepared a list of the best ad blockers for Android such as AdGuard, Adblock Browser, and AppBrain Ad Detector. If you're curious, keep reading!
AdGuard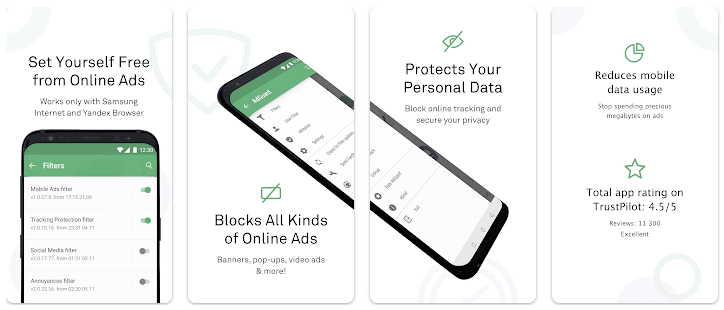 Price: Free
AdGuard is a free content blocker and comes with customizable filters for Yandex and Samsung Internet. AdGuard is among the best ad blockers for Android and is an app that puts users' privacy first. Users can support their favorite websites and creators by adding websites to the exceptions list with the whitelist feature in the app. Also, AdGuard allows users to add their own custom rules to block ads or hide any element on the page. To learn more about the app, you can browse AdGuard's website.
---
Also Read: The 5 Best Free VPN Apps for Android
---
AdClear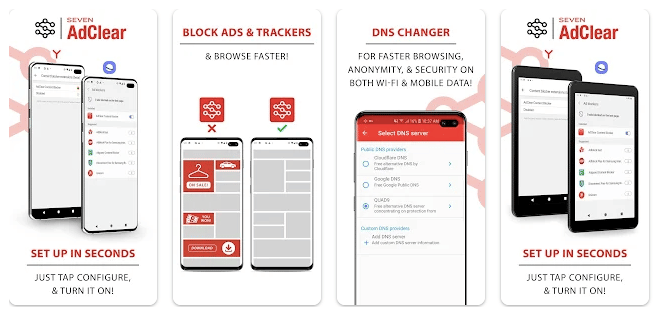 Price: Free
AdClear Content Blocker is an ad blocker developed to block ads in a browser or app that allows you to browse the web comfortably. AdClear Content Blocker effortlessly blocks all advertisements visited from Samsung Internet and Yandex browser and is one of the best ad blockers for Android. Users can use in-app DNS Changer to block ads in other browsers and apps. Additionally, AdClear Content Blocker offers protection features for users from malware-infected ads. Check out AdClear's website for more information.
AdblockPlus (ABP for Samsung Internet)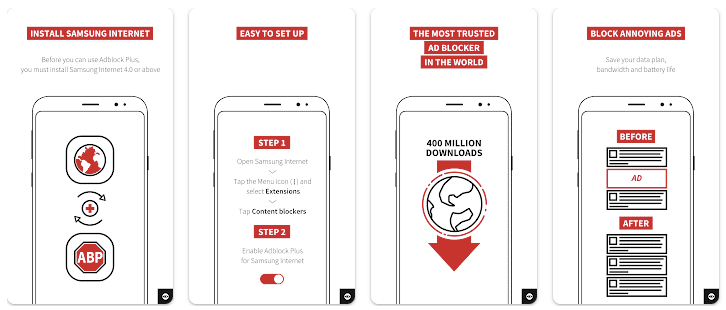 Price: Free
AdblockPlus is a functional app that saves reading space by blocking ads and is among the best ad blockers for Android. Users can save battery life and monthly data usage with the app. Users should use custom language settings to block region-specific ads. In addition, users can enjoy fast web page performance with AdblockPlus. For more detailed information, go to AdblockPlus' website.
---
Also Read: The 10 Best Android Browsers to Surf the Web
---
Adblock Browser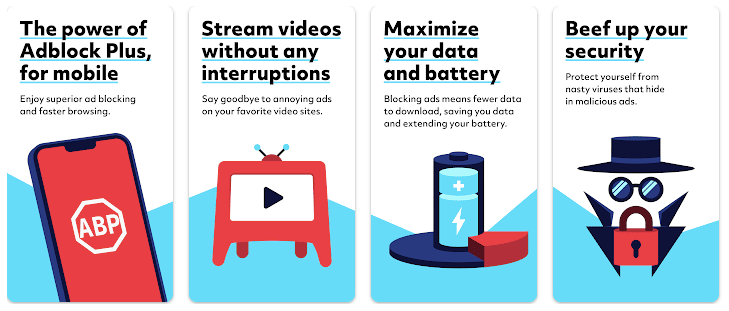 Price: Free
Adblock Browser is a successful app that blocks annoying ads such as Pop-up, video, and banner ads and does not let annoying ads take over your screen. Adblock Browser app made by the Adblock Plus team deserves to be among the best ad blockers for Android because it is a pretty fast and reliable app. Users will save battery life and data thanks to Adblock Browser.
Adblock Browser on Google Play
---
Also Read: The 6 Best Android Launchers
---
AppBrain Ad Detector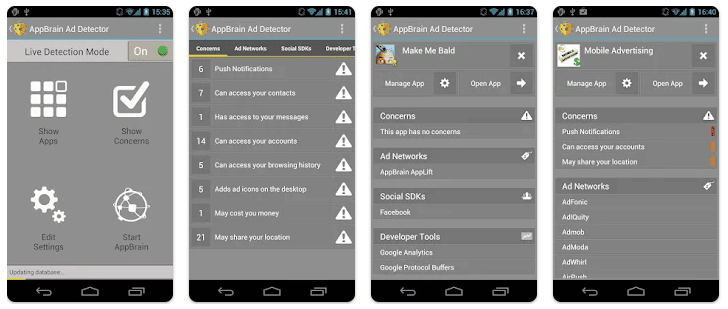 Price: Free
AppBrain Ad Detector is an ad blocker app that identifies adware and helps you remove apps that violate your privacy. Users can protect their phones from possible spyware and advertisements with AppBrain Ad Detector. The app finds spam ads, spyware, and privacy-related problems on your phone and guides you. For more information about AppBrain Ad Detector, you can visit AppBrain Ad Detector's website.
AppBrain Ad Detector on Google Play
---
Also Read: The 6 Best Signal Booster Apps
---
​​Firefox Focus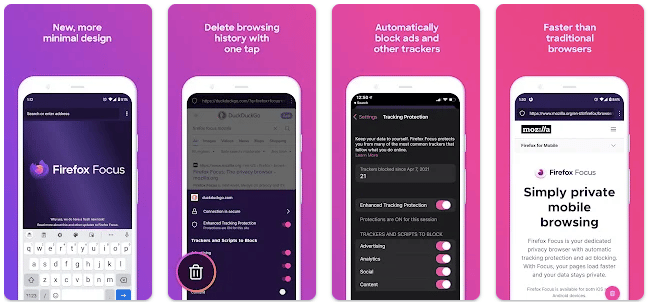 Price: Free
Firefox Focus is an app that allows you to easily search and block online trackers separately from your main browser. Users can effortlessly clear their search history with a single tap (trash icon). The app has a marvelous bar for speed dialing, and a practical keyboard, and offers a simple and minimal design.
Also, users can easily access their favorite sites by pinning up to four shortcuts to their home screen. Firefox Focus blocks many ads that normally appear on web pages and provides a fast web browsing experience. Also, the app is supported by Mozilla and is among the best ad blockers for Android. Check out Firefox Focus's website for more information on the app.
​​Firefox Focus on Google Play
AdShield – Ad blocker
Price: $1.99
AdShield is an ad blocker and DNS changer and supports IPv4 and IPv6. The app works only in the web browser (including Chrome) and offers an ad-free web experience. Users can effortlessly block ads, adult websites, banners, and more with the app. AdShield which is an advanced app can prevent advertisers from tracking your behavior. Thus you can protect your privacy. AdShield also comes with a battery-saving feature.
AdShield – Ad blocker on Google Play