By the end of 2020, the number of mobile adblock users increased 10% and reached 586 million while desktop adblocking rose 8% to 257 million users, according to Blockthrough's 2021 PageFair Adblock Report. 
The latest survey of the company which provides adblock recovery solutions found that while desktop adblocking saw a decline in 2018 and began to rebound last year, mobile adblocking has been steadily growing since 2014 largely thanks to the increasing number of mobile web browsers that offer the ability to block ads by default.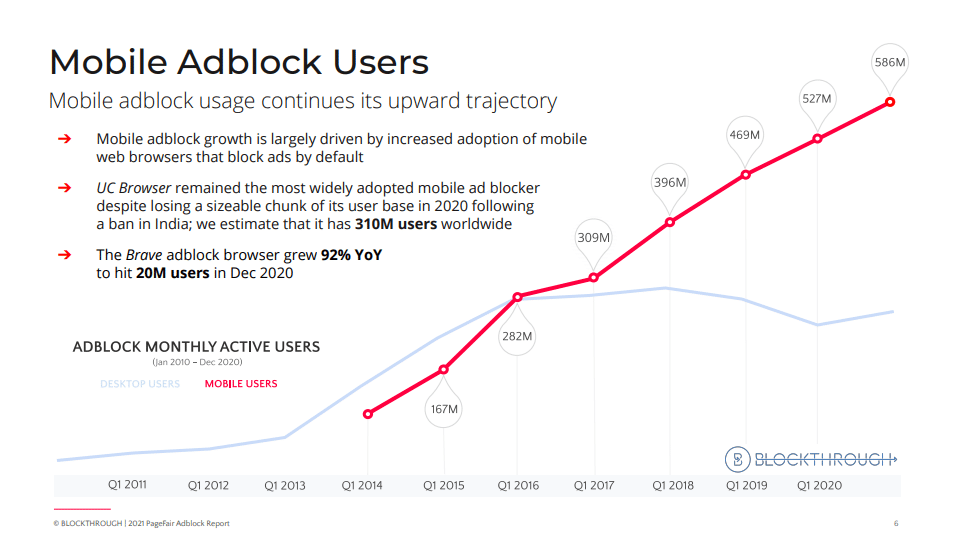 According to the report, UC Browser was the most popular mobile ad blocker in 2020 with over 310 million users although it was banned in India in June last year as well as 58 other apps including TikTok, Clash of Clans and ShareIt. 
UC Browser was followed by The Brave which surpassed 20 million users in December with a 92% year-over-year growth.
In addition, the survey also found that people that use adblocking products are two times more likely to accept light and non-intrusive ads instead of paying for content and engaging with adblock walls. 
By the end of 2020, 218 million users opted in for Acceptable Ads, which are the ads that are not intrusive, up 54% from the first quarter of 2019.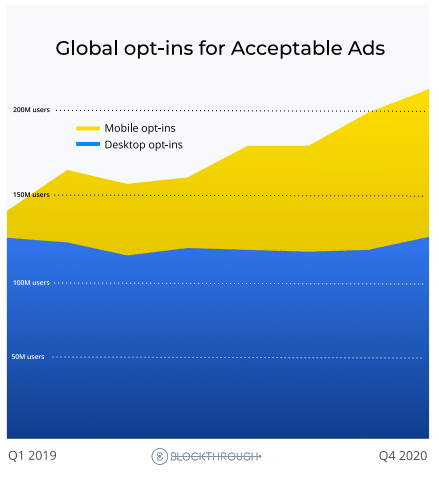 Meanwhile, mobile opt-ins for Acceptable Ads have grown 435% since the beginning of 2019.