The issue of privacy and security of personal data is frequently on the agenda these days. With the implemented App Tracking Transparency framework, Apple has imposed limitations on what kind of data downloaded apps can access and how they can use this data. On the other hand, password security is at the forefront of the measures we can take individually.
In this article, we've put together the best password managers for iPhone that you can use to minimize potential security threats with secure and well-protected passwords.
Dashlane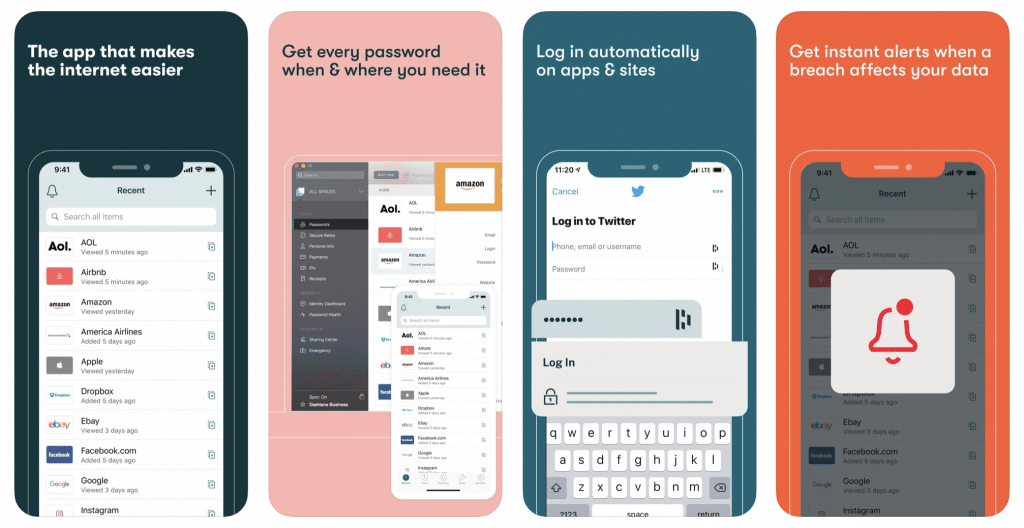 Price: 30-day free trial / $6.49 per month / $59.99 per year
Dashlane is at the top of our list of the best password managers for iPhone, with its advanced security features, VPN support, data breach alerts, dark web monitoring, and much more.
Using the app, which has more than 15 million users worldwide, you can create and store an unlimited number of passwords, log the apps and websites in automatically with its autofill feature, get alerted about breaches and hacks that affect your data, and learn if your data is on the dark web. 
You can also use its VPN if you want to browse anonymously on the internet.
---
Also Read: The Best VPNs for iPhone
---
1Password
Price: 30-day free trial / $3.99 for individuals per month / $6.99 for a family of 5 per month
Standing out with its simple interface and ease of use, 1Password is one of the best password managers for iPhone that offers all the basic features you would expect from a password manager.
1Password both allows you to create secure and unique passwords and store them to let you sign in to websites and apps without having to enter password manually. The app, with which you can log in quickly with your Face ID, also allows you to store your passwords in different categories such as bank accounts, logins and passports.
Thanks to 1Password, if you need a password, you can search and find it using Spotlight.
LastPass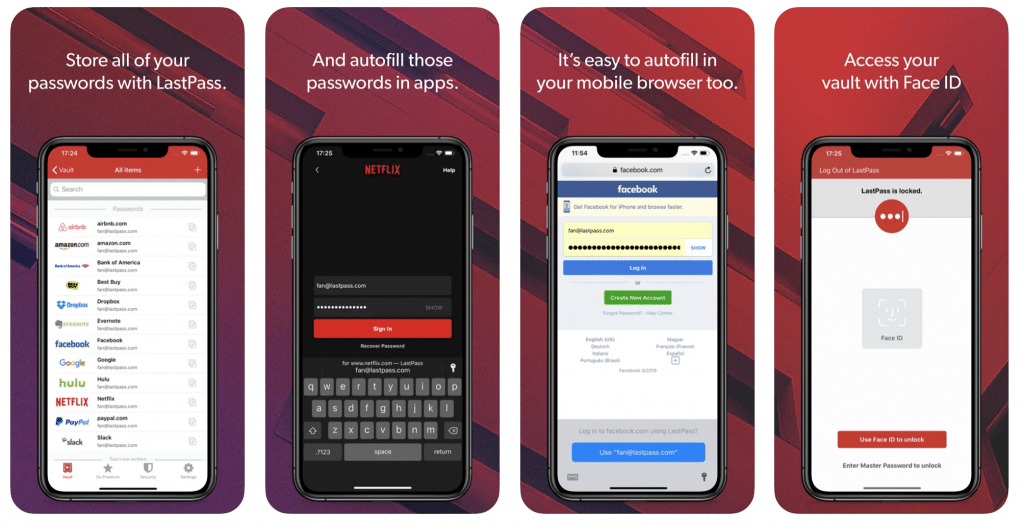 Price: Free / $35.99 per year
Using AES 256-bit encryption to secure your passwords, LastPass is one of the most secure password managers for iPhone. Supporting autofill for apps, Safari, and other mobile browsers, LastPass also allows you to share such information as WiFi password and cable login safely with others.
The free version of the app allows you to use it on just one device. If you want unlimited device type access and other features including 1GB encrypted file storage and personal support, you need to purchase its Premium version.
---
Also Read: Best Apps for Productivity
---
Bitwarden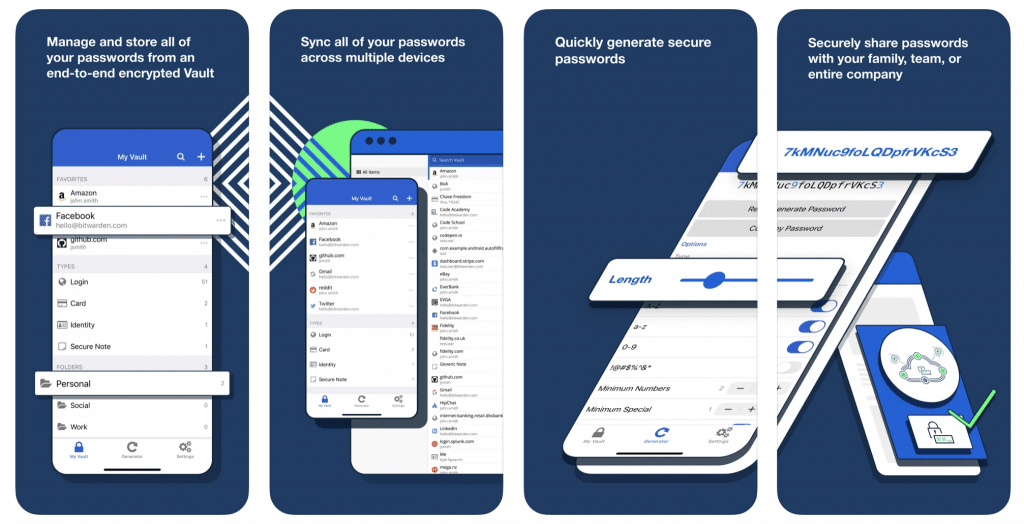 Price: Free
Being an open-source password manager, Bitwarden uses AES-256 bit, salted hashtag, and PBKDF2 SHA-256 protocols to securely store password data. It manages and stores all passwords from an end-to-end encrypted Vault and allows you to generate secure and unique passwords quickly. 
Bitwarden also has a device synchronization feature that lets you access all your passwords across multiple devices. You can also securely share your passwords with others. The free app allows you to manage, store, secure, and share unlimited passwords across unlimited devices from anywhere, at no cost.
NordPass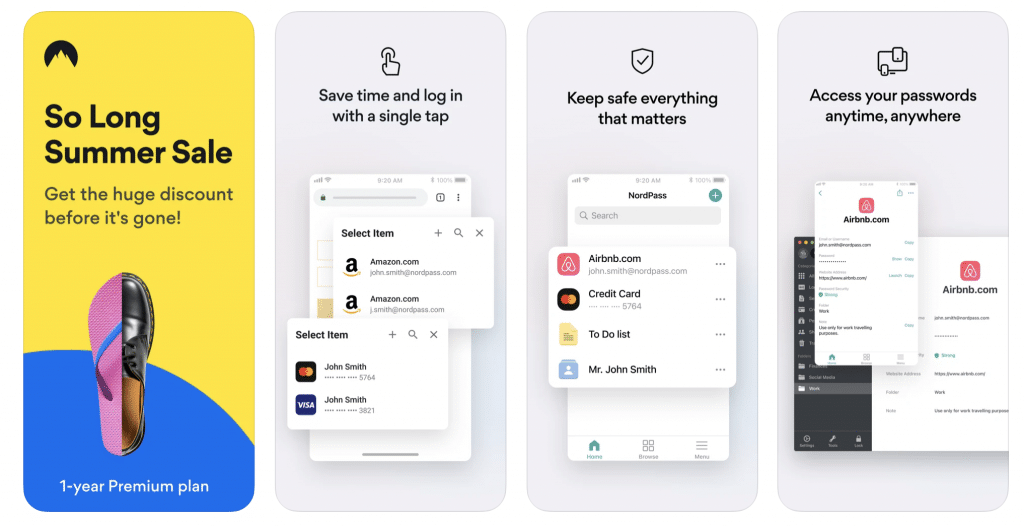 Price: $4.99 for 1-Month Plan / $35.99 per year
Nordpass is a very ambitious password manager app developed by NordVPN, saying that it uses a password security technology that is superior to many different apps.
Like most apps on the list, NordPass allows you to store an unlimited number of passwords, create new secure passwords, synchronize them with your other Apple devices, and securely share your passwords, with a subscription you purchase.
As one of the best password managers for iPhone, Nordpass also offers VPN service. You can also store your credit card information by creating a virtual wallet through the app.
---
Also Read: The Best Utility Apps for iPhone
---
RoboForm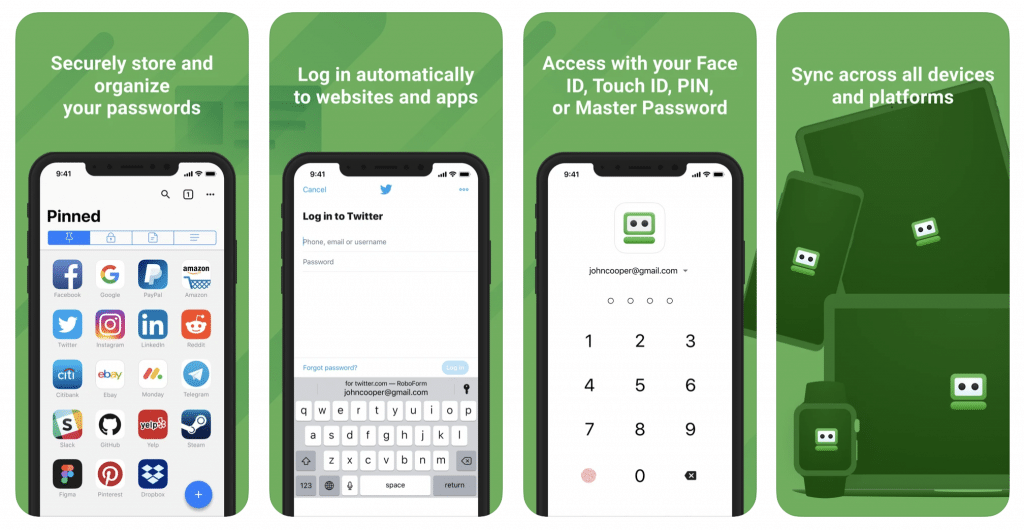 Price: Free / $23.99 per year / $47.99 per year for family
Next in our list of the best password managers for iPhone is RoboForm, a popular form filler and password manager that is free for unlimited logins and web form fill on a single device. You need to purchase the paid package to be able to use the app, which offers secure password creation, autofill and password categorization features, on all your devices.
RoboForm, which also offers the option to fill out complex internet forms such as vehicle registration and passport application, comes with 8 preset templates and allows you to create customized forms as well.
mSecure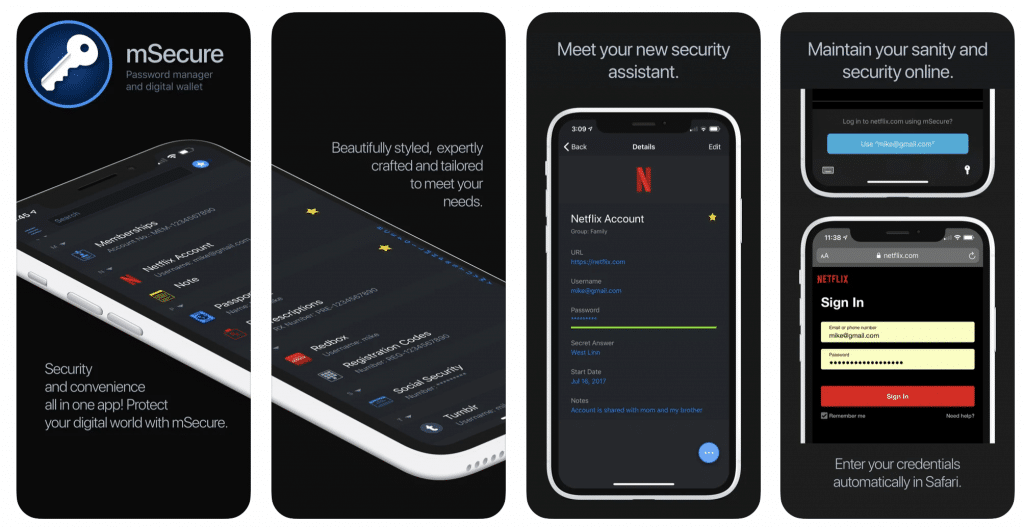 Price: Free / $29.99 per year / $2.99 per month
We finish our list of the best password managers for iPhone with mSecure, which is a simple password manager with an easy-to-use interface. Using the application, you can see which of your passwords are strong and which ones are weak, quickly log in to mobile apps and websites with autofill, group your passwords, and of course, create strong passwords and store them securely.
For features such as device synchronization, backup & restore, Apple Watch support, and Touch ID & Face ID support, you need to upgrade to PRO with a one-time purchase.