As we're only one day away from the World Password Day, NordPass has shared a new report revealing the 200 most common passwords in 30 countries including the United States. 
According to the report, for which the company analyzed more than 3 terabytes of data with support from independent researchers, ''password'' was the most common password overall in 2022, dethroning ''123456''.
The Top 10 list continues with ''123456789'', ''guest'', ''qwerty'', ''12345678'', ''111111'', ''12345'', ''col123456'', and ''123123'' respectively.
Most common passwords in the U.S.
When it comes to the most common passwords in the United States, ''guest'' was the first choice of the majority of Americans last year. Compared to ''password'', it takes relatively longer, about 10 seconds, to crack it, NordPass said.
It was followed by ''123456'', ''password'', ''12345'', ''a1b2c3'', ''123456789'', ''Password1'', ''1234'', ''abc123'', and ''12345678'', respectively.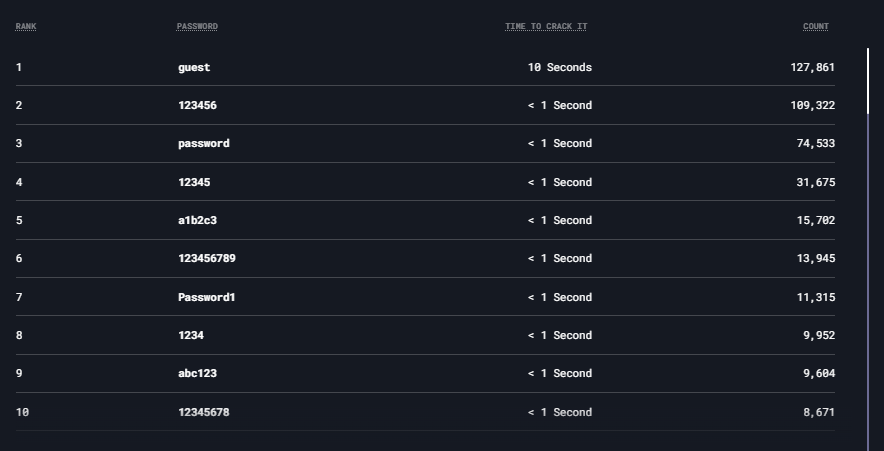 "Old habits die hard"
The report revealed that ''people still use weak passwords to protect their accounts'' since ''old habits die hard'' in spite of the increasing cybersecurity awareness.
While choosing their passwords, online users tend to be affected by cultural experiences, events and popular trends, the research found. These include fashion brands, swear words, sports, movies, artists, video games, cars, and food. 
For example, the password "Oscars" was used 62,983 times last year, NordPass said.
But the same research also revealed that 83% of the most common passwords can be cracked within a second. So it's vital to be more cautious when creating passwords for your online accounts.
Tips for creating strong passwords
In order to create strong passwords, NordPass recommends users to ''think long and complex''.
''A complex password is one that contains at least 12 characters and a variety of upper- and lowercase letters, numbers, and symbols,'' the company explains.
Not reusing passwords for multiple accounts, updating passwords regularly, abd auditing accounts to see which ones you use and which ones you don't anymore could be highly useful for your online protection.
In addition, you can also check out the best 2FA apps and password managers for Android & iPhone to strengthen your online protection.