​​Whether it's our accounts on social media platforms, our accounts on other websites, or even directly the operating system of our mobile devices, we must create strong and unique passwords for their security. However, no matter how strong your password is, when you want to talk about real security, you should use the two-factor authentication feature called 2FA.
Two-factor authentication, in its simplest definition, is a double password. In other words, even if someone knows the password of your account, they cannot log into your account unless they have your phone because a one-time password comes to your phone to log in. You will understand that a very simple but extremely effective security is important. Let's take a closer look at what two-factor authentication is.
What is Two-Factor Authentication?
Two-factor authentication, patented in 1984 and referred to as 2FA, is a security measure used to confirm user identity. When we look at the patent year, we can see that there was a need for security even years before the widespread use of computers and the internet.
The working principle of the two-factor authentication system is simple. Whether it is a bank or social media account, a password is sent by the system to the mobile phone that only the user can access, apart from the account password, for proof of identity. This password is for one use only and is considered a password known only to the account owner, unless the phone has been stolen or the owner has been kidnapped.
Today, two-factor authentication applied on mobile devices can be done simply and securely through mobile apps. In this list, we've brought together the best 2FA apps you can use on your iPhone and Android devices.
The Best 2FA Apps for iPhone and Android
Google Authenticator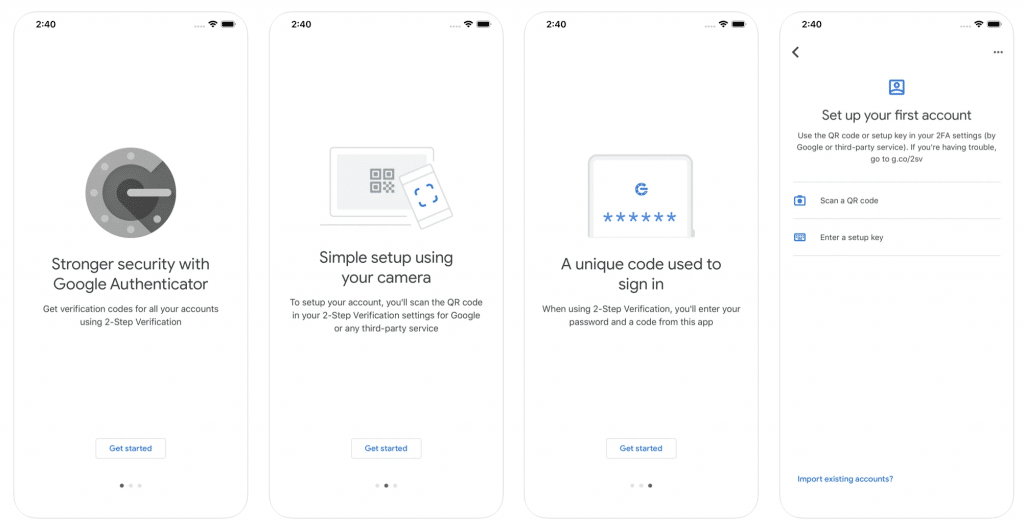 The most popular authenticator app with TOTP and HOTP algorithms gives you a real-time authentication code that changes every 30 seconds.
Google Authenticator is a practical solution if you don't want to deal with token synchronization via the cloud. The app allows you to easily export all the tokens created in it into one large QR code and import from there to a new device. In the iOS version, tokens can now be searched and access to the app can be restricted by fingerprint and facial recognition. Besides, there is no search or protection feature in the Android version.
You don't need to create an account to access the app which has a quite simple user interface. The app also has a Chrome Extension.
Google Authenticator on the App Store
Google Authenticator on Google Play
Authy
As one of the best authenticator apps, Twillio Authy provides full cross-platform support as well as advanced 2fa features. The app has separate versions for all operating systems, and it allows these versions to be easily synchronized with each other.
With Authy, one of its biggest advantages is encrypted cloud backup, you can use the option to enter a custom password or passphrase that it uses to encrypt logins for your accounts in the cloud.
The app's interface looks different from other authenticators. Instead of a list, a series of tabs appears on the screen. Only one selected token can be viewed at any given time. Others appear as small icons at the bottom of the screen. You can switch between these icons. If you have many tokens, your job gets a little harder.
LastPass Authenticator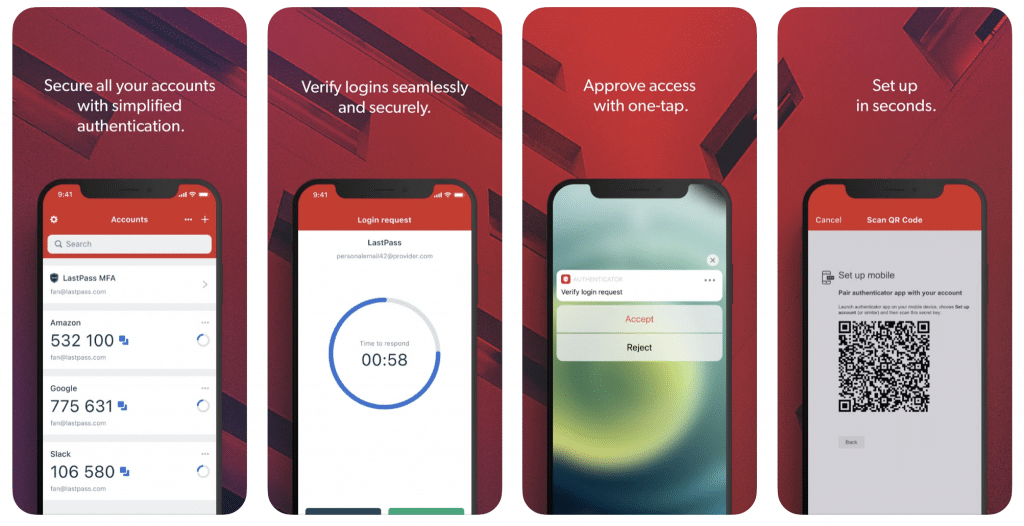 Getting started with LastPass Authenticator, a standalone app separate from the LastPass password manager app, is pretty easy if you already have a LastPass account. The trusted app supports TOTPs as well as push notification based verification for Amazon, Evernote, Google, Dropbox and Facebook.
The app, which generates 6-digit codes every 30 seconds, also provides support for other TOTP compatible services and apps such as Google Authenticator.
LastPass Authenticator on the App Store
LastPass Authenticator on Google Play
---
Also Read: The Best Password Managers for iPhone
---
Microsoft Authenticator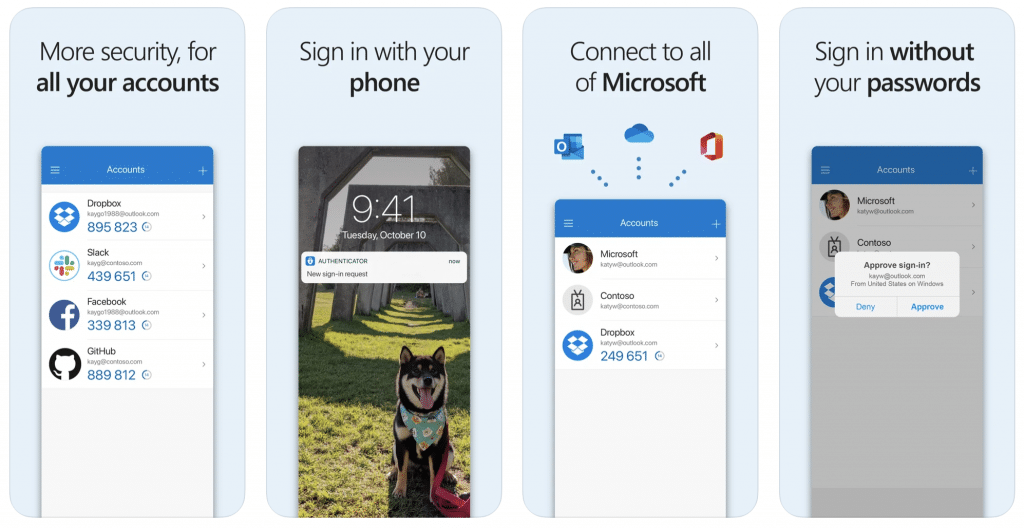 Microsoft Authenticator is one of the best authenticator apps that allows you to set a second layer of security for your accounts using multi-factor authentication, password autofill or passwordless.
Preferred by most people looking for an alternative to Google Authenticator, Microsoft's app packs a few useful features alongside the basics. In the apps, the codes on the screen can be hidden, access to the app can be restricted on both iOS and Android versions, and tokens can be stored on the cloud. Microsoft Authenticator is also very useful if you work with Microsoft accounts frequently.
Microsoft Authenticator on the App Store
Microsoft Authenticator on Google Play
Duo Mobile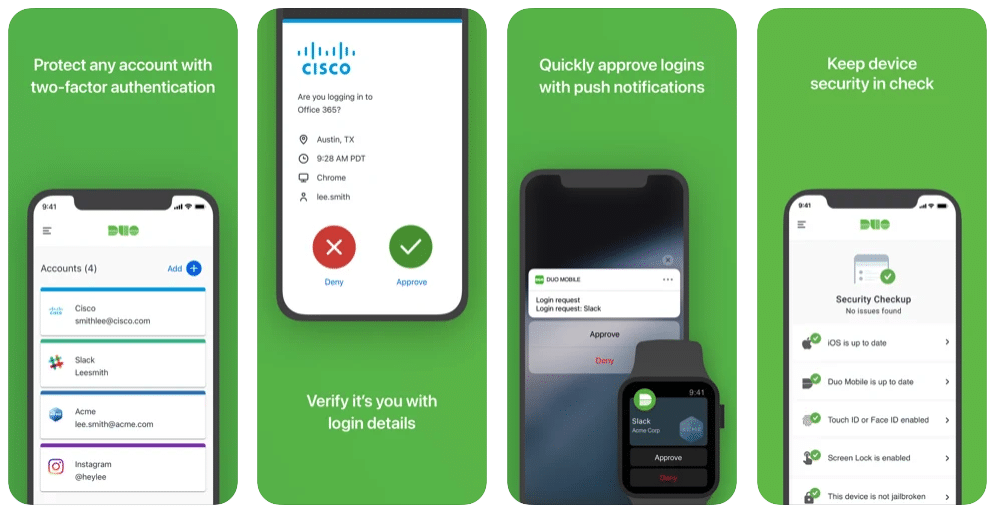 Duo Mobile, one of the best 2FA apps, was acquired by Cisco in 2018. Its biggest advantage is its simple and convenient interface. Duo Mobile also hides codes and you don't need to create an account to use it. It generates passcodes for login and can receive push notifications for easy, one-tap authentication.
---
Also Read: The 7 Best Antivirus Apps for Android
---
2FA Authenticator (2FAS)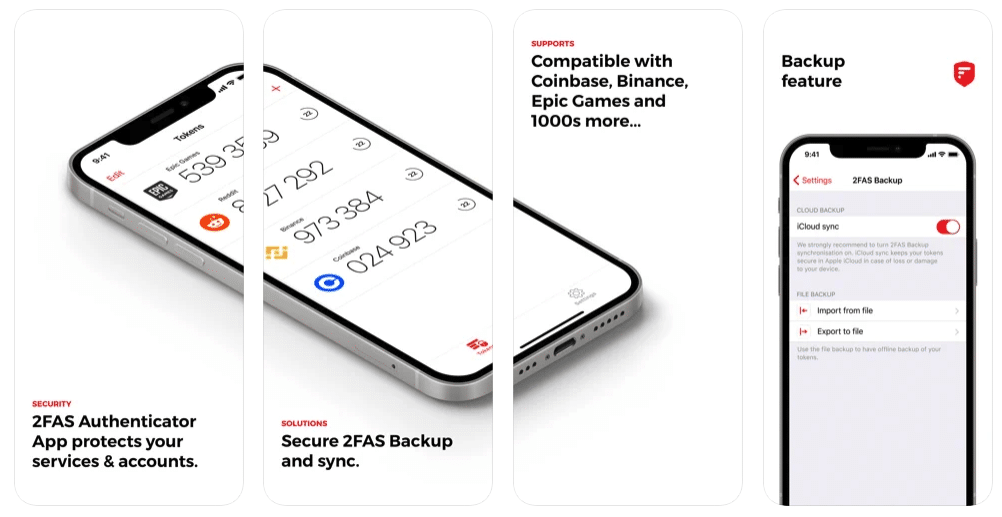 Last in our list of the best authenticator apps is 2FAS, a free app that generates time-based one-time passwords. The app also allows you to store all your tokens in the cloud to let you recover your keys if you lose your smartphone. Other notable features include device synchronization and Touch ID and Face ID authorization.