Productivity apps, as the name suggests, are apps that increase our productivity and efficiency and make our lives easier than they are. Various productivity app are available according to the need. There are many types of productivity apps, such as habit trackers, ones that keep us organized, or those that keep us focused.
In this article, you will find the best apps for productivity that will help you organize your life, make it easier and increase productivity.
The Best Productivity Apps
1Password
Price: 30-day free trial / $3.99 per month for individuals / $6.99 per month for a family of 5
We start our list of best apps for productivity with 1Password, a password management app. If you are constantly forgetting or confusing your password, this app is for you. With this app that allows you to log in to multiple websites and manage your passwords, you can securely log in to your favorite sites or apps. Meanwhile, 1Password syncs between your other devices and securely encrypts your information.
RescueTime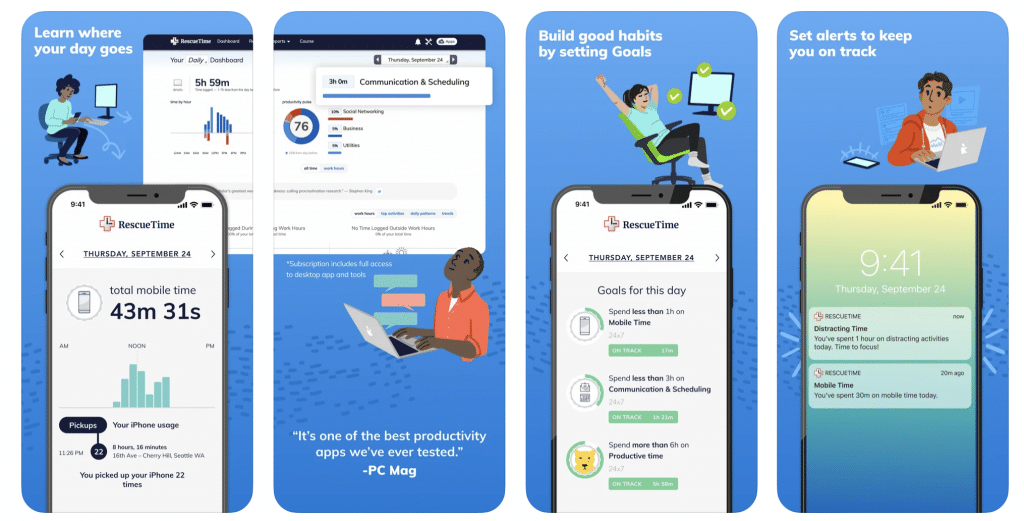 Price: Free / $12 per month / $78 per year
RescueTime, a time management app, detects which websites or apps you spend the time you spend on your phone. Thanks to RescueTime, you get an idea of which websites or apps you need to reduce your use of.
Todoist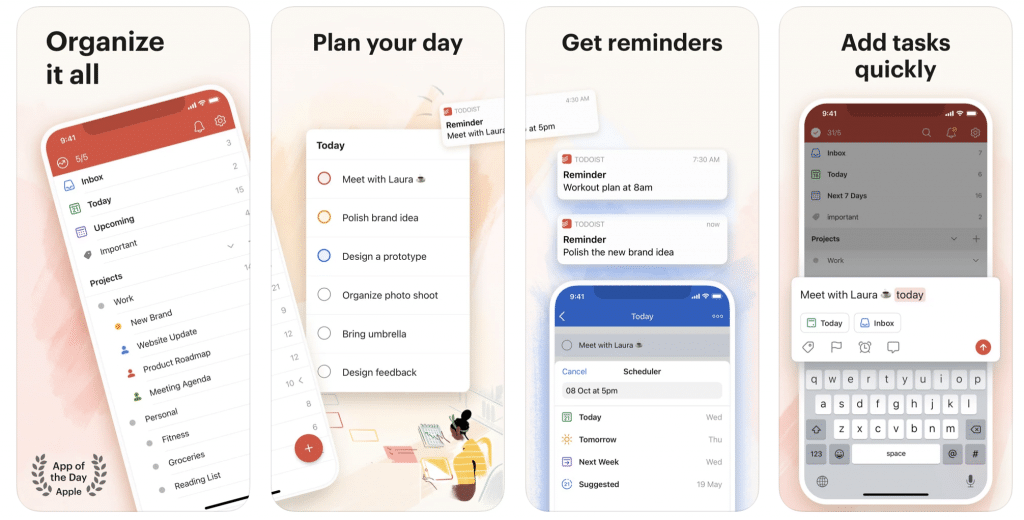 Price: Free / $4.99 per month / $47.99 per year
One of the best apps for productivity, Todoist is a to-do list app that is functional enough to meet your needs, yet minimalist enough not to be confusing for first-time users. You can track your personal affairs, goals, and habits. At the end of the week, it lists for you what you completed that week. The fact that it is used on many platforms, works online, and offers many functions distinguishes Todoist from other apps.
---
Also Read: The Best To Do List Apps for iPhone
---
24me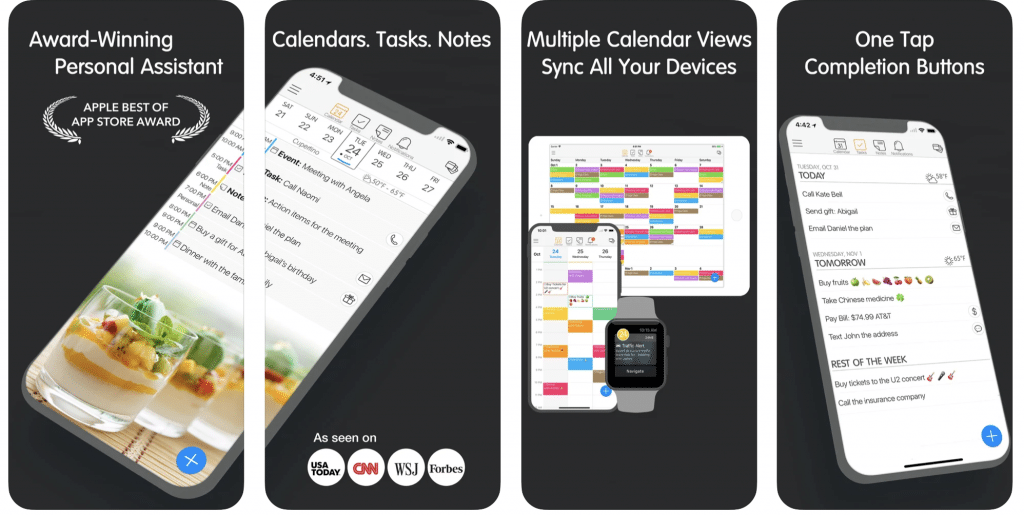 Price: Free / $5.99 per month / $35.99 per year
24me is a personal assistant app developed for those who frequently use an agenda in their daily life and keep their agenda with them. It reminds you of your upcoming payments, special days related to your family and friends, and many other important events. Thanks to its smart alerts, it gives you small information and reminders such as the traffic density of your route that day and the weather conditions of the next day.
---
Also Read: The Best Reminder Apps for iOS and Android
---
CamScanner
Price: Free / starting at $4.99
Thanks to CamScanner, a document scanning app, you do not need to find a printer or go to the stationery store to scan your document. After you take a photo of the document and upload it, the scanned document is ready to use with the best image quality. CamScanner also has the ability to store these scanned documents.
---
Also Read: The Best Document Scanning Apps for Android
---
Trello
Price: Free
Next in our list of the best apps for productivity is Trello, a very popular multitasking app for teamwork. You can create boards or lists where you can organize and follow your daily work, programs, share and collaborate with your team or anyone you want. You can see and organize the work done, the work to be done, and the goals on a single screen. In addition, you can use the app both with mobile apps and on the web.
Evernote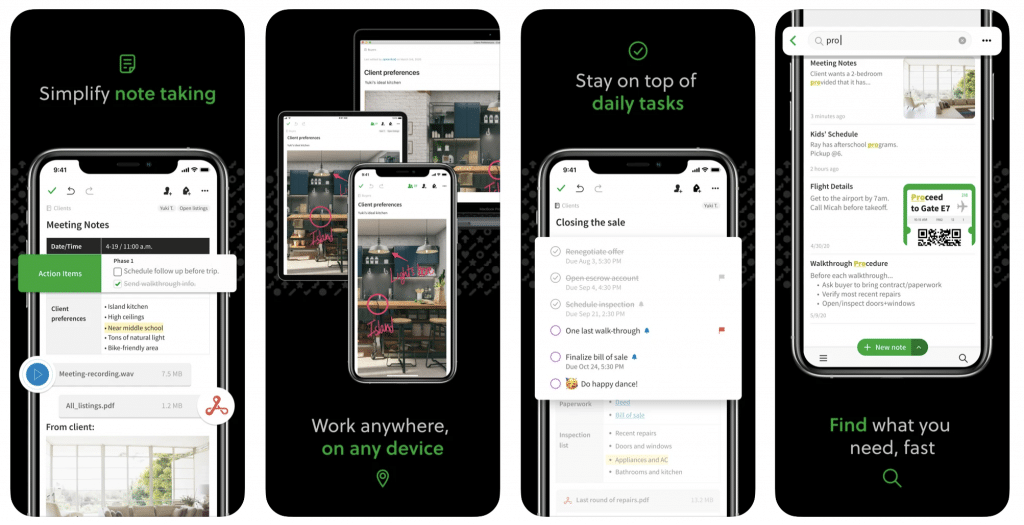 Price: Free
With Evernote, which is one of the best productivity apps, you can organize your notes, documents and research as you wish, and then share them with anyone you want. You can take your information with you wherever you go, thanks to the feature that the app can synchronize on all your devices. There are many other features in the app such as to-do lists, reminders and dates that will increase productivity.
---
Also Read: The Best Note Taking Apps
---
Forest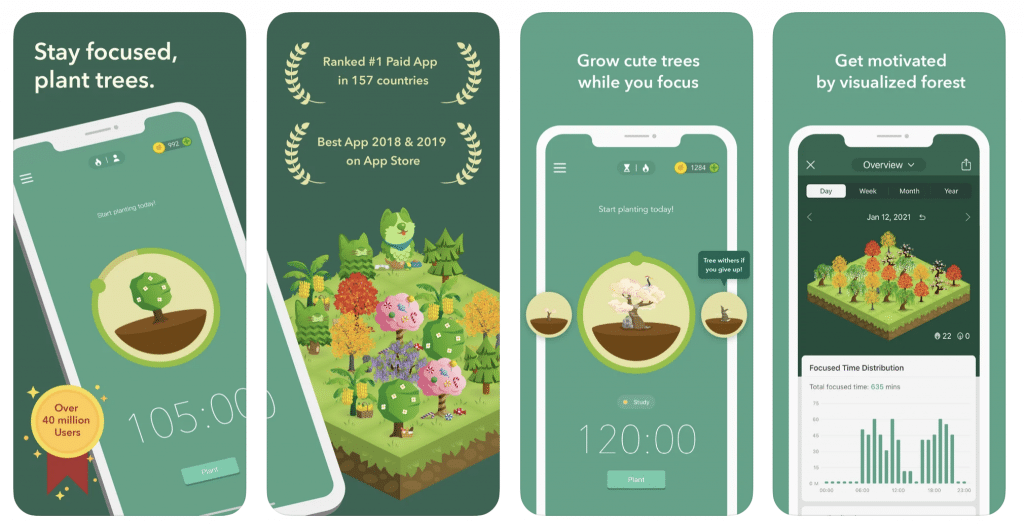 Price: $3.99
Forest is one of the best productivity apps that can help you focus. It measures how much time you spend on the phone and notifies you. It does this in a different way than other apps. You are planting a seed in the forest, the less time you spend on your phone the more it grows. If you use your phone more than necessary, your tree dies. Nobody wants to wither a tree, do they?
Dashlane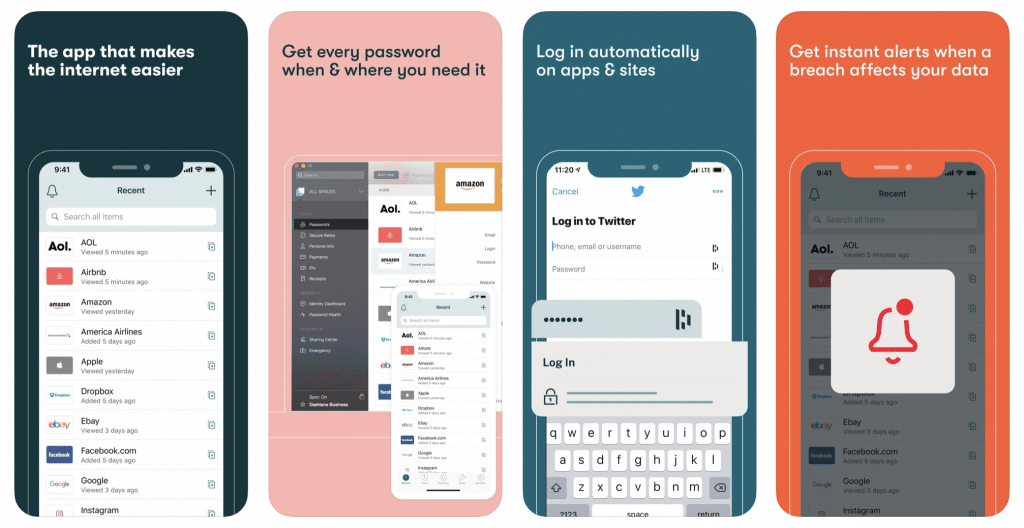 Price: 30-day free trial / $6.49 per month / $59.99 per year
Dashlane is an app that lets you store your passwords and logins. It facilitates password management with its features such as autofill and strong password creation. What makes Dashlane unique is that, apart from storing your passwords, it also securely stores your address, phone numbers, and credit card information. Thus, your financial information is also securely protected when you place orders online.
Grammarly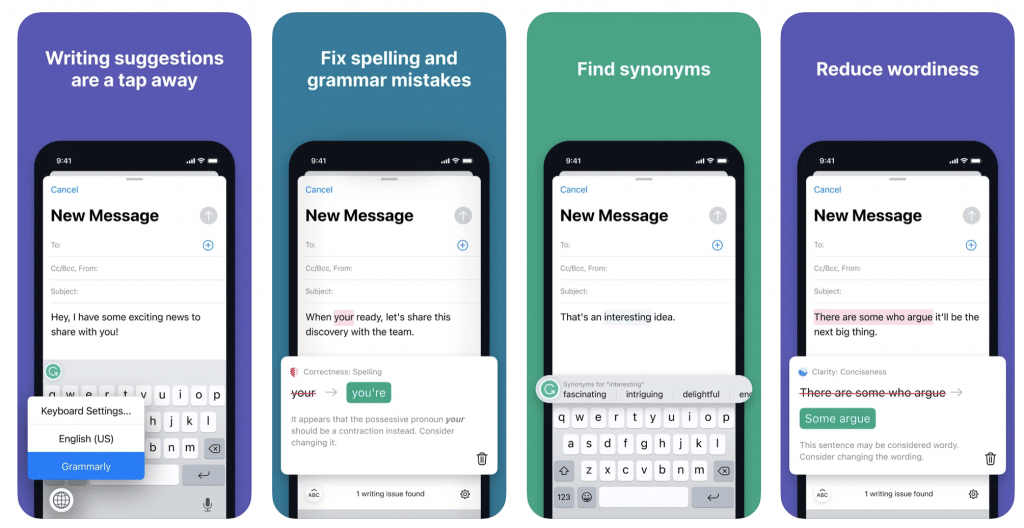 Price: Free / $29.99 per month / $59.99 per quarter / $139.99 per year
Grammarly keyboard, which is an English spell checking and sentence correction program, not only corrects the texts you have written, but also contributes to its development thanks to its advanced dictionary while checking spelling, grammar and spelling rules.
Grammarly is one of the best apps for productivity, especially for those who actively send emails, share on social media or send messages from their phone during the day.
---
Also Read: The Best Android Keyboards
---
Slack
Price: Free
Thanks to Slack, you can communicate with your business group through channels, share documents, and make video calls. With conversations held in the app, you can easily find out who said what, when, and when.
Google Keep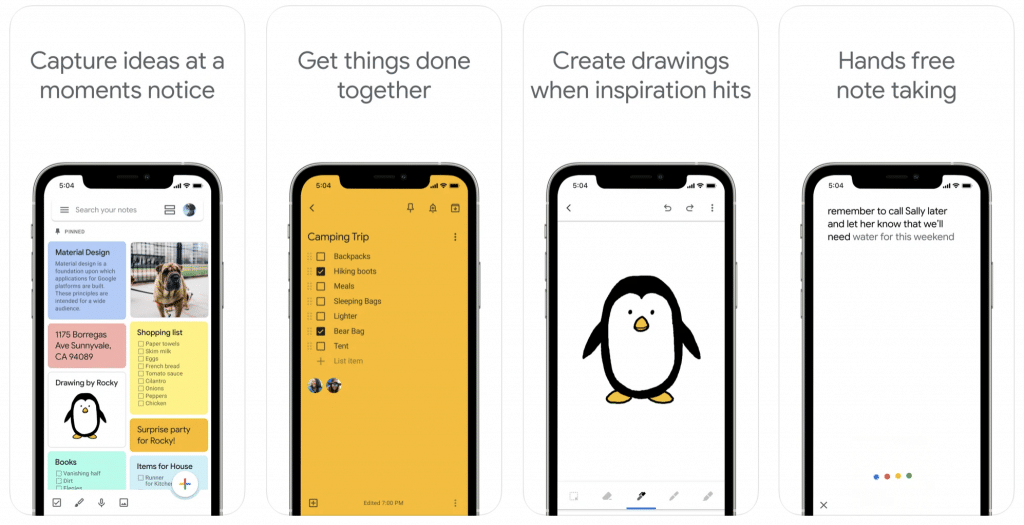 Price: Free
With Google Keep, you can save, organize and share your notes with others. Even when you're on the go, you can automatically transcribe what you say by taking a voice note. You can pin your important notes to the top for quick access. Since the app is designed to work with Google Drive, you can synchronize your notes and access them easily from any platform.
---
Also Read: The Best Habit Tracker Apps
---
Productive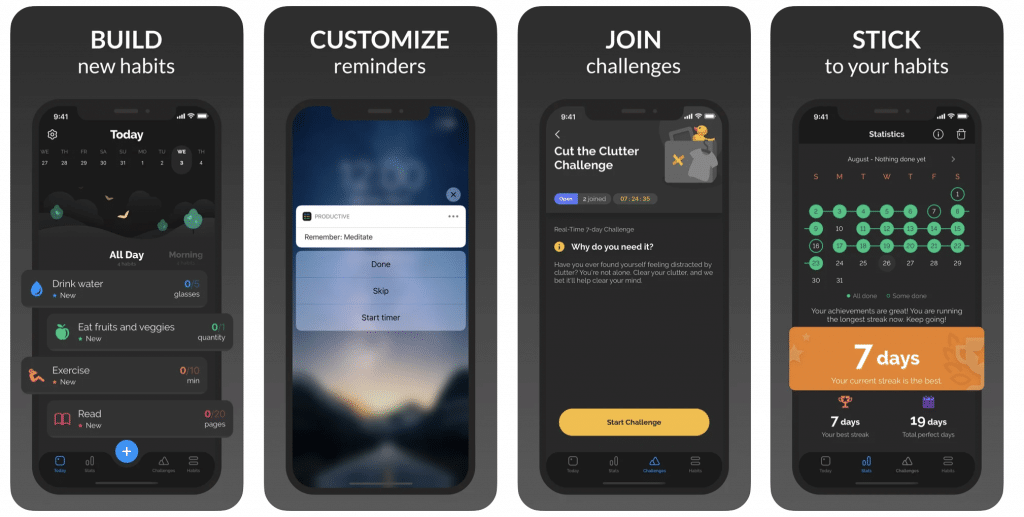 Price: Free
Last on our list of best productivity apps, Productive is an app that lets you keep track of your personal goals and helps you build a habit. In addition to having an easy interface, it helps you reach new goals and acquire new habits. It reminds you of your habits with smart reminders and gives you a summary of what you have scheduled for each hour of the day.
Things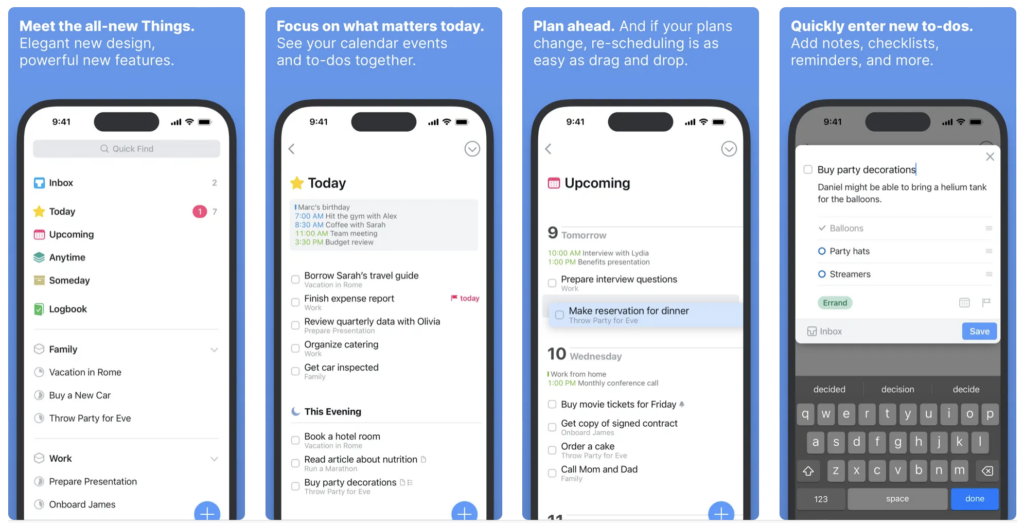 Price: $9.99
Things is a personal productivity app built exclusively for Apple users. With this application, you can add tasks and tags, create projects and plan your week with ease.
Habitica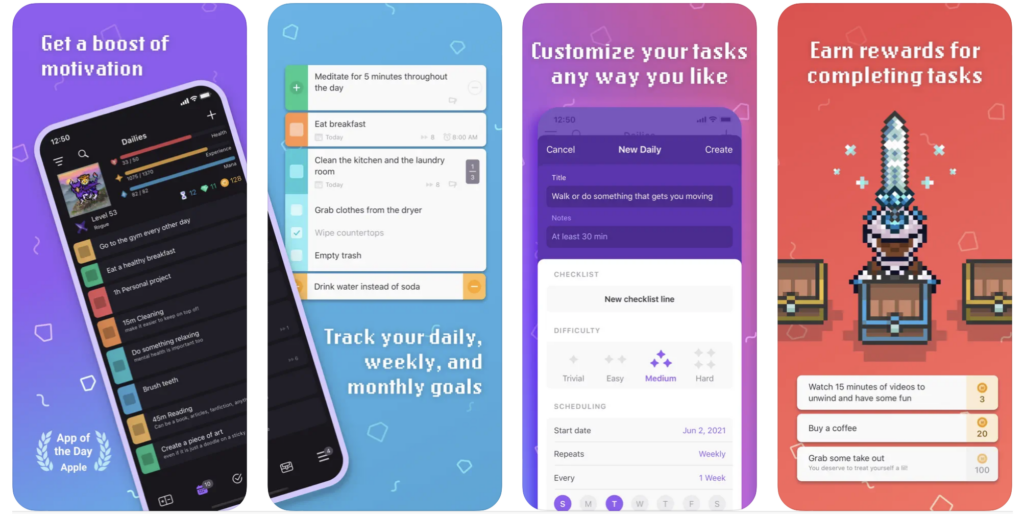 Price: Free / $4.99 per month / $14.99 per 3 months / $29.99 per 6 months / $47.99 per year
How about turning things into a game and gaining motivation? That's exactly what Habitica does. This app, which is a task management tool, has been turned into an RPG, allowing you to carry out work in a planned and orderly manner and to create a game environment. In the app, there are options in the form of habits, daily chores, and to-dos. You place all your programs and jobs to fit these options. Let's get to the game part. At the stage of becoming a member, you design an avatar yourself and you level up as you complete the tasks. Best of all, as you fulfill your responsibilities, you show that you are a productive and hardworking personality not only in the game but also in real life.