You don't need to have large scanners and printers to scan important office documents. Since most smartphones nowadays offer a good camera, you can scan documents in high quality using one of the best document scanner apps below. Also, scanning PDFs with your phone can be faster than using a desktop scanner.
Some of the most important advantages of popular Android scanning apps are that they allow you to access documents from the cloud, have powerful editing features, and some even come with OCR (Optical Character Recognition) support. In this article, we have compiled a list of best document scanner apps for Android.
Adobe Scan
Adobe Scan allows you to scan notes, forms, documents, receipts and images into PDF files. It is a simple to use and effective scanner app that covers almost all necessary features for free with no ads.
After directing your phone's camera to the document you want to scan, the app will automatically recognize and scan it.
It even lets you sort the pages as needed, and you can edit any of the pages. It also has built-in OCR that allows you to reuse scanned content. You can scan multiple pages and put them in a single PDF file.
Also, the document scanner app allows you to send your scanned files by email or back up to the cloud if you wish.
Google Play: Store Link
CamScanner
CamScanner is one of the best free scanner apps for Android with over 500 million downloads in more than 200 countries on Google Play. You can scan receipts, notes, pictures, invoices, business cards, or other documents and export them in PDF or JPEG format. 
After saving your scanned documents, you can tag them, store them in folders and even share them on social media. It also allows you to print or fax documents for a nominal fee using cloud printing. Also, you can secure your important documents by setting a password for viewing files.
The free to download scanning app is ad-supported and contains in-app purchases to access advanced features including OCR, extra 10G cloud space, ad and watermark free experience, and more.
Google Play: Store Link
Google Drive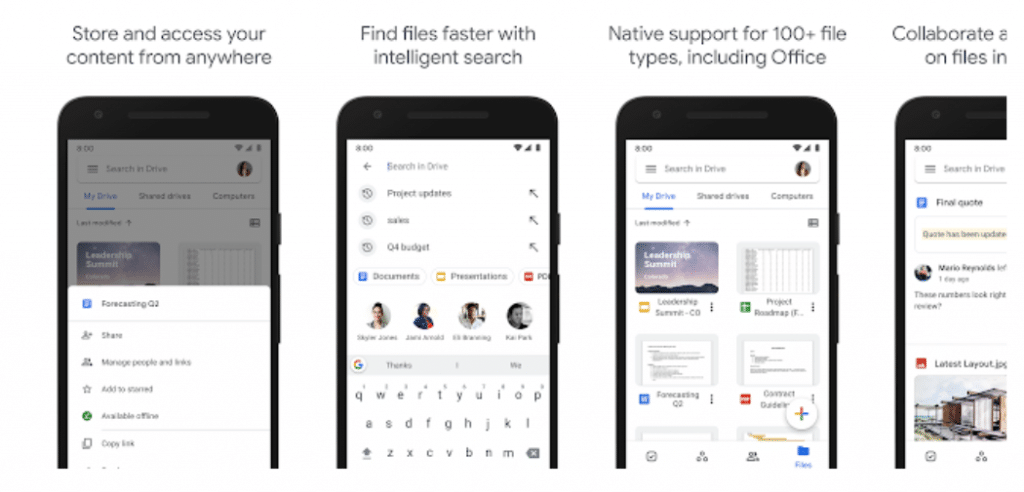 It is no wonder that most of you don't know that Google Drive, one of the best Google Apps for Android, has a built-in option for scanning documents. While this scanning is not as feature-rich as the other Android scanner apps on this list of document scanning apps, it's worth a try because most of us already have the Google Drive app installed on our Android smartphones. It allows you to scan documents like receipts, letters, and billing statements to save them as searchable PDFs on your Google Drive.
To find the scanner tool in the Drive app, find the '+' button in the bottom right and tap on it. It will reveal new options, including the 'Scan' option. You will now need to give camera permissions for the Google browser feature to work. The tool has basic cropping and adjustment features such as document, color replacement options, image quality selector.
Google Play: Store Link
---
Also Read: The 10 Best Note Taking Apps
---
Microsoft Office Lens
Office Lens is a reliable mobile scanner app developed by Microsoft for scanning documents and whiteboard images. It can quickly capture any document and convert images to PDF, Word or PowerPoint files.
It also allows you to save your files to OneNote, OneDrive or your local storage. The app is for both business and school purposes.
Office Lens is ad-free and free of in-app purchases.
Google Play: Store Link
Tiny Scanner
Tiny Scanner is a solid document scanning app for Android that offers most of the standard features. The app doesn't require any login before using it, so you can get started right away.
You can scan documents, receipts, reports or other files and save them in PDF format for future use. It supports most of the major cloud storage services and also lets you print your required files in minutes.
It also has an automatic edge detection feature that can help prevent distortion by correcting images. The scanning app has five contrast levels, quick search by document title, and password protection for important files.
Tiny Scanner is ad-supported and offers in-app purchases.
Google Play: Store Link
---
Also Read: The Best Writing Apps for Android
---
Genius Scan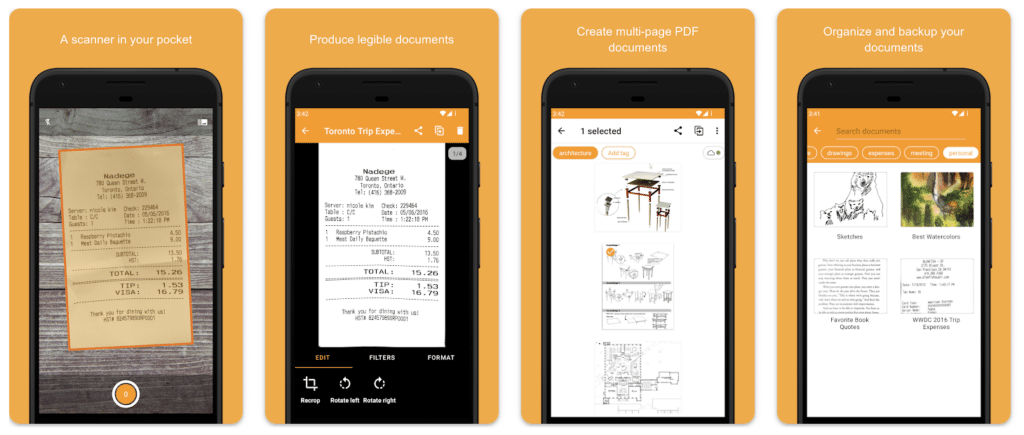 Genius Scan is one of the best document scanning apps for Android, with more than 20 million users and advanced features. The app has a document detection and background removal feature that will save your time.
Using Genius Scan, you can also use different filters such as whiteboard and black & white to make your documents better looking. You can also merge and split documents, create a multiple-page PDF, automatically combine each scan into PDF documents, tag documents, and import photos and PDFs.
Google Play: Store Link