Keeping track of emails is now a part of our daily life, both in business and private life. It is just as important to follow the e-mail addresses we need for everything from shopping to tracking job applications. There are other very successful alternatives for iPhone users who don't want to settle for Apple Mail to do this.
In this article, we've brought together the best email apps for iPhone, with advanced features and ease of use, for the ones looking for a dedicated app for their device.
---
Also Read: The Best Email Apps for Android 
---
The Best Email Apps for iPhone
Apple Mail
Spark Mail + AI: Email Inbox
Microsoft Outlook
Spike Email
Twobird
Apple Mail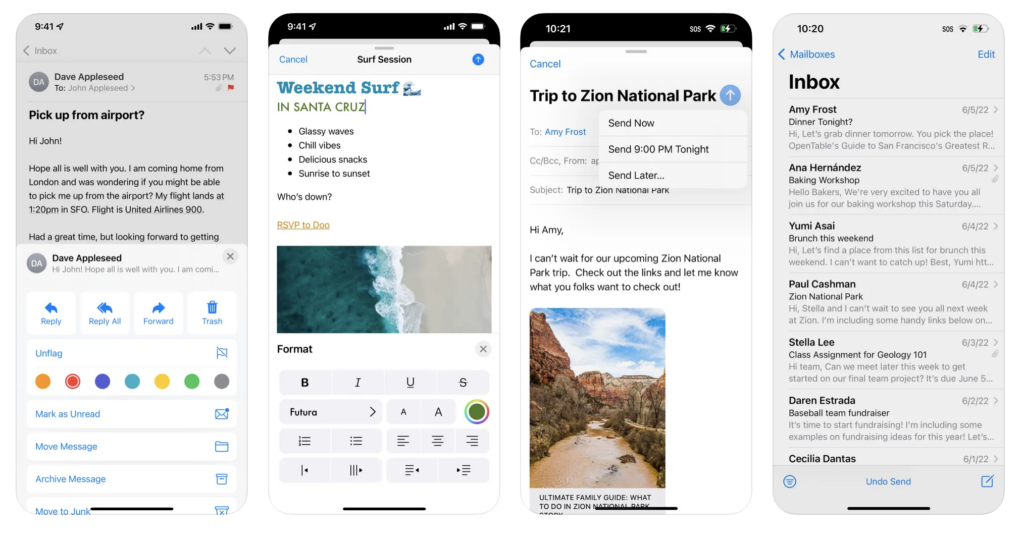 Price: Free
Apple Mail, which comes pre-installed on iPhones, is one of the most used email apps on iPhones. Although it does not contain the innovative features found in new email apps, it helps you quickly create and send a new email, create folders, and do other basic tasks including archiving and moving to folders.
Allowing you to block unwanted senders and mute notifications from overly active threads, Apple Mail also lets you scan documents quickly and flag important contacts as VIPs.
Spark Mail + AI: Email Inbox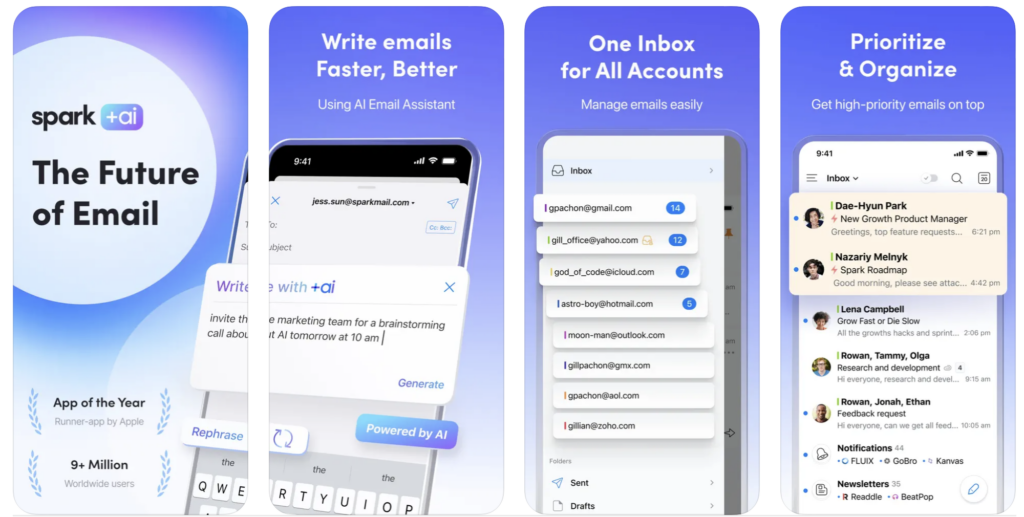 Price: Free
Next in our list of the best email apps for iPhone is Spark, a popular third-party email app that supports Google, Exchange, Yahoo!, iCloud, Outlook, and IMAP.
Spark, with the motto 'The Future of Email', allows you to organize your inbox at the maximum level with its feature called Smart Inbox. You can also invite your teammates to discuss specific emails and threads and share your inbox with multiple people to assign emails like tasks, set deadlines, and track progress.
Another innovative feature Spark has is that it allows you to co-create an email with a teammate in real-time. The popular app also has features like Smart Notifications for important emails, email snoozing, send later, and built-in calendar. 
Recently, Spark Mail has also started to incorporate AI features. Within this concept, the app provides an AI writing assistant which generates responses in seconds with quick AI reply options and options to proofread, adjust the tone, rephrase, expand, or shorten the text.
Microsoft Outlook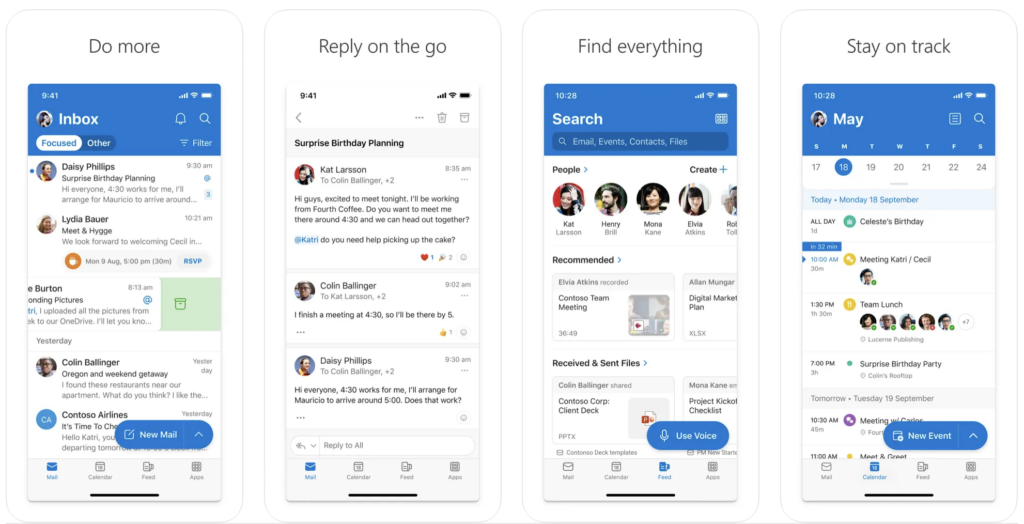 Price: Free
If you are looking for an Apple Mail alternative, Outlook can provide you with what you need in terms of smart inbox features.
With its features including customizable swipes, built-in Calendar that supports Google, iCloud, Exchange, Outlook, and Yahoo!, email scheduling, and opening Office document attachments to edit them directly in the corresponding app, Outlook is one of the best email apps for iPhone.
---
Also Read: The Best To Do List Apps for iPhone
---
Spike Email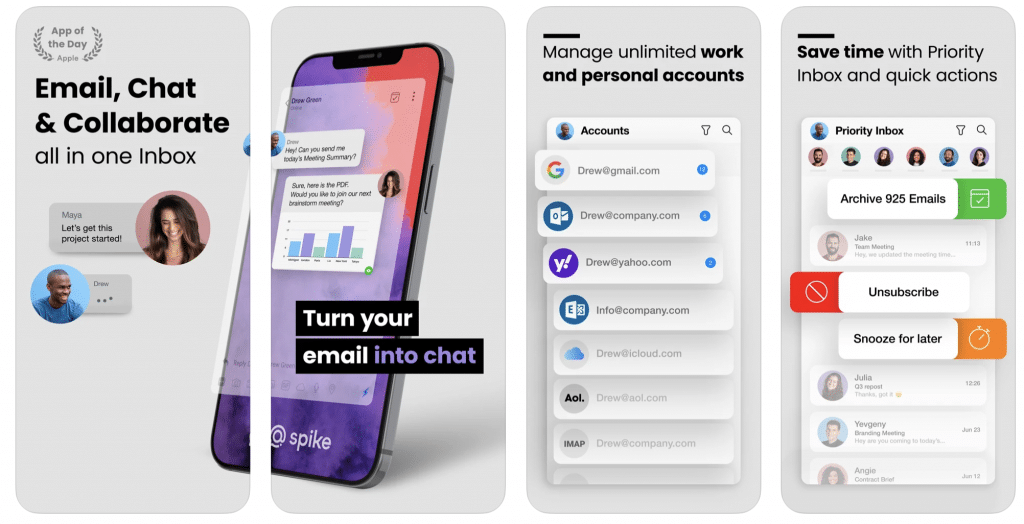 Price: Free
Although Spike is essentially an email app, it actually looks like a modern collaboration app because of its chat bubbles and other features and these features make it one of the best email apps for iPhone users.
Spike's software focuses on reinventing the email experience, but the platform today offers support for collaborative notes and tasks as well as providing a cohesive solution for productivity. In short, the app packs a lot of functionality into a single window.
The company's platform is compatible with most email services, and Spike is available for Android, iOS, Mac and Windows operating systems.
---
Also Read: The Best Apps for Productivity
---
Twobird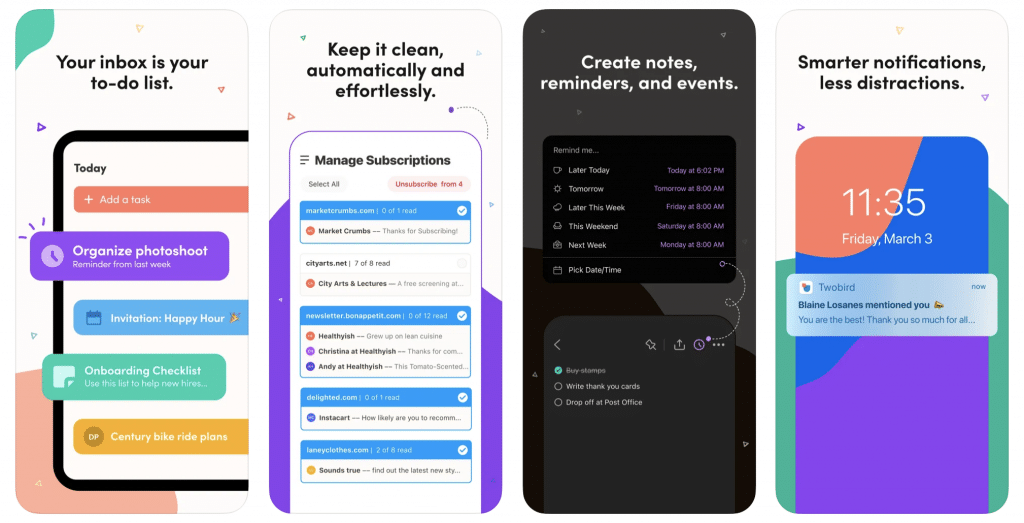 Price: Free
Twobird, which you can also use as a to-do list app, is included in our list of the best email apps for iPhone with its advanced email features. The app allows you to set aside things that can wait with features like Low Priority, Reminders, and Smarter notifications. You can also list emails as Pinned or Recent to keep important emails easily accessible.
Using the email app, you can set a reminder for anything in your inbox, whether it's an email or a quick note, see reminders and events side-by-side in the same calendar, and attach a note to a calendar event for invitees to see.
One of the best things about Twobird is that it lets you edit sent messages.