Email service is one of the oldest and most important communication networks in internet history. While using this system, many of us check daily and plan their day in line with incoming mail, we want to make sure that the work is carried out safely.
If you are the ones using email apps from multiple providers, you may want to have them all in one place to manage your inbox effectively. In this article, we have brought together the best email apps for Android to let you never miss an important mail and to organize and manage your inbox effortlessly.
---
Also Read: The 5 Best Calendar Apps for iPhone
---
Blue Mail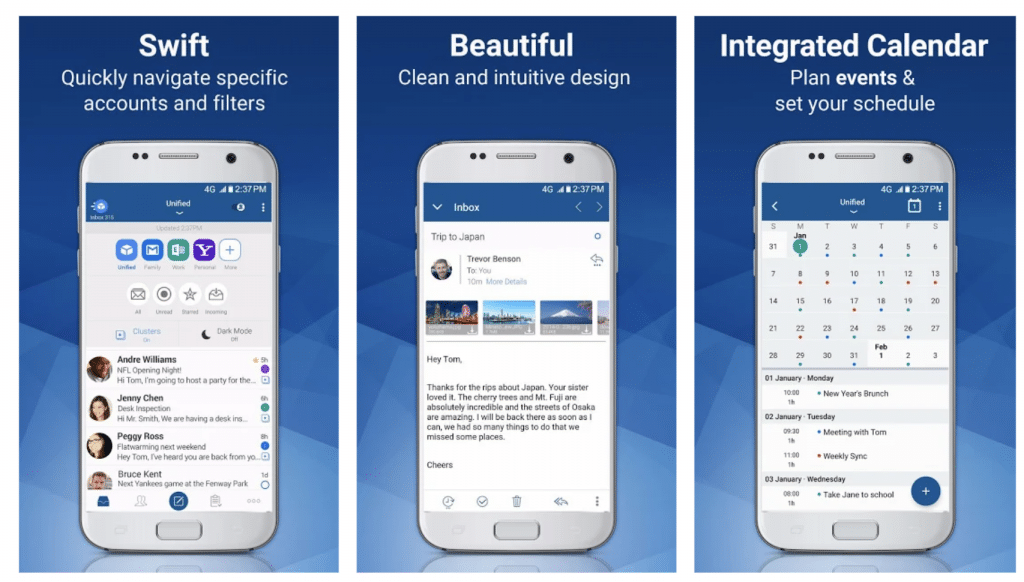 Price: Free
Blue Mail, which has the famous 'Zero Inbox' feature apart from its cleverly designed interface, offers many features including reminders, group mail, smart filtering options and to-do lists over Zero.
Blue Mail categorizes emails from known senders into smart clusters and organizes your emails into sub-folder structure automatically. Offering reminder support for emails you don't have time to reply to, Blue Mail supports a bunch of clients including Gmail, Yahoo!, AOL, Outlook, Office 365 or iCloud, as well as POP3, IMAP, or Exchange clients.
If you want to keep your emails secure and private, Blue Mail also allows you to set a timed lock screen to protect your emails.
Google Play: Store Link
Gmail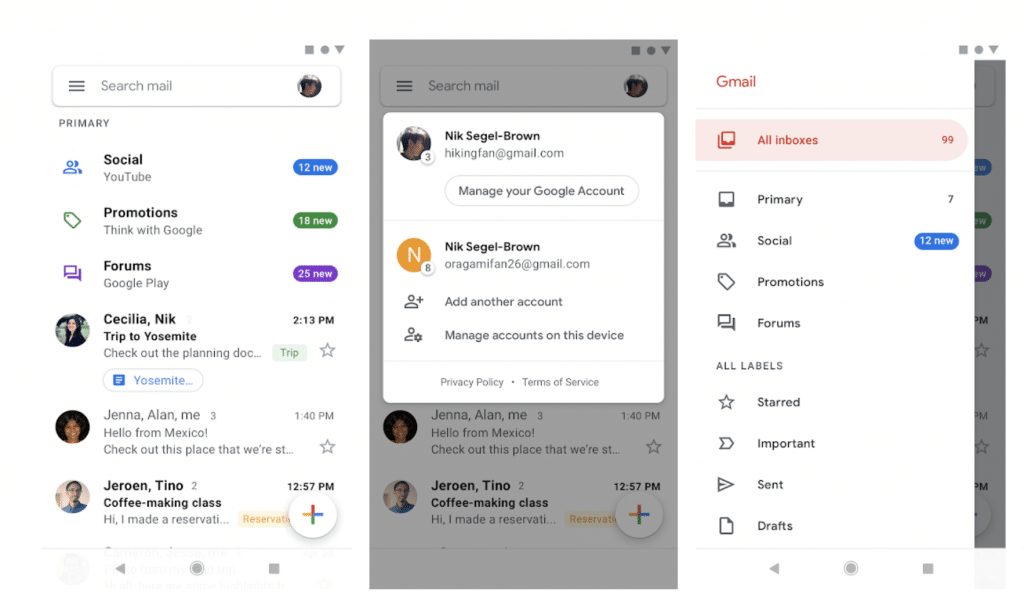 Price: Free
Google's own service, Gmail, is a very popular email app used by the vast majority of Android users, as it comes pre-installed on Android devices and is completely free. It is the most prominent email app of the Google Play Store with its multi-account (Outlook, Yahoo, IMAP/POP) and multiple inbox support, email tagging features, and detailed but simple user interface, that make business and email management much easier. Blocking spam domains automatically is another important feature the popular email app has.
Google Play: Store Link
---
Also Read: The 5 Best Document Scanning Apps for Android
---
Newton Mail
Price: Free trial / $49.99 per year
Newton Mail app is a subscription based email service that comes with powerful features like send later, undo and hold. The read receipt feature makes the app indispensable, especially since it allows you to track exactly who has read the email.
It is an email app where you can easily define your Gmail, Yahoo Mail, Outlook, iCloud, Google Apps, Microsoft Exchange, Office 365, AOL and other IMAP accounts, and see all of these accounts in a combined mailbox if you wish.
What makes it one of the best email apps for Android is its useful and award-winning interface and advanced features, including postponing incoming mail, sender profile, and canceling sent mail. In addition, thanks to its integration with many platforms such as Todoist, Evernote, OneNote, Pocket, Trello, Zendesk, Salesforce, Asana, it is possible to use these platforms without leaving the Newton interface.
Google Play: Store Link
K-9 Mail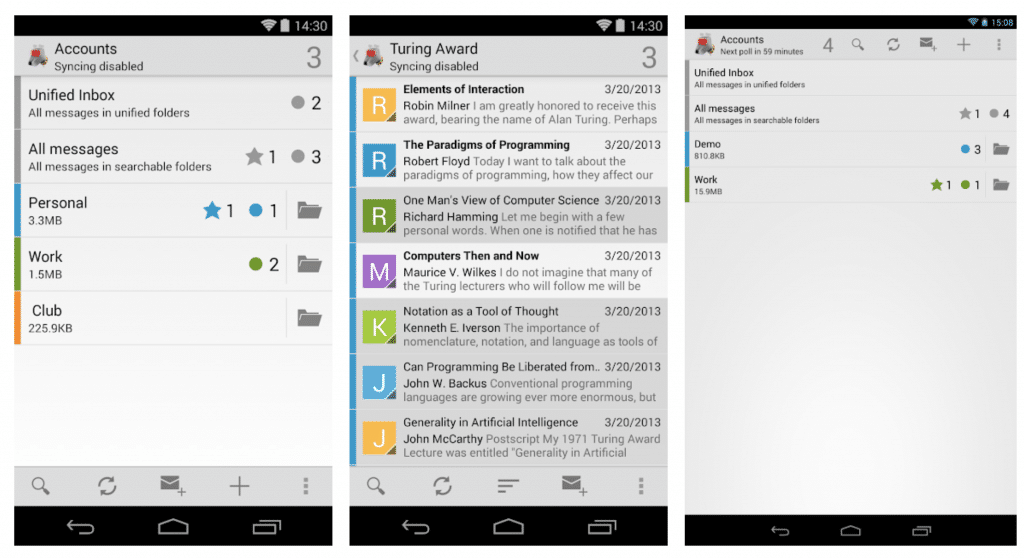 Price: Free
K9-Mail is especially aimed at users who want to stay away from exaggerated or very detailed interfaces. A good alternative for those who value more functionality, the email app offers control and matching options for multiple folders, while marking messages, using different signatures for each account, and saving emails directly to SD. K-9 Mail is also compatible with IMAP, POP3, and Exchange 2003/2007 account types.
Google Play: Store Link
---
Also Read: The Best Apps for Productivity
---
Nine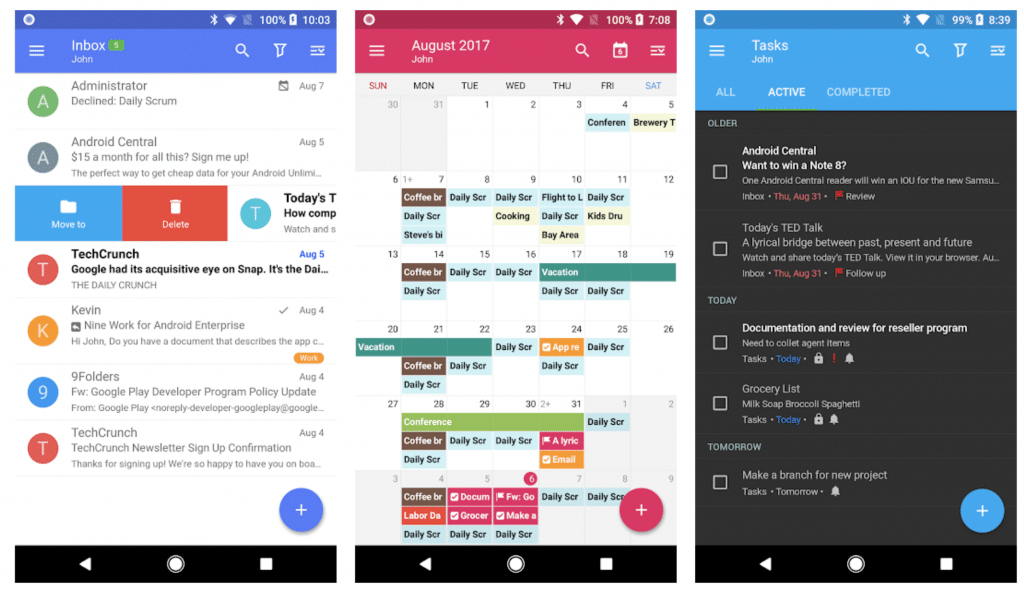 Price: Free Trial / $14.99
Offering a free trial of 2 weeks, Nine is a paid email app for Android that provides extensive functions and privacy features for professionals who use multiple accounts. Just connecting you to the email services, Nine has Exchange ActiveSync support, which is to be expected for any Exchange-supported app. It provides features such as email notifications per each folder you select, tasks & calendar sync, Wear OS support, and hybrid email search.
Google Play: Store Link
Spark Email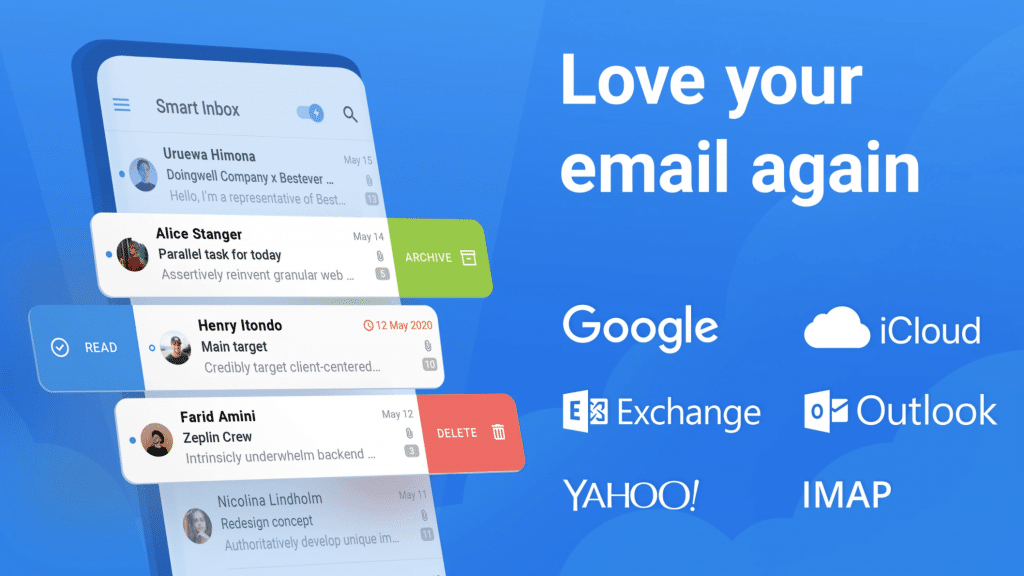 Price: Free
Spark, where you can view more than one mailbox at the same time, divides your mails into groups such as personal, bulletin, and notification without the need for you to mark them, and can sort your mails according to the level of importance by looking at your frequency of use and behavior.
It distinguishes itself from its competitors with its minimalist design, fast and detailed search, quick reply to emails with emoticons, postponing emails and sending notifications and reminders only for important emails. It also has undo send, snooze email, send later, and pin email features as all email apps in this list have.
Google Play: Store Link