There are many football games on Google Play that football lovers are interested in, and it is quite difficult to choose the best among these games. We have listed the best football games for Android, in some of which you will manage your favorite football players on the field, in others you will see the game in a simulated way and become the football manager of the team.
The Best Football Games for Android
Dream League Soccer 2023
FIFA Soccer
eFootball 2023
Football Strike
Score! Hero 2023
Soccer Super Star
Head Ball 2
World Soccer League
OSM 22/23
Final Kick
Football Manager 2023 Mobile
Rumble Stars Football
Soccer Manager 2023
Soccer Stars: Football Kick
Rocket League Sideswipe
Toon Cup
Real Football
---
Also Read: The 5 Best Live Sports Streaming Apps
---
Dream League Soccer 2023
Dream League Soccer 2023 is one of the biggest and best football games for Android and iOS. The game has full teams, complete plays, and a full pitch. The aim of the game is to build a team from over 4,000 FIFPro™ licensed players, strengthen your players, and win championships. This successful free soccer game is surprisingly good in terms of its gameplay, customization options, and exclusive prices.
Download Dream League Soccer 2023 on Google Play
FIFA Soccer
FIFA Soccer is arguably the most popular football game on mobile. With outstanding graphics, good mechanics and a lot of content, FIFA Soccer features single player mode, online PvP, online leagues, players from over 550 teams and more. FIFA Soccer has much more content than any other game in its genre.
Download FIFA Soccer on Google Play
---
Also Read: The 10 Best Sports Games for Android
---
eFootball 2023
eFootball 2023 is FIFA's biggest competitor on mobile and all other platforms, and many players believe it is better. The game features good graphics, outstanding mechanics and controls, a team-building mechanic, online multiplayer, local multiplayer, and more. With such content, eFootball PES 2021 is one of the best football games for Android. 
Download eFootball 2023 on Google Play
Football Strike
You can play Football Strike, a multiplayer football game that can be played on mobile devices, with your friends. You also have the option to upgrade your players and equipment in Football Strike, where you can play with famous teams such as FC Barcelona, Liverpool FC, Tottenham Hotspur FC and Borussia Dortmund.
Download Football Strike on Google Play
---
Also Read: The 18 Best Multiplayer Android Games
---
Score! Hero 2023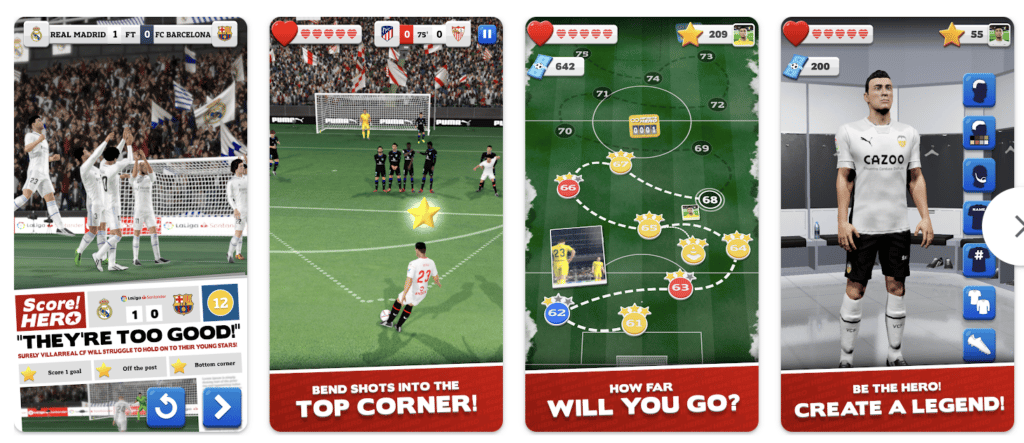 You can try Score! Hero 2023 to become a hero on the virtual soccer field. It is the best mobile football game for Android for many players and also one of the most recommended mobile football games. Easy to play but difficult to master, Score Hero has many exciting tournaments to join. With satisfying graphics and sound effects, Score Hero has more than 500 levels.
Download Score! Hero on Google Play
Soccer Super Star
This game with average graphics and gameplay is fully optimized for mobile devices. With simple controls, hundreds of football players, and item customizations, Soccer Super Star is a mobile game for football lovers to enjoy.
Download Soccer Super on Google Play
---
Also Read: The 23 Best Free Mobile Games
---
Head Ball 2
Head Ball 2, the second game of Head Ball developed by Masomo Studios and which has become one of the most popular football games on mobile devices, is a very entertaining competitive football game. In this game where you play against your friends or completely random people, you can hit the ball with your head just by jumping. Head Ball 2, which stands out with its visuals, sound effects and voiceovers, also has many customizations.
Download Head Ball 2 on Google Play
World Soccer League
World Soccer League, which is much better than most football games, unfortunately, cannot compete with games such as FIFA and PES. The game features 120 teams, 2,000 players, four game modes, achievements, leaderboards, and support for 15 languages. This game, which has very simple mechanics, has above-average graphics.
Download World Soccer League on Google Play
OSM 22/23
Online Soccer Manager is a football management simulator and is one of the newest games in this genre. In Online Soccer Manager, you basically manage your own soccer team. You can choose from 800 teams in 33 countries and manage them to become champions. The game includes good graphics, full game simulations and much more. The decisions you make in the game even affect the attitude of your fans towards you. With many realistic elements, this game makes its players feel like a football manager.
Download Online Soccer Manager on Google Play
---
Also Read: The 10 Best Local Multiplayer Games for Android
---
Final Kick
Final Kick 2020 is a simple soccer game with an arcade feel. The only goal of the game is to score a goal from a free kick or penalty. Final Kick features good graphics, offline tournaments, online multiplayer, weekly tournaments and simple controls. The matches of this game, whose tournaments are long, do not last that long. Final Kick, which has very successful graphics and controls, can be played for free.
Download Final kick on Google Play
Football Manager 2023 Mobile
Football Manager, which millions of people call the best manager series, has been adorning smartphones for years. The ordeal on the road to victory in this production, which is in the 11th place of our list of the best football games for Android, is holy.
If you like to turn young talents into future stars, take the stage in licensed UEFA competitions. Become the sought-after football person on the pitch with the UEFA Europa League, UEFA Europa Conference League, UEFA Champions League, and UEFA Super Cup. How you communicate with your team will directly affect your coaching career.
Football Manager 2023 Mobile on Google Play
Rumble Stars Football
This production, which was awarded in the category of the best competitive mobile games in the Google Play Store in 2019, is very different from the usual football games. Because here, lions, elephants, pandas and many other animal species enjoy football.
How about discovering epic goal-scoring combinations in this real-time game? Dozens of characters and interesting customization options await you. With an online game mode option, Rumble Stars offers a great football simulation experience.
Rumble Stars Football on Google Play
---
Also Read: The 10 Best PvP Games for Android
---
Soccer Manager 2023
Choose the best of more than 25 thousand licensed football players and compete to become the best manager in the world. More than 900 clubs, realistic league simulations and detailed tournaments are calling for you.
The entire fate of a team will be in your hands. Plan training sessions, improve your team's facilities, handle transfers, determine jersey numbers and reflect your team's strategies on the pitch! Do not miss the pleasure of 3D match simulation.
Soccer Manager 2023 on Google Play
Soccer Stars: Football Kick
Miniclip's Soccer Stars is a multiplayer football game that you can play either online or offline. Offering simple gameplay, good ball physics, online tournaments, and more, it is absolutely one of the best football games for Android.
Rocket League Sideswipe
Unlike any other football game on our list, and released in November 2021, Rocket League Sideswipe is at its core a multiplayer car soccer. In the game where you can score goals in fast-paced 2-minute games and customize your cars in the Garage, you can also party with your friends or play online games with players from all over the world.
Rocket League Sideswipe on Google Play
---
Also Read: The 10 Best Offline Racing Games for Android
---
Toon Cup
Cartoon Network's free-to-play soccer game, Toon Cup, where you can play by choosing your favorite character from its own universe, is a game where you will try to get to the top of the leader board in the Toon Cup Tournament by building your own team and improving your skills.
Real Football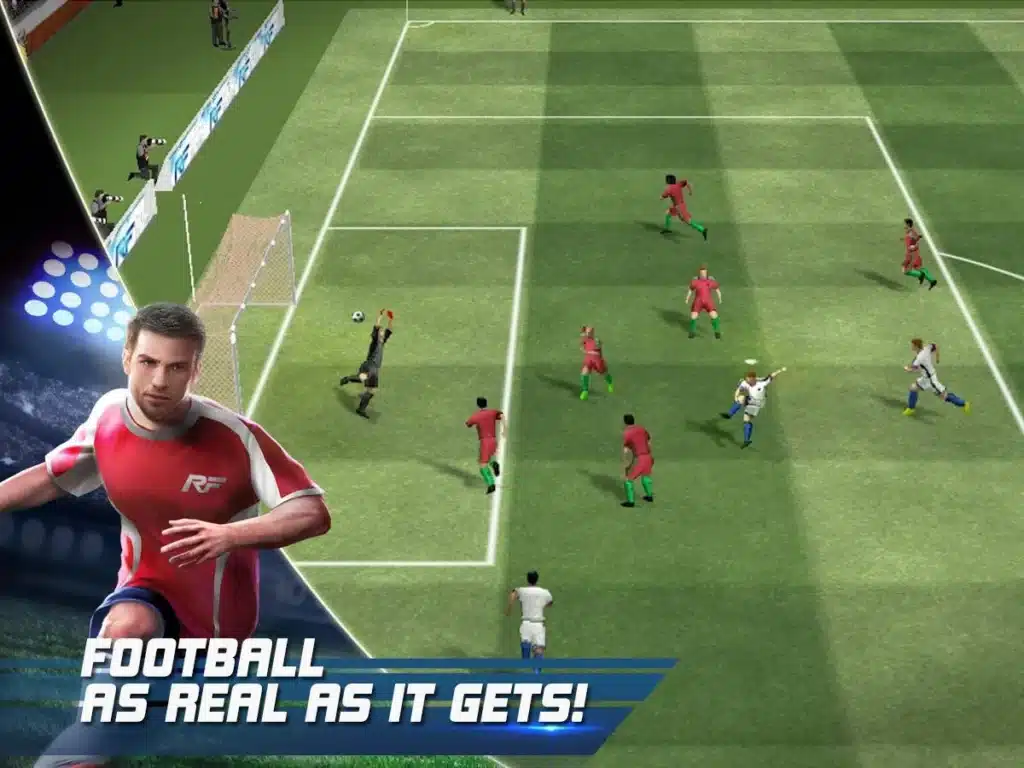 Real Football, Gameloft's successful game with more than 50 million downloads on Google Play Store, allows you to play in a realistic and exciting atmosphere in 3D stadiums. The game also features multi-cam footage during cutscenes and set pieces for a richer broadcast and first-person feel.