Having a good live sports streaming app on hand not only allows you to watch live sports but also provides you much more content including latest sports news, updates, and scores based on your preferences and favorite sports.
In this content, we have brought together the best live sports streaming apps available for Android and iOS devices, both for those looking for the best app to watch live sports free and for those who will not hesitate to pay for a good app.
ESPN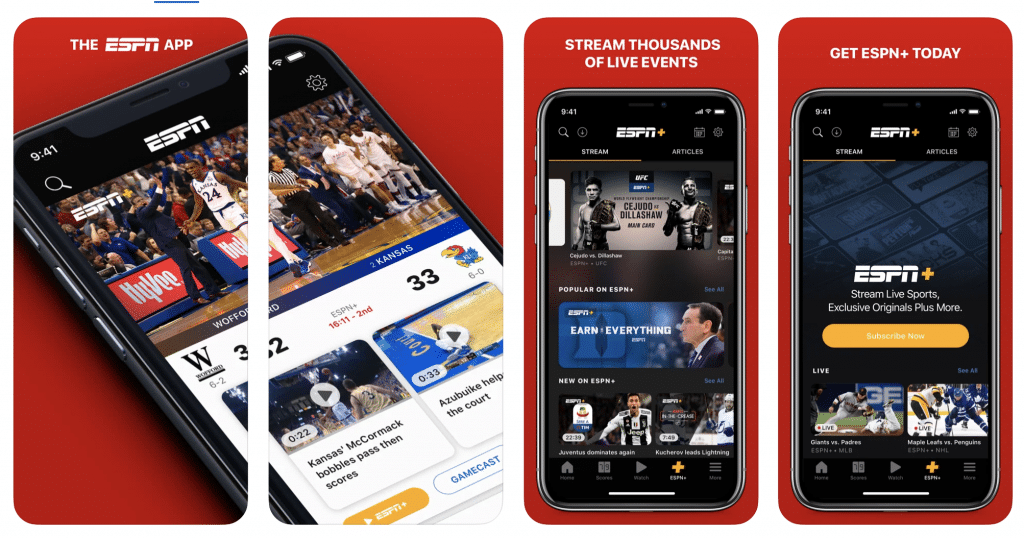 Price: Free
ESPN is one of the best free sports streaming apps for both Android and iOS. Using the app, you can catch all the events in all major sports leagues, as well as access live scores, premium articles, news, highlights, and expert analysis. 
ESPN accurately indexes videos and news by the sports category, including basketball, baseball, golf, soccer, football, cricket, Formula 1, boxing, mixed martial arts, and e-sports. You can easily customize the app by choosing your favorite sports and teams.
The app also allows you to stream exclusive live sports and ESPN+ Originals without cable in HD, as well as watch NFL, NBA, MLB, college sports, golf, soccer, tennis, ESPN shows, eSports, and more.
App Store: Store Link
Google Play: Store Link
DAZN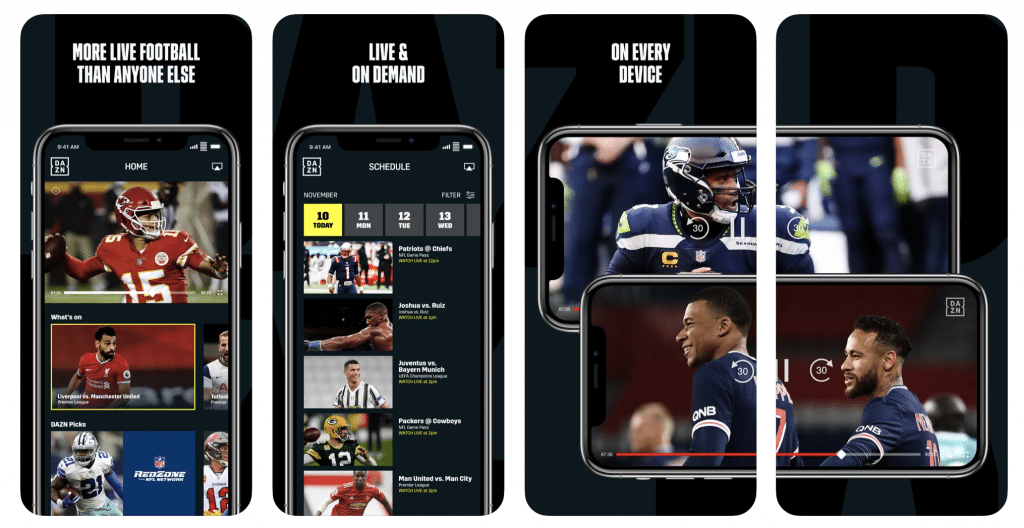 Price: Free-to-download – $19.99/mo $149.99/year – 1 month free for new customers
DAZN is one of the most popular live sports streaming apps in both Google Play and the App Store, with more than 20 million downloads. The app allows users to watch NFL, MLB, soccer, rugby, FIBA International Basketball including Team Canada games on up to full HD 1080p in almost all devices from smart TV to game consoles via the app. 
Users can watch every NFL game, from week 1 through to the Super Bowl, NFL RedZone and NFL Network 24/7, as well as every Premier League, UEFA Champions League and UEFA Europa League match from the 2020/2021 season.
App Store: Store Link
Google Play: Store Link
---
Also read: The 8 Best Android TV Apps
---
CBS Sports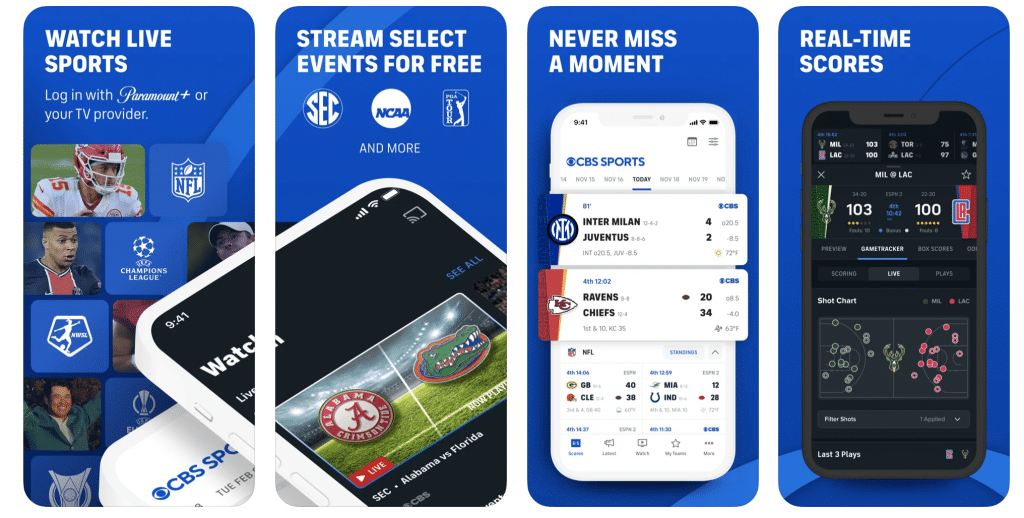 Price: Free
CBS Sports allows users to stream live sports events from Paramount+ and CBS as well as providing sports news, scores, and videos. You can customize your experience by choosing your favorite sports, leagues, and teams to get personalized news and videos.
Using the free app, you can stream CBS Sports events including PGA Championship, NCAA Basketball, the SEC Football, and Masters Live. If you want to reach more content, however, like dedicated coverage of the NBA and NFL and pregame and postgame coverage of major events, you will need CBS Sports HQ.
App Store: Store Link
Google Play: Store Link
theScore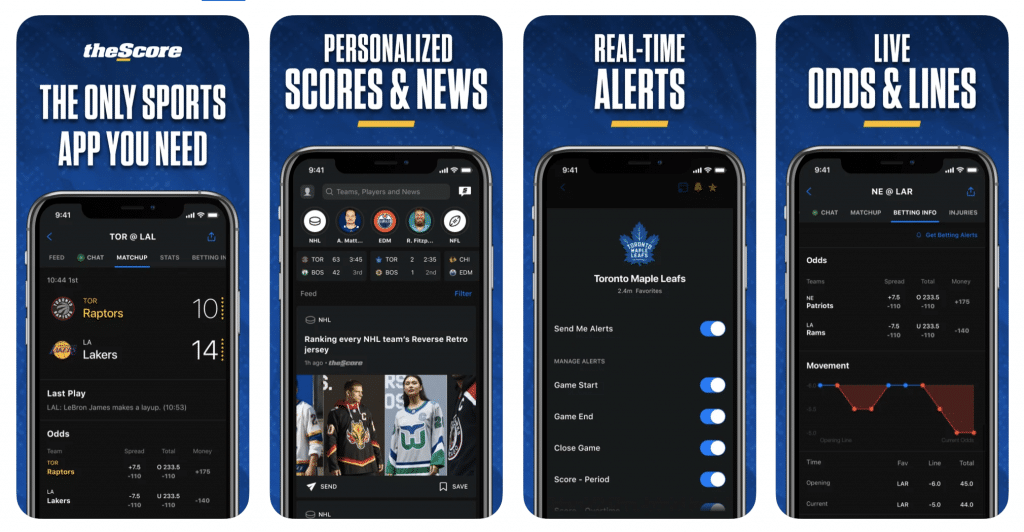 Price: Free
theScore, one of the best live sports streaming apps, provides good coverage from almost every major league and competition, including football, baseball, basketball, hockey, soccer, golf, tennis, mixed martial arts, auto racing, and lacrosse. 
It offers full scores, data, sports betting coverage, and news of NFL, English Premier League Soccer, La Liga Soccer, Champions League Soccer, NBA, NCAA, MLB, and NHL. Using the app, you can get real-time scoring updates, and alerts as well as social content, breaking news, in-game stats, and videos.
It also allows you to personalize your feed based on your favorite teams, leagues, and players. With its chat feature, you can also connect with other fans around the games and content you love.
App Store: Store Link
Google Play: Store Link
---
Also Read: The Best Cricket Score Apps for iPhone and Android
---
fuboTV
Price: Free
If you are looking for an app to watch live sports free as well as entertainment streaming services like Netflix, HBO, and Hulu, fuboTV might be what you are looking for.
fuboTV allows you to watch NFL, MLB, NBA, NHL, NASCAR, NCAA college football, NCAA college basketball, MLS soccer, FIFA World Cup qualifiers, Champions League, English Premier League, LaLiga, Bundesliga and more all live. The app has more than 50,000 live pro and college events from regional to international.
It also provides more than 100 TV channels like ESPN, CBS Sports, NBA TV, MLB Network, NFL RedZone, Golf Channel, and beIN SPORTS, without cable.
App Store: Store Link
Google Play: Store Link
Peacock TV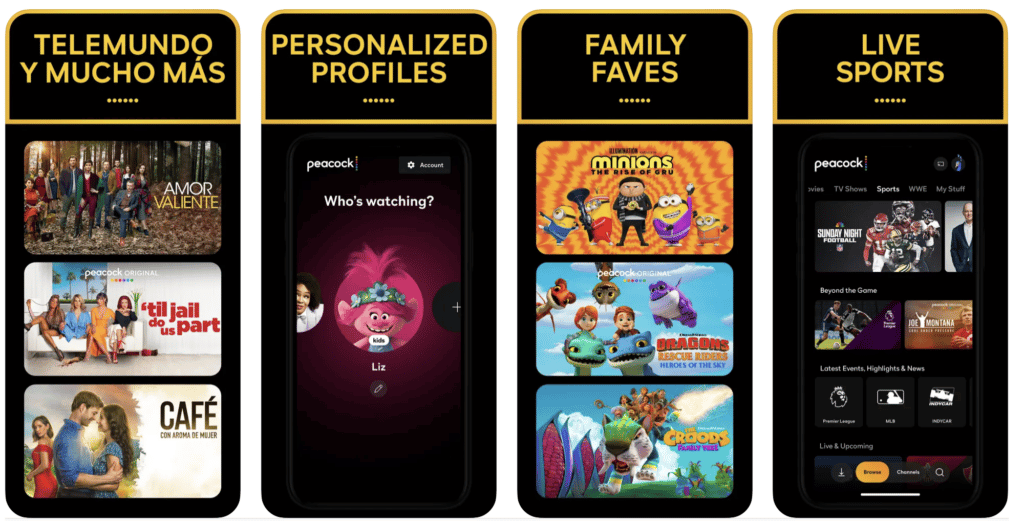 Peacock, the streaming service of NBCUniversal, has live sports as well as TV and movie content in its mobile apps. You can watch all your favorite live sports and events, including WWE, NFL Sunday Night Football, FIFA World Cup 2022, Premier League, golf, and more, using the app.
However, a monthly subscription is required to view some of the live sports content, including Notre Dame football, NFL Sunday Night Football, figure skating, golf, and exclusive Premier League football games.
App Store: Store Link
Google Play: Store Link