The abundance of mobile apps claiming to support the education of children causes difficulties for parents in choosing. However, the privacy and security of the child while browsing different mobile apps, games and websites on phones and tablets is also a very important issue. According to a study, 51% of iOS and 19% of Android apps which are available for kids aged 12 and under do not have a privacy policy. 
However, there are still plenty of options that can contribute to the development of today's children and guide their learning processes. Learning apps for kids are at the forefront of these. Although parents often try to keep phones and tablets away from children, these educational apps can enable children to spend quality time in the digital world.
If you want to improve the time your kid spends online and support their development, here are the best learning apps for kids you can give a try.
Kiddopia
Kiddopia is an award winning learning app for preschoolers which provides more than 1000 activities and games that support early education. It teaches essential early curriculum including ABCs, shapes, colors, patterns, spelling, addition, number values, and alphabet tracking.
As one of the best educational apps for kids, Kiddopia offers various learning games like jigsaw puzzles, join the dots, shape matching puzzles, and logical reasoning problems. It also supports kids' creativity with different games like coloring and drawing for babies and cook & design pastas.
As a winner of Parents Choice and Mom's Choice Award, Kiddopia helps to improve children's creativity, self-expression, language learning, social skills, and more.
Google Play: Store Link
App Store: Store Link
Khan Academy Kids
Khan Academy Kids is another award winning learning app designed for kids to let them learn language, reading, math, writing, social skills, and much more.
This completely free educational app for kids provides thousands of sources including books, songs, learning activities, and games for different ages. The app was developed in collaboration with experts at the Stanford Graduate School of Education, aligns with Head Start Early Learning Outcomes Framework and Common Core Standards.
Kids can learn the basics of math including counting, addition and subtraction, shapes, and measuring, as well as executive functions like problem solving, memory, and focus. Meanwhile, they can improve literacy by learning letters, spelling, vocabulary, and part of speech.
The app also offers interactive educational activities and games to make learning fun as well as providing five whimsical characters that encourage them to think and learn.
Google Play: Store Link
App Store: Store Link
---
Also Read: The 5 Best Homework Planner Apps For Students
---
MentalUP
MentalUP, prepared with the full support of child development experts and pedagogues, is one of the best learning apps for kids that supports the development of children's attention, memory, logic, visual and verbal intelligence. With more than 100 educational games, you can entertain and test your kids to expand their skills.
Children do not see MentalUP as homework because the scientific exercises are designed in a game format. Contributing to the mental skill development of children who learn with fun, MentalUP boosts kids' memory, increases their learning efficiency in lessons, strengthens their focus and concentration skills as well as helping them discover their strengths.
MentalUP says it takes just 20 minutes a day to challenge and increase your child's 5 core cognitive learning skills. The app provides age-appropriate learning program that can complement any lesson plan.
MentalUP also offers a family plan that lets you and 2 kids train and track together, regardless of children's grade, in one account.
Google Play: Store Link
App Store: Store Link
Duolingo ABC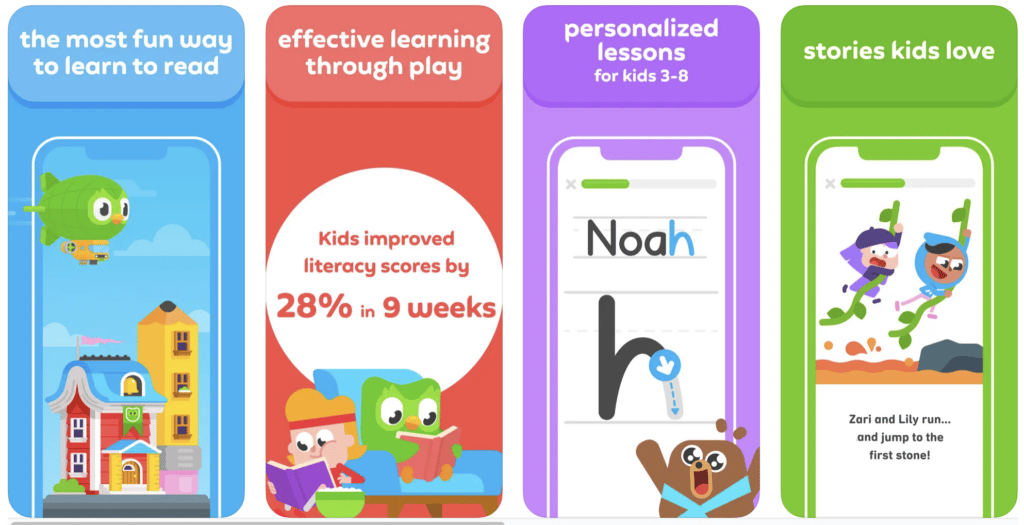 If you want to increase your child's ability to learn to read and do it simply by entertaining, Duolingo Kids will be one of your favorite learning apps.
Available on both the App Store and Google Play, Duolingo ABC offers small lessons to help kids learn the alphabet, phonetics, visual words, vocabulary and more. The app also keeps kids motivated to learn while building their self-confidence, along with fun mini-games and rewards, bite-sized lessons.
App Store: Store Link
Google Play: Store Link
---
Also Read: The 5 Best Apps for Parents
ABCmouse
ABCmouse is one of the most comprehensive learning apps for kids ages 2 to 8. The app offers more than 10,000 activities and 850 lessons across 10 different levels.
Using the educational app, your kids can reach different learning programs for art, music, reading, math, and more. It offers almost all academic subjects for different age groups like toddlers, preschoolers, kindergarten, 1st grade, and 2nd grade.
Having thousands of books, videos, puzzles, printable activities, songs, games, and animations, ABCmouse allows parents to track and monitor their children's progress.
The award-winning learning app for kids provides a safe environment for children to learn different subjects from science to social studies.
Google Play: Store Link
App Store: Store Link
YouTube Kids
If one of your biggest concerns as a parent is the quality of the video content your kid consumes, YouTube Kids is a must-have app.
Using YouTube Kids, you can limit the screen time by setting a time limit, keep up with what your child watches, block a video or a channel that you find inappropriate, and flag a video as inappropriate for YouTube to review. You can choose the option "Approved Content Only" and select an age category (Preschool, Younger, or Older) to handpick the channels, collections, and videos you've approved your kid to watch.
YouTube Kids are suitable for kids aged up to 12 and you can create up to 8 kid profiles each with different viewing settings and preferences. You need to make a parental setup to start and design the preferences.
With all these customization options, you can use YouTube Kids as your best learning app for kids with educational preferences.
Google Play: Store Link
App Store: Store Link
---
Also Read: The 6 Best Location Sharing Apps for iPhone and Android
---
WWF Together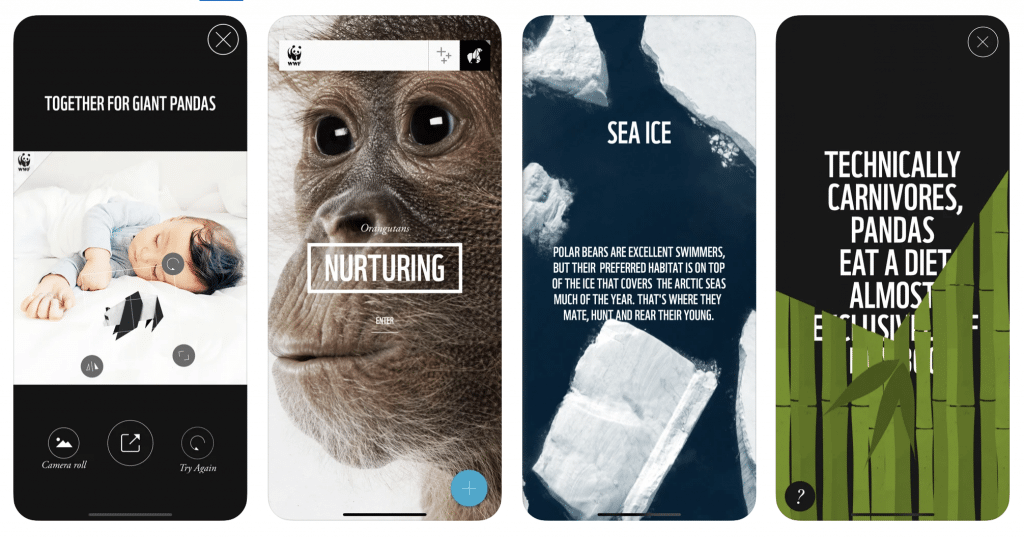 WWF Together, an educational app prepared by the World Wildlife Fund, presents the stories of interesting animals in the world from a different perspective.
WWF Together, which allows you to explore the world of endangered species, takes the relationship of children with nature and animals to a completely different dimension. So much so that you can find yourself in the fluttering of a butterfly's wings or in the eyes of a tiger while in practice.
The app is currently only available for download from the App Store.
App Store: Store Link
Drawing Desk

Drawing Desk, which is an app that your child can use to improve their visual intelligence or to support their education, organize basic graphic works and draw, contains 4 different drawing models. We recommend Drawing Desk, which has more than 40 million users, especially if you want to create a predisposition to drawing in your child at a young age.
App Store: Store Link
Google Play: Store Link
Otsimo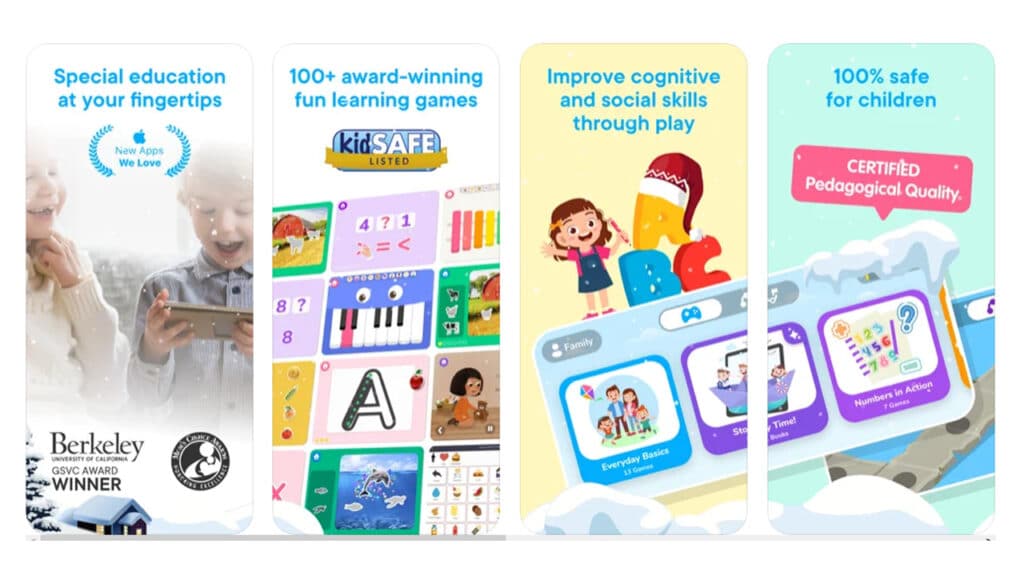 Autism, which appears at a very young age, is a disorder that harms social interaction and communication. With applications for children with autism, parents can try to minimize this situation. Otsimo application is one such application. The application, which contains more than 100 games for children with autism, takes its place in the stores for free.
Google Play: Store Link
App Store: Store Link
---
Also Read: The 6 Best Family Calendar Apps
---
Sago Mini World
Last in our list of the best learning apps for kids is Sago Mini World. Sago Mini World, which is highly preferred by parents for their children with its colorful design, is among the apps that we can recommend to you, with its games appealing to your young children and activities that will contribute to their intellectual development and encourage empathy and creativity.
App Store: Store Link
Google Play: Store Link