We've listed the best homework planner apps for Android and iOS that will help you manage and track your homework, tasks, assignments, and classes with very easy-to-use personal calendars, widgets, reminders, and many other helpful features.
Before we move on to our first homework planner app, I'd like to remind you that while you can download and use note taking apps with the same purpose, these apps we're about to introduce you only focus on homework and school planning.
You can also check out The Best Educational Apps article to increase your skills in such fields such as science, art, and engineering. If you want to improve yourself in a specific field such as chemistry and coding, don't forget to take a look at the list at the bottom of our article!
My Study Life – School Planner
Let's begin with My Study Life, one of the best study planner apps for Android and iOS with over 1 million app installs. As well as students, it is also widely used by teachers and lecturers.
My Study Life makes it quite simple to organize homework, exams, and classes and store them in the cloud to access them on any device of yours. With this very easy-to-use school planner app, you can track your tasks including your homework and assignments with notifications and reminders, store your exams and revision tasks, and manage your classes with lifesaver timetables and various tools. 
And My Study Life is completely free!
---
Also Read: The best free scanner apps for iPhone
---
myHomework Student Planner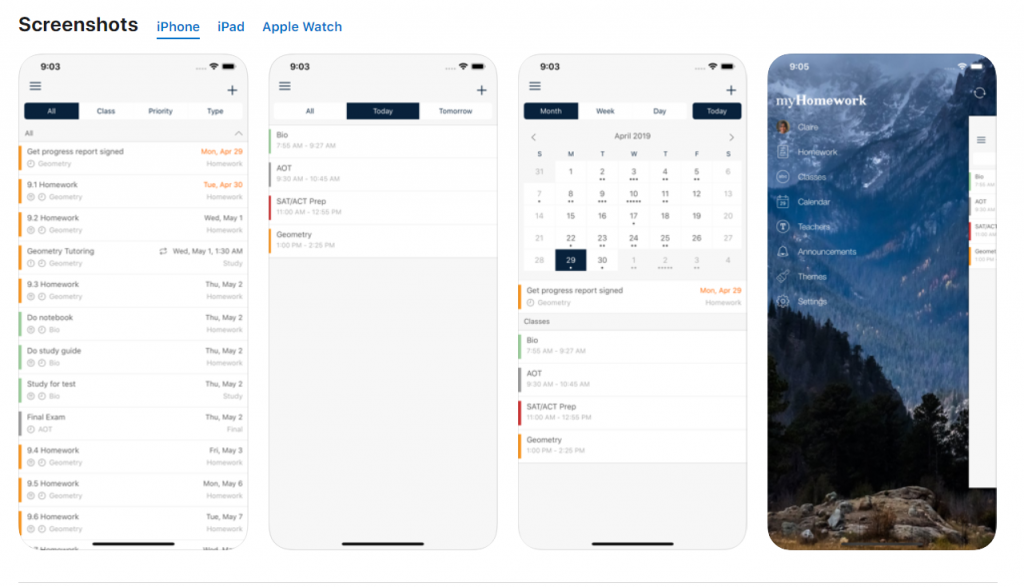 Let's continue with myHomework, our second best student planner app suggestion for Android and iOS users. It's been downloaded over 1 million times since its release in 2016.
The beautiful design and simple interface of myHomework Student Planner makes it very easy to track your homework, tests, assignments and classes whenever and wherever you want. It also offers upcoming homework widgets and due date reminders that make it even easier to keep up with your lessons.
This free homework planner app also offers a premium subscription which provides access to all the add-free premium themes, enhanced app widgets, external calendars, the ability to file attachments and import homework, and many other advanced features. 
---
Also Read: The 5 Best Alarm Apps for iPhone
---
School Planner

Our next app is School Planner by Andrea Dal Cin which is among the best study planner apps for Android with over 5 million downloads on Google Play Store. It's not available on the App Store. If you're an iOS user, you can move on to the next best homework planner app.
The School Planner app enables users to easily add their homework and tests to their personal agenda, create timetables and plan their schedule, manage their tasks and events with helpful tools and built-in calendar, place highly helpful widgets on their home screens, receive reminders and notifications, record their lectures and back up on their Google Drive accounts. Its fast interface will help you make the most of your time.
The Homework App – Your School Schedule & Planner
Let's move on to The Homework App which is only available on the App Store. This free homework planner app allows you to add, view, and complete all of your homework in a very easy way with an in-app calendar that shows you your tasks on a daily, monthly & yearly basis and sends you notifications & reminders. 
Its premium subscription options which are available for 1 month, 6 months and 12 months, allow you to use the app without ads, add subtasks to manage your tasks with multiple steps, color code your homework, take and attach photos, add details about your instructor and even get help for your homework.
---
Also Read: The 12 Best Apps for Students
---
B4Grad: Homework Planner App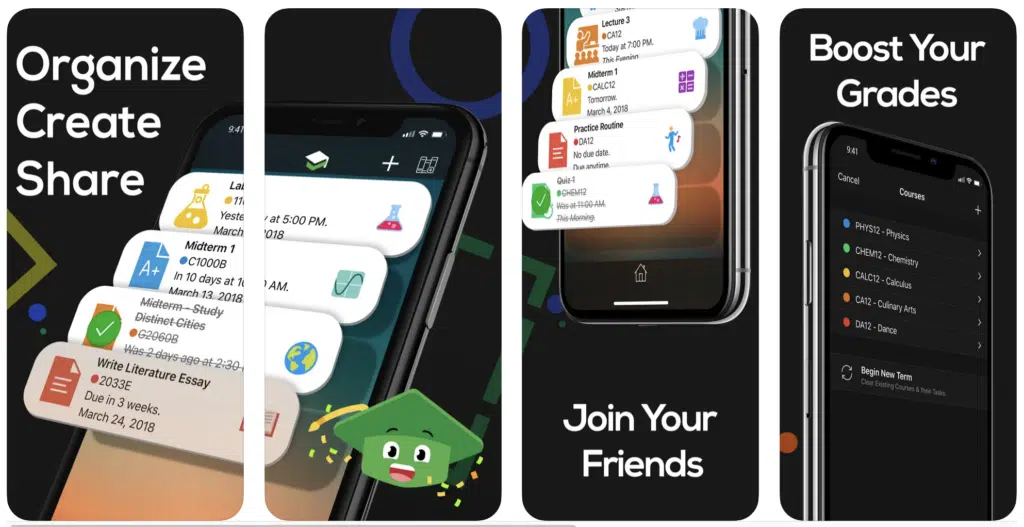 Our last homework planner app is B4Grad. Just like The Homework App, it is only available on Apple's App Store.
B4Grad is an interactive app that uses machine learning to help you easily organize your school life, track your classes, get productive and never procrastinate on your homework again. Its beautiful, friendly, and customizable interface will give you a premium user experience.  
You can download and start using B4Grad for free. However, in order to get the most out of this best student planner app, you're recommended to get its premium subscription.
---
In today's blog post, we talked about the best homework apps for Android and iOS users. As promised at the beginning of the article, below you can find the list of articles we have created for students who want to improve themselves in certain fields.
Best Apps for Self Improvement in Specific Fields
+ The Best Math Solver Apps for Android and iPhone
+ The 9 Best Apps to Learn Coding
+ The 6 Best Apps to Learn Mandarin Chinese
+ The 8 Best Language Learning Apps
+ The 7 Best Science Apps for iPhone and Android
+ The 6 Best Music Learning Apps