Instead of dealing with huge and heavy books, how about accessing information from your mobile devices or tablets? It is possible to access a variety of educational apps where you can increase your skills anytime and anywhere. You can improve yourself in many fields such as science, economy, mathematics, geometry, history, art, finance, engineering with these apps, and parents who wish can use these apps for their children. But how will you know which one to choose among thousands of apps? Keep reading for the answer to your question! We have prepared a list that you will enjoy reading while sipping your coffee, and we have reviewed and listed the best educational apps such as edX, Quizizz, and Khan Academy for you. Here are the best!
edX
Price: Free/In-App Purchase: Up to $4.99
edX is a great education app that brings online courses to mobile devices. The app offers courses from the world's best universities and leading companies. Users can improve their business skills with edX. The app allows you to download online courses so you can watch courses anytime anywhere. Users can search in related fields such as accounting, software, and management with the advanced search feature of edX.
In addition, edX has online courses in more than 30 subjects such as business and management, mathematics, law, history, computer science, language, science and engineering, and the arts. For more information, you can visit edX's website.
---
Also Read: The 12 Best Apps for Students
---
Quizizz
Price: Free
Quizizz is an app that offers free quizzes on Mathematics, English, science, history, geography, languages, and general culture and is among the best educational apps. The app comes with group events and training sessions so users can compete with their peers and test their knowledge. Check out Quizizz's website for creating, editing, and administering a quiz or to learn more about the app.
---
Also Read: The 7 Best Chemistry Apps
---
BrainPOP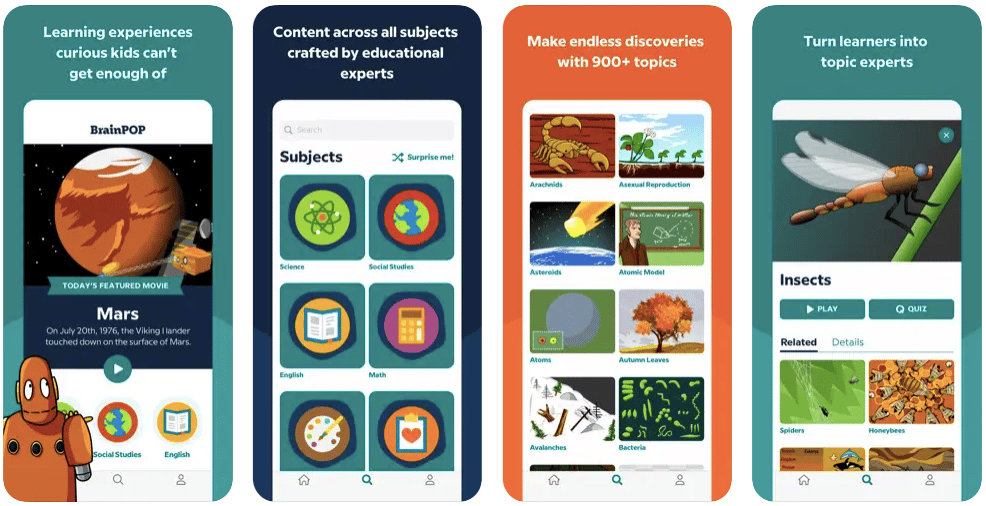 Price: Free/In-App Purchase: Up to $129.99
BrainPOP is an app designed for those who want to learn something new every day. Featured movie topics in the app are updated daily. Featured movies in the app include historical milestones, holidays, current events, figures, and more. BrainPOP can be a handy app for children in subjects such as Science, Mathematics, Social Studies, and English.
Furthermore, BrainPOP's explorer subscription offers four additional related movies and quizzes that change daily, and BrainPOP's all-access subscription provides unlimited access to its 800+ movies and quizzes. For more information about the app, you can visit BrainPOP's website.
Khan Academy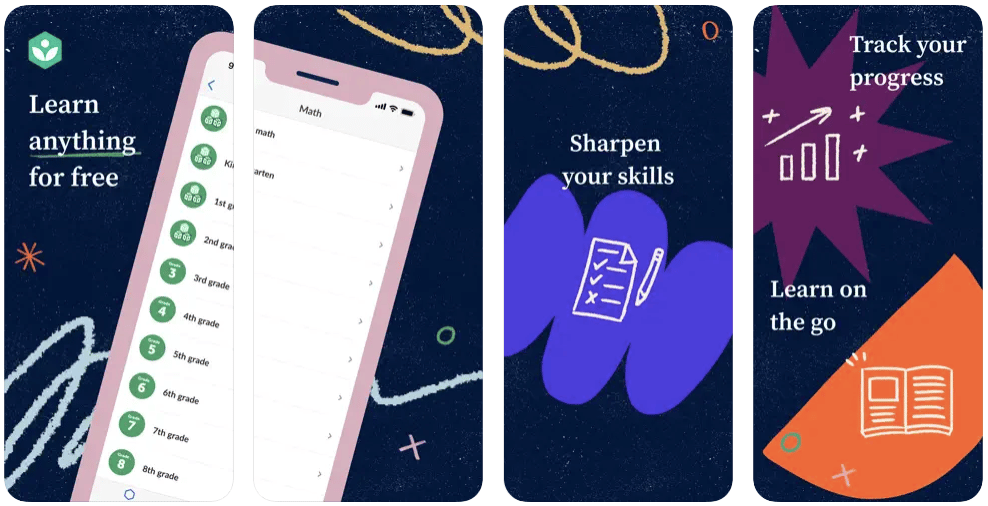 Price: Free
Khan Academy comes with thousands of interactive exercises, videos, and articles and deserves to be among the best educational apps. The app offers free education in various fields such as science, economics, mathematics, finance, grammar, history, politics, and government. Users can improve their skills, practice, and test themselves with step-by-step tips with Khan Academy.
Furthermore, Khan Academy provides offline learning so users can download any content they want and access it anytime, anywhere. Users can always pick up where they left off with Khan Academy. Browse Khan Academy's website for more details.
---
Also Read: The 7 Best Learning Apps for Kids
---
Prodigy Math: Kids Games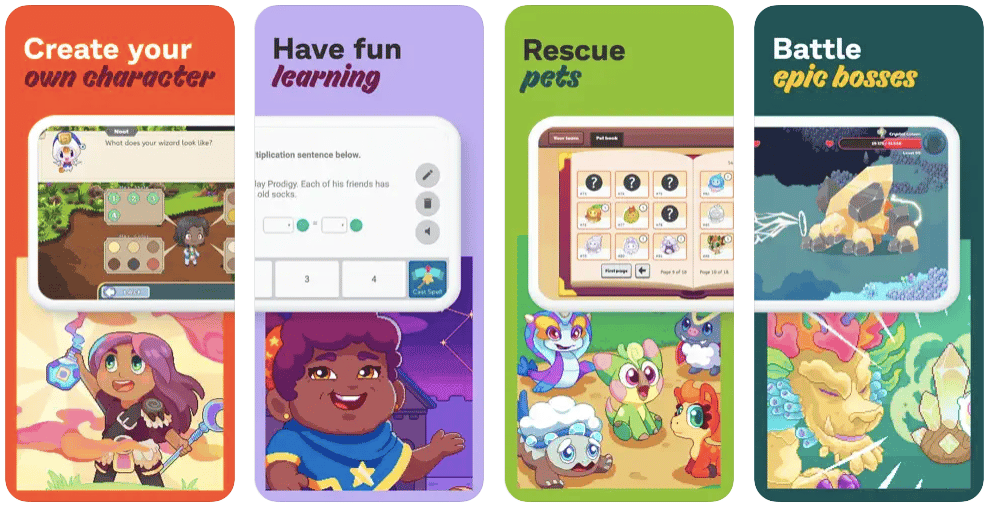 Price: Free/In-App Purchase: Up to $74.99
Mathematics is one of the subjects that most people have difficulty with. Prodigy Math is a free math game app that supports game-based learning. Users can turn math into a fun lesson with Prodigy Math. Prodigy Math comes with rewards, quests, and opportunities to play with your loved ones.
Additionally, the contents of Prodigy Math are adapted according to the strengths and weaknesses of the users, so that the app can be easily used by anyone. Prodigy Math offers 1,400 available skills and is fully aligned with the state-level curriculum. For more detailed information, visit Prodigy Math's website.
Prodigy Math: Kids Games on Google Play
Prodigy Math: Kids Games on the App Store
---
Also Read: The Best Math Solver Apps for Android and iPhone
---
Quizlet
Price: Free/In-App Purchase: Up to $35.99
Quizlet is an educational app developed to help you study and learn, and it ranks among the best educational apps. The app allows users to make flashcard sets, view other flashcards, and sort flashcards. Users can share flashcard sets with friends, family, and classmates via Quizlet. Also, Quizlet comes with detailed and step-by-step textbook solutions so that users can understand it more easily. For more information about the app, go to Quizlet's website.