Cats are creatures whose secrets are much less solved than dogs. They openly express their personalities and aspirations and are very fond of their freedom. How do you know what your cat needs? There are thousands of apps developed for cat owners. We recommend that you take a look at these apps to ensure a healthy and long life for your cute cat. We have reviewed and listed the best cat apps for you. Here are the best!
Pet First Aid
Price: Free
Pet First Aid which offers a comfortable transition between cats and dogs content comes with veterinary advice for daily and emergency situations. The app guides cat owners with step-by-step instructions. Pet First Aid features an early warning sign checker for preventive maintenance and provides a programmable veterinarian contact number. Pet First Aid provides first aid steps for over 25 common pet conditions with text, video, and images. Users can learn when their cat should administer medication, behavioral problems, and how to treat their pet in an emergency with Pet First Aid.
In addition, Pet First Aid provides its users with information about the nearest emergency veterinary hospital or pet-friendly hotels. The app has "how-to" videos for common and stressful emergencies, and CPR techniques are also included. Check out Pet First Aid's website for more information.
Pet First Aid on the App Store
---
Also Read: ​​The 5 Best Dog Training Apps for iPhone and Android
---
11pets
Price: Free
11Pets is a very comprehensive and professional pet care app and deserves to be among the best cat apps. 11Pets has three versions such as "Pet Grooming for families with pets", "Grooming for professional hairdressers" and "Adopt for shelters and animal welfare organizations".
Cat owners will ensure complete care for their lovely cats, with all grooming duties, medical history, and reminders (vaccination, deworming, medications, vitamins, and food) with 11Pets. The app shares your cat's data with its veterinarian or pet sitter and provides a full medical history. For more detailed information about 11Pets, browse 11Pets' website.
Relax My Cat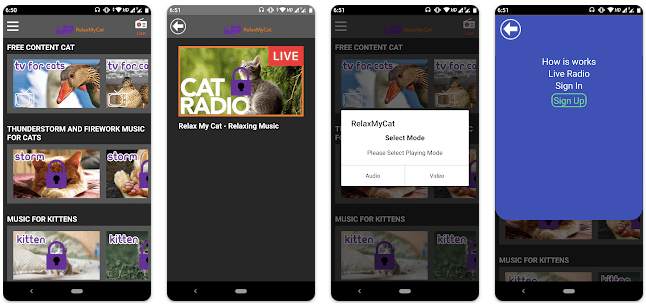 Price: Free/In-App Purchase: Up to $99.99
Looking for an app to calm your cat? Relax My Cat is an app that offers relaxing music designed for just that, and its functionality is one of the best cat apps. The music in the app features a range of sound techniques designed to relax and calm. If you, as a cat owner, think that your cat is anxious, stressed, or nervous, the music in the Relax My Cat can eliminate this problem. The music in the app is composed of music and environmental sounds that attract cats and is based on years of experimentation.
---
Also Read: The 5 Best Apps for Roommates
---
Cat Training Clicker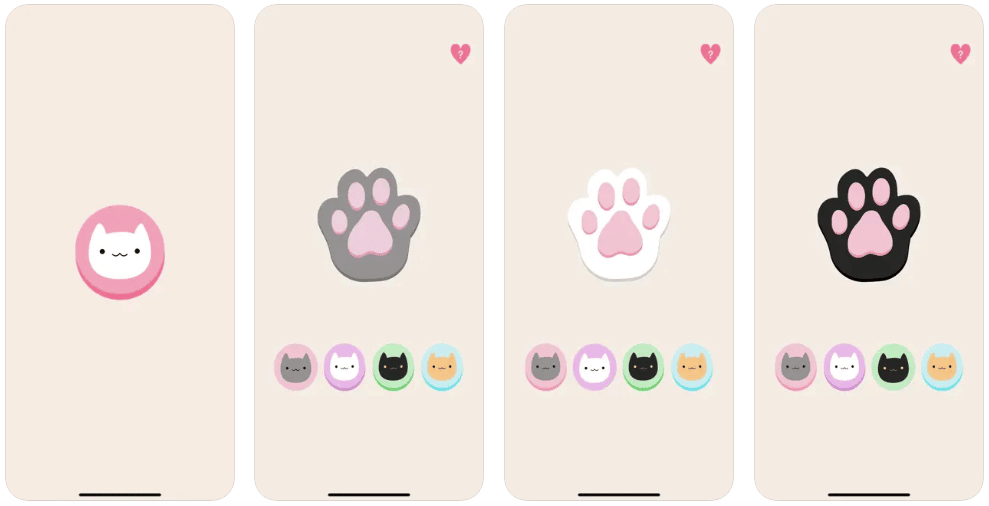 Price: $0.99
Cat Training Clicker which is an effective training tool for cats has four different colored claw buttons with four different clicking sounds such as a clicker, finger click, tongue click, and pen click. Users can train their cat's behavior with distinctive clicking sounds. While using the app, users should make sure that their cats make the right moves, click on the clicker and reward their cats with a treat.
Cat Training Clicker on the App Store
PetCoach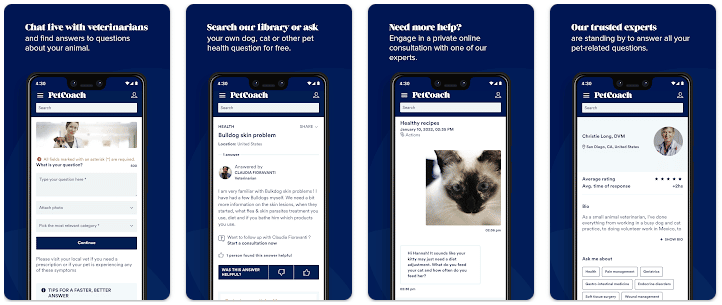 Price: Free
PetCoach is a trusted online veterinary consulting app for your cat and stands out among the best cat apps. Users can effortlessly consult with certified US veterinarians, pet nutritionists, and other experts with PetCoach. The app allows you to search for your cat from the question-and-answer section. PetCoach provides information support for each pet. To learn more about PetCoach, you can visit PetCoach's website.
---
Also Read: The 8 Best Virtual Pet Apps
---
MeowTalk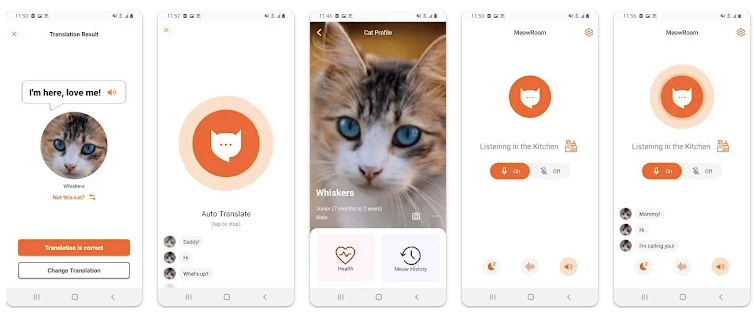 Price: Free/In-App Purchase: Up to $2.99
Cats have unique meows, sometimes they mean "I want to eat" and sometimes they mean "play with me". MeowTalk aims to interpret the meow of an individual cat and translate it into a human-readable language. Users can instantly transform their cat's meow into one of nine common cat purposes, like happy, defensive, mating, angry, pain, holding back, or hunting with the app. To learn more about MeowTalk, you can visit MeowTalk's website.
Cat Training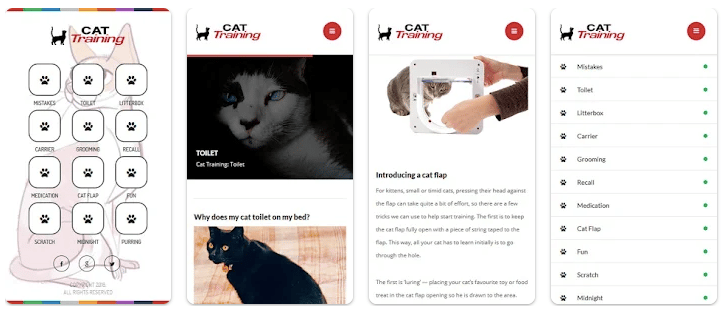 Price: Free
Cat Training is a pretty functional app for cat owners to train their cats and is among the best cat apps. The app provides efficient information for cats such as cat communication, cat toilet training, cat care, giving medicine to the cat, and creating a cat playground. Cat Training offers a lot of information that a cat can do and educates cat owners in all areas related to cats, including mistakes that should not be practiced.
---
Also Read: The 5 Best Interior Design Apps
---
PetDesk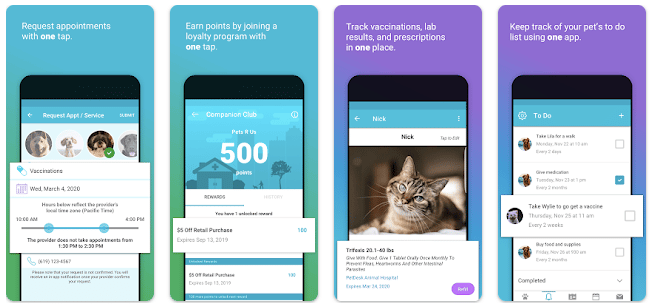 Price: Free
PetDesk helps you manage your cat's health from a single app and aims to make your little friend healthy. The app offers many features for cat owners such as a 24/7 appointment request tool, reminders, messages, and a medicine request feature. For more information, you can check out PetDesk's website.
CAT ALONE – Cat Toy
Price: Free/In-App Purchase: $0.99
CAT ALONE is a fun and very attractive game app for cats and is among the best cat apps. Your cats will try to chase and catch various objects on the screen with the game app. CAT ALONE has eight stages such as laser pointer, ladybug, finger, butterfly, and fly, with impressive graphic elements and typical sound.
CAT ALONE – Cat Toy on Google Play
CAT ALONE – Cat Toy on the App Store
CAT ALONE 2 – Cat Toy
Price: Free/In-App Purchase: $0.99
CAT ALONE 2 is the cat toy app that cats love and comes with seven unique stages including red light, spider, feather, mouse, water drop, dandelion seeds, and fish. The game app has a selfie mode and your cat can capture the image of him playing excitedly.
CAT ALONE 2 – Cat Toy on Google Play