Living in the same order every day brings a monotonous life, and it is pretty challenging to escape from it. The development of the brain, which gets used to this order, stops and cannot improve itself unless it gets out of its comfort zone. The solution to this problem finds brain training apps and offers us brain games that people of all ages can play. Most of these apps allow you to analyze and focus on missing skills. We've listed the best brain training apps to train your mind in just 5-10 minutes a day.
Lumosity
Price: Free / $11.99 per month / $59.99 per year
Lumosity is just one of the best brain training apps designed by scientists. The team that developed the app works with more than 40 university researchers around the world. This brain training app offers more than 25 games per day. There are various mental tasks in the games. Thanks to these games, it is aimed to keep your brain fit. In addition, the app offers English, German, Japanese, French, Spanish, and Portuguese language options.
In addition, the premium of the app creates a personal brain training plan and provides personal analysis.
Elevate
Price: Free / $4.99 per month / $39.99 per year
Elevate is one of the best brain training apps to improve users' cognitive skills like memory, math, precision, comprehension, and processing. This app has more than 40 brain training games and offers its users "Adaptive Progression", "Personalized Workouts" and "Training Achievements".
The app offers a free trial period of 7 days, and the user can continue to use it for free. Also, the app has a pro subscription. In the free version, the user can unlock up to 21 games and play 3 of them per day, while in the pro version, users can access all the brain training games and play 5 games a day.
---
Also Read: The Best Keto Apps
---
Peak
Price: Free / $4.99 per month
Peak brain training app determines its difference by providing better statistical data than other applications and is among the best brain training applications. The app has categories such as Memory, Attention, Problem Solving, Mathematics, Language, Mental Agility, Coordination, Emotion Control, and Creativity, Emotion Control.
The app initially runs a test to analyze users' skills and, based on the result, lists brain training games for you by category. It sends reminder notifications throughout the day, and users can use this app anywhere because it can also be used offline. This application, which has more fun games compared to other applications, also includes 45 games. You can complete the exercises in just 10 minutes a day.
As additional information, the brain training app was made in partnership with academics from Cambridge and NYU universities.
Brain Wars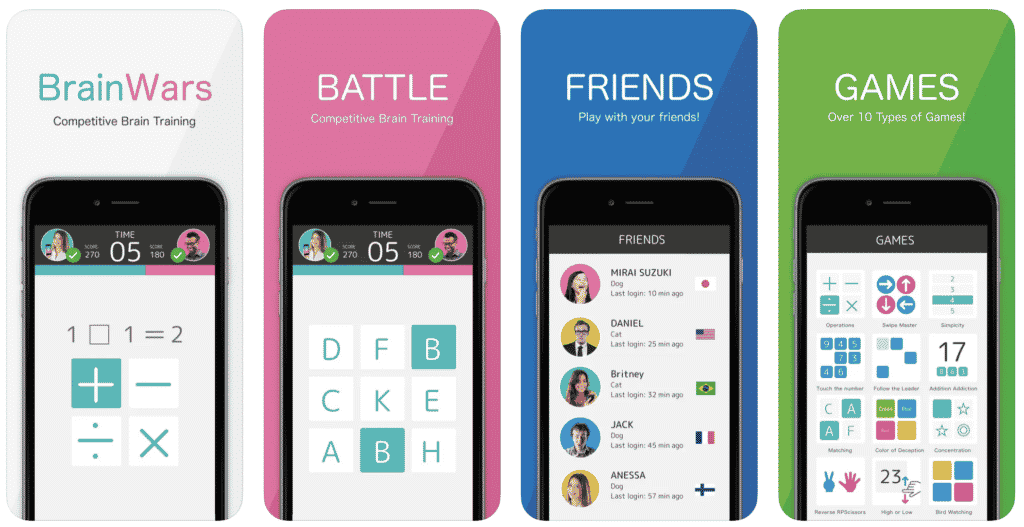 Price: Free / Price varies depending on the number of coins
The Brain Wars app, which has been downloaded more than 20 million times, allows you to train your brain while having fun. This interactive app, which offers the opportunity to develop brain functions while playing games, is an indispensable app for those who like intelligence games. You can play the games LIVE with your friends and people from all over the world. Players of all ages can play this app, which provides simple and intuitive brain training.
---
Also Read: The Best Logic Games for Android
Also Read: The Best Logic Games for iPhone
---
CogniFit Brain Fitness
Price: Free / $9.99 per month
CogniFit Brain Fitness app is among the best brain training apps. This app is an app that assesses and helps improve 23 specific cognitive functions. It offers a unique program with the Individualized Education System to develop the missing skills after the user's skill analysis. In addition, this application contains games in categories such as mental agility, reasoning, memory development, attention, and concentration, and the training process becomes much easier with video coaches. Finally, the app can be played by players of all ages and additionally offers a special category for kids.