The ketogenic or keto diet has become more and more popular among people, basically because of its mantra "high-fat, low carb" to move the body into a state called ketosis. The researches have shown that keto diet produces "beneficial" metabolic changes including weight loss, improvement in high blood pressure, insulin resistance, and elevated cholesterol.
The most important thing with keto diet is tracking the fat and carbs you produce to find the proper balance of foods in every meal and goal tracking. Keto apps can help you to support your diet and to reach your goals by carb tracking, recipes, and suggestions. Below, we brought together the best keto diet apps for you to guide and support your keto diet.
If you want to give a try to a keto diet, don't forget to ask your doctor first. 
Carb Manager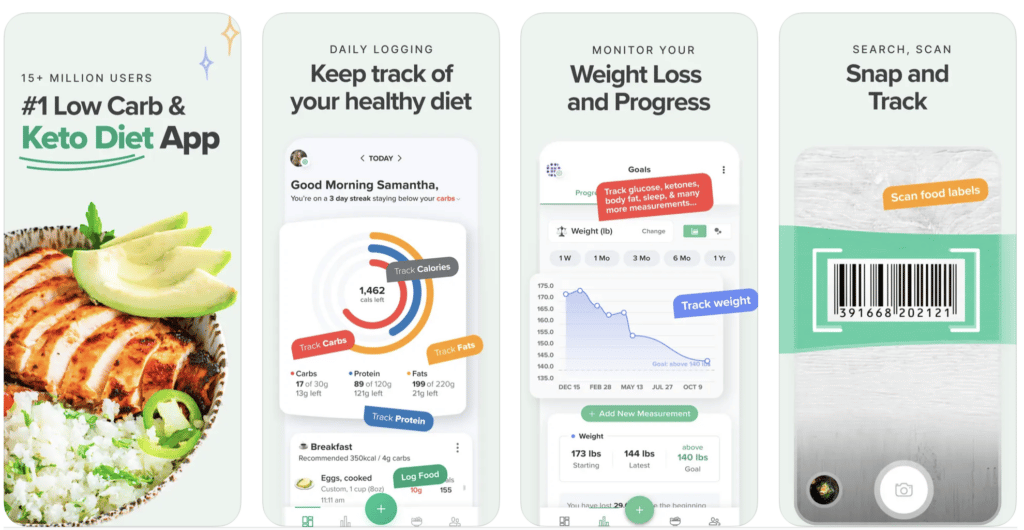 As a free-to-use app, Carb Manager is one of the best keto apps helping you track ketones, blood glucose, net carbs, insulin, diabetes carbs, intermittent fasting, glycemic load, GKI, and much more. Using the keto app, you can set a calorie goal based on your weight loss goals and count calories. Within the app, you can search more than 3 million foods with macros and carb counts, including net carbs and sugar alcohols.
Carb Manager contains exclusive keto recipes to help you find what to eat without harming your keto diet. This way, you can test new flavors instead of making your diet boring by eating the same things every day.
The keto app has integrations with well-known health apps including Fitbit and Garmin via Apple Health and Google Fit to make it easy for you to connect other apps and devices while keeping up with keto diet.
You can also generate a personalized meal plan and shopping list based on your preferences and macros, or choose from one of many curated meal plans for all diet types.
---
Also Read: The Best Calorie Counter Apps for iPhone and Android
---
KetoDiet
KetoDiet app claims that it's more accurate than the other keto apps in the market in terms of nutritional data. The app says that "all nutritional data in Keto Diet are based on accurate, verifiable sources, rather than user-generated contributions or other unreliable sources."
Using KetoDiet app, you can set your carb limits and goals, create your custom meals, and track your weight & body fat, body stats, carbs & other macronutrients, water intake, mood and energy, blood, urine and breath ketones, blood glucose, and blood lipids.
You can also use its shopping basket to help you manage your shopping.
Keto.app
Keto.app, one of the best keto diet apps, lets users set personalized goals to let them eat the best ratio of carbs, fats, and proteins needed for each meal. In order to avoid eating too carby foods by mistake and be out of ketosis, the keto app provides a food library consisting of the carb count for foods. 
Keto.app users can track their daily food intake, weight changes, fasting, calories, net carbs, and other stats, find any food by names or barcodes, access keto recipes, and calculate nutrition goals.
Keto.app is a free to download app and you can track five foods daily by using its free version.
---
Also Read: The 5 Best Yoga Apps for iPhone and Android
---
Total Keto Diet
Total Keto Diet is a free-to-download keto diet and carb tracker app where you can track your calorie intake and macros daily, get custom meal plans based on your goals and macros, access more than 800 keto recipes, track total or net carbs, search for carb counts of foods, and create shopping lists.        
With its dynamic meal planning feature, you can get tailored calories and macros, avoid running out of recipes and food allergens, and can create dynamic shopping lists.
The keto app also provides a beginner's guide to keto for the ones who want to learn more about the keto diet.
---
Also Read: The Best Home Workout Apps
---
Senza
As one of the best keto apps, Senza logs the food you consume as part of your keto diet, from home-cooked meals to restaurant food and grocery store snacks. The keto diet app has synchronization with Fitbit, Apple Health, Google Fit, and the BioSense ketone monitor that uses your breath to determine whether your body's in ketosis or not.
Senza provides a starter guide and macro calculator to determine net carbs, protein, and fat needed to stay in ketosis. The keto app also gives customized food recommendations, 1.6 million food items to search for and 5,000 recipes for ketogenic.
Senza allows time-based logging via barcode scanner, restaurant menus, custom tools built by users to log custom meals, or private items under My Food.
---
Also Read: The 8 Best Diabetes Apps
---