Health apps with their unique technologies are widely used and preferred today. Most health apps show us from the heartbeat to the oxygen level in the blood, and we have the opportunity to observe our bodies thanks to these apps. We can observe ourselves anytime, anywhere with the transfer of such health apps to smartwatches. Even while we maintain our daily routine, our smartwatches continue to extract our data. These apps can sometimes be a dietitian, a trainer, or a doctor for us. We have listed the health apps supported by Apple Watch that everyone should have on their phone. Here are the best health apps for Apple Watch.
Calm

Price: Free
Calm is a meditation app that helps you get rid of your daily stress. It comes with guided meditations, sleep stories, breathing programs, stretching exercises, and relaxing music. The app is an excellent mindfulness practice that includes calm, deep sleep, coping with stress, non-judgment, and forgiveness. It is among the best health apps for Apple Watch and is highly preferred. Guided meditation sessions last 3, 5, 10, 15, 20, or 25 minutes and you can choose a session according to your daily schedule.
Moreover, the app includes over 100 exclusive Sleep Stories featuring famous talents such as Stephen Fry, Matthew McConaughey, Leona Lewis, and Jerome Flynn. Sleep stories are suitable for people of all ages and make it easier for you to sleep.
---
Also Read: The 5 Best Sleep Apps for Apple Watch
---
Clue Period & Cycle Tracker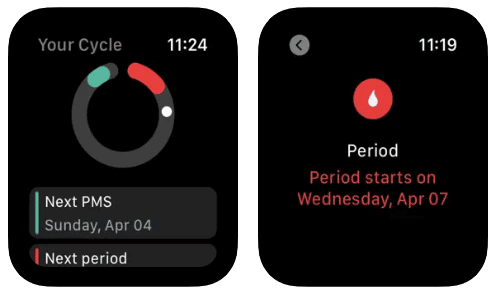 Price: Free
Clue is a period, ovulation, and pregnancy tracking app with a clear mission and allows you to get to know your body assessment. The app is designed to help strengthen health pickers. With Clue, you can analyze all your model patterns, from menstrual periods to pregnancy.
Nike Training Club

Price: Free
How about getting free guidance from your favorite trainers, athletes, and healthcare professionals? Nike Training Club lets you train with a wide variety of workouts and programs, and provides health tips. The app has an extensive library ranging from home workouts to healthy recipes. Nike Training Club has workouts for athletes of all levels, including yoga, core and strength, home workouts, and speed fitness, and is among the best health apps for Apple Watch.
Nike Training Club on the App Store
---
Also Read: The 6 Best Running Apps for Apple Watch
---
Pocket Yoga

Price: $2.99
Yoga lovers can easily practice yoga at home with Pocket Yoga. There are 27 variable sessions in the yoga app, and users can choose sessions according to their level and purpose. Pocket Yoga is an app expertly designed by experienced yoga instructors and is one of the best health apps for the Apple watch. Pocket Yoga allows users to easily detect movements with more than 500 beautifully illustrated pose images in the app. The app guides yoga lovers with relaxing, detailed audio and visual instructions
---
Also Read: The 5 Best Music Apps for Apple Watch
---
SmartGym

Price: Free
SmartGym is an app that provides routines, history, and body measurement tracking and informs its users. The app offers personalized workouts for its users and suggests changes and updates as the user progresses. In addition, SmartGym includes audio guidance for HIIT workouts, over 620 images and animations, Full Home Workouts support, and more impressive features. This app, which you can easily do with your Apple Watch, deserves to be one of the best health apps for Apple Watch with its unique features.
Pacer Pedometer & Step Tracker

Price: Free
Pacer is a walking companion and pedometer app. Pacer features fun challenges, outdoor routes, great data insights, personalized fitness plans, and guided workouts. Also, the app comes with recording steps, flights, calories, distance, and active time. Users can create plans and set goals based on the data presented.
Pacer Pedometer & Step Tracker on the App Store
Lifesum: Healthy Eating

Price: Free
Lifesum is an app that helps you achieve your health and weight goals by eating better. The app comes with personalized diets and meal plans, food and exercise tracking, calorie counter, and healthy recipes. Lifesum allows you to track your calories and macros (carbohydrates, protein, and fats) with a wide variety of diets.