Movement is among the most important criteria for a healthy life. You may not be able to do sports every day or at regular intervals, but there are activities that everyone can do and are very effective. One of them is walking.
Daily walking can be shown as one of the most effective sports and has a great impact on a healthy life. Of course, continuous and regular walking and, if possible, collecting data about walking provide regular activity tracking.
At this point, your biggest assistant is technology. You can store all your movement data with smart wristbands, which have been very popular lately. But what if you don't have a smart bracelet and just want to store accurate walking data? In this case, we come across step counter apps that can be used on smartphones. In this article, we have brought together a list of the best pedometer apps that anyone can use for a healthier life.
The Best Pedometer Apps
Here are the best pedometer apps you can use for accurate step counting.
Pedometer by ITO Technologies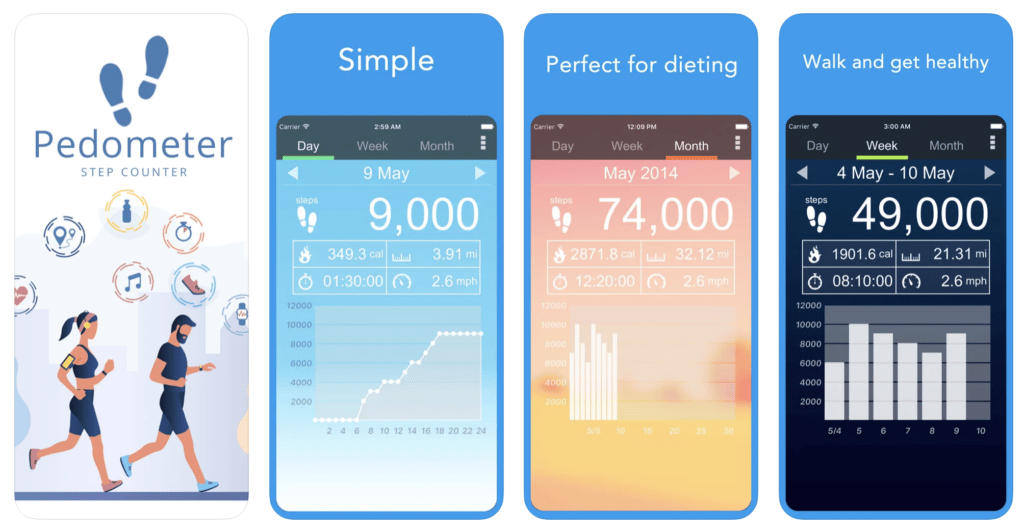 This simple app, developed in accordance with its purpose, allows you to track all your steps. The interface of Pedometer, one of the best step counter apps, is quite easy. There is only one play and pause control on the interface. You can start the pedometer using this control.
The app, which records the number of steps you take, also gives information about your hourly speed. You can also find information such as how many hours you have walked and the distance you have taken on this app. When you start the app, you can read the data from the graphics presented in detail. Almost all information about your activity is given.
MyFitnessPal
FitnessPal, one of the most detailed apps in its field, is not only used for the pedometer feature. The app also works as a calorie counter app. It shows how many calories you have burned according to your steps, but in addition to this, you also calculate the calories of the foods you take.
Apart from this, it also offers pluses such as water tracking and daily activity tracking. One of the important advantages is that the app, which also offers various tools for those who want to lose weight, comes free of charge. Of course, you need to buy the Pro version and pay a certain amount to access all the features of the app. You can use basic features such as a pedometer with the free version.
---
Also Read: The Best Apps That Pay You to Walk
---
StepsApp
StepsApp, one of the best pedometer apps, is very popular with its millions of users and simple and useful interface. You can see a large pedometer tracking chart in the interface. This chart shows the daily steps taken. In the app, which also has widget support, you can get data on how many steps are taken continuously on the home screen of your phone. The app, which records secure and detailed data, also has features such as daily statistics and calorie tracking. The app also supports 11 different languages.
Runkeeper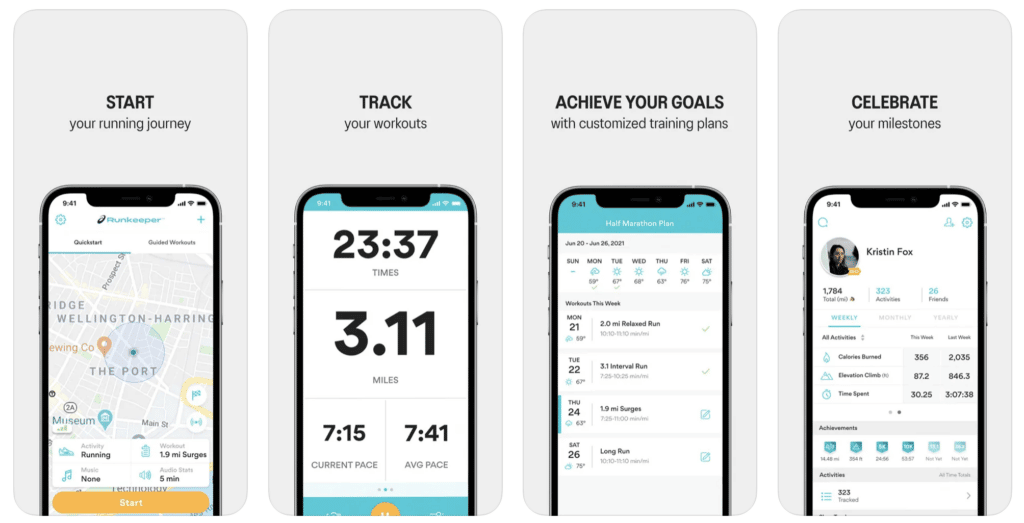 Runkeeper, one of the best step counters, can also be used as a detailed running app. You can record your walks and runs, as well as record your daily activities thanks to the fitness section of the app.
Training support is also provided for users who purchase a subscription to the app, which has some motivation-oriented regulations. The app also has GPS support that allows your walking data and distance measurements can be made more accurately.
---
Also Read: The Best Workout Apps for Women
---
GStep
GStep, where you can access different interface arrays as different themes are presented, is among the app that appeal to the purpose with a simple structure. The app, which also offers features such as calorie counter and water reminder, is also one of the best pedometer apps.
In GStep, you can access information such as how many steps you took today and how many steps you took this week. Daily or weekly graphs are also presented to ensure that your activity tracking is carried out in the best way possible.
Pacer Pedometer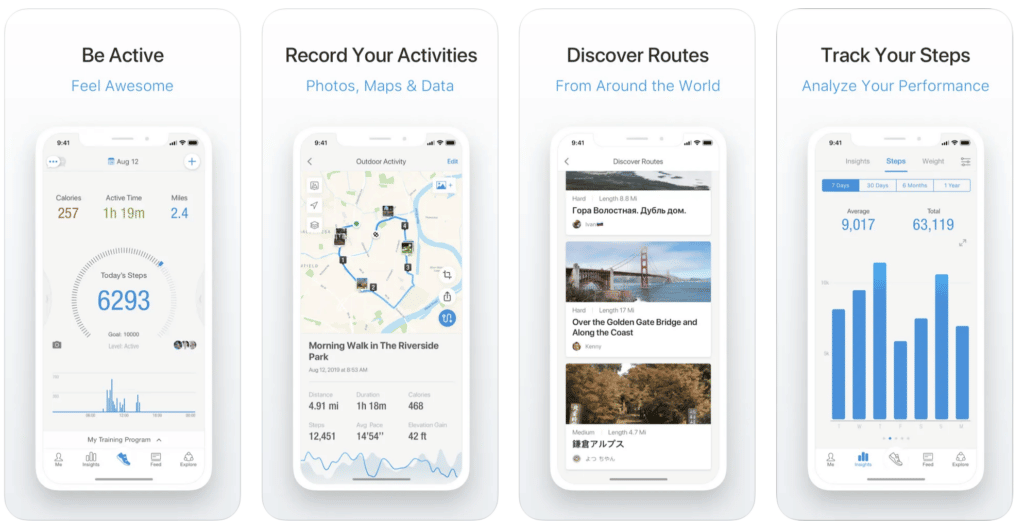 If you want a more professional app, one of the best options for you is Pacer. The app, which is among the best step counter apps, has a sensitive step tracking feature. This means that the app counts steps accurately, close to 100%.
The app, which also offers full compatibility for smartwatches, has a data tracking feature for Fitbit smartwatches. The most different aspect of the app, which also has a premium version, is that it offers GPS support. If you want, you can turn on GPS support and access information about the location and distance you have stepped on. 
Pacer Pedometer on Google Play
Pacer Pedometer on the App Store
---
Also Read: The Best Stretching Apps
---
Step Counter by Leap Fitness

Only available on Google Play, Step Counter is one of the most popular pedometer apps with millions of users. The app, which has a very simple interface, does not have GPS tracking. You can check your last 24 hours, weekly and monthly statistics with graphs in Step Counter, all features of which are completely free.
You can pause and start the step counter at any time to save power. The app will stop background refresh statistics when you pause it. And if you want, you can reset today's steps and count from 0.
Google Fit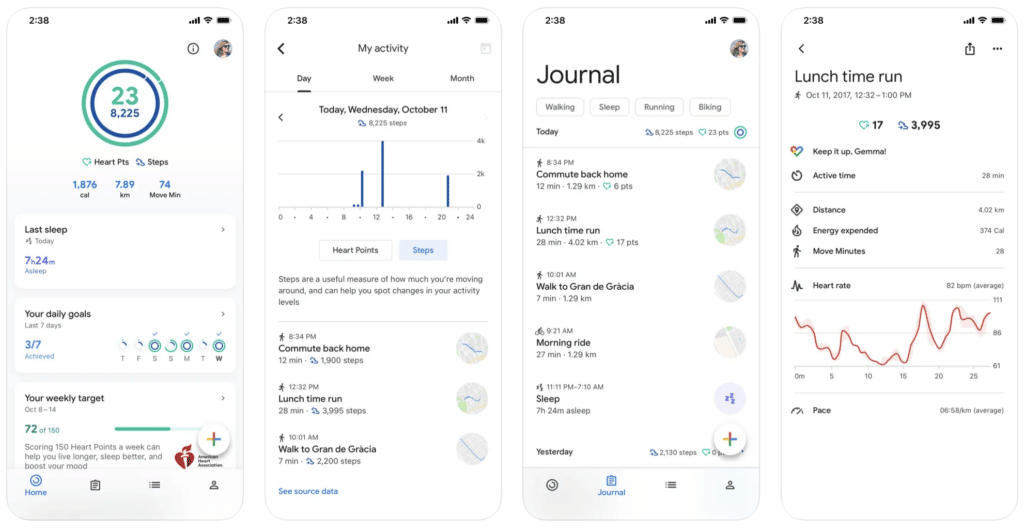 Last in our list of the best step counter apps is Google Fit, an activity tracker Google developed in collaboration with the World Health Organization (WHO) and the American Heart Association (AHA). The popular app allows you to set goals, and see your daily progress on your steps and Heart Points, an activity goal that can help improve your health.