Adopting an active lifestyle and doing it regularly is the dream of many of us. We've all tried diets, sports, and many more from time to time to stay healthy and active. But did you know that the basis of not being able to do or maintain them is a lack of motivation? That's where apps that pay you to walk come in. These apps promote active living and reward their users for being active with cash rewards, charity, gift cards, and more. Without further ado, here are the apps that pay you to walk!
Charity Miles
Price: Free
Charity Miles is a sociable app that allows you to earn money by walking or running for charities. The app aims to give people a purpose and inspiration to walk or run. Users can lose weight or get fit while doing good with Charity Miles.
In addition, Charity Miles has a pedometer, cycling meter, running tracker, and running stopwatch, allowing you to do many sports. Users can track effortlessly their distance through Charity Miles. The app has agreements with more than 40 charities such as Standing Against Cancer, Autism Speaks, ASPCA, Leukemia and Lymphoma Association, Alzheimer's Association, I'm Back on My Foot, and Nature Conservation. Check out the website of the app for more information.
Charity Miles on the App Store
Evidation
Price: Free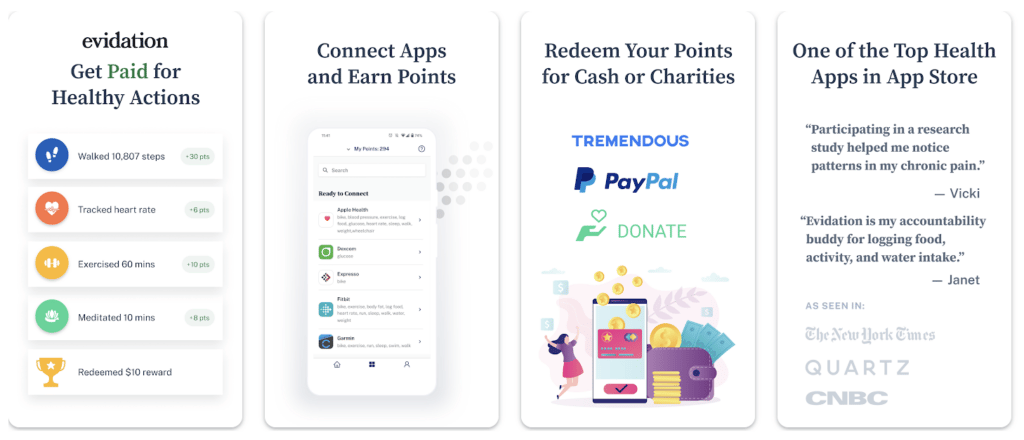 Evidation is a successful health app that aims to earn money by adopting a healthy lifestyle and is among the apps that pay you to walk. Evidation pays users for health-promoting activities such as following steps, eating daily, sleeping daily, daily meditation sessions, posting surveys, logging mileage cycling, participating in research, and participating in wellness programs.
Moreover, Evidation works in harmony with over 20 popular apps. Users can use the app effortlessly with wearable devices such as Apple Watch, Samsung Health, Fitbit, and Garmin. Every healthy activity is scored by Evidation, and every time the score is 10,000, the app allows deposits via Paypal, giving gift cards, or donating directly to charities. The app is appropriate for users over the age of 18 residing in the United States. Visit Evidation's website to learn more information about the app.
---
Also Read: The Best Running Apps for Beginners
---
HealthyWage
Price: Free
HealthyWage is a helpful app that aims to lose weight and save money in a healthy way. Users can earn up to $10,000 with HealthyWage. The app includes betting and various weight loss and fitness challenges. HealthyWage allows users to track their step activity throughout the day, build friendships and create inspiring achievements. Also, users can take before and after photos or verify and see their changes with start and end weight verification videos in HealthyWage. Browse HealthyWage's website to learn more detailed information about the app.
---
Also Read: The 7 Best Free Walking Apps
---
Sweatcoin
Price: Free/In-App Purchase: Up to $24.99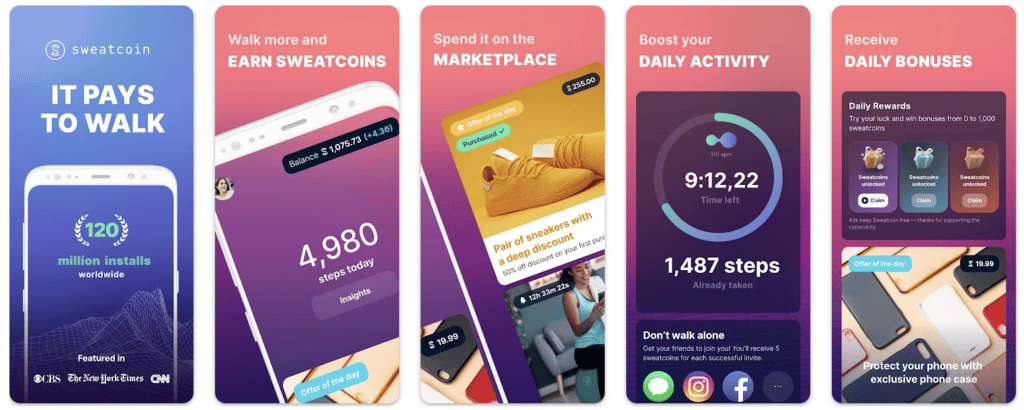 Sweatcoin is a handy health app supported by all devices and is one of the apps that pay you to walk. The app works as an activity tracker and counts users' steps, and monitors their exercise activities. Users can stay active and earn special offers, rewards, discounts, and digital currency with the app. To learn more about the app, visit Sweatcoin's website.
---
Also Read: The 5 Best Yoga Apps for iPhone and Android
---
Runtopia
Price: Free/In-App Purchase: Up to $39.99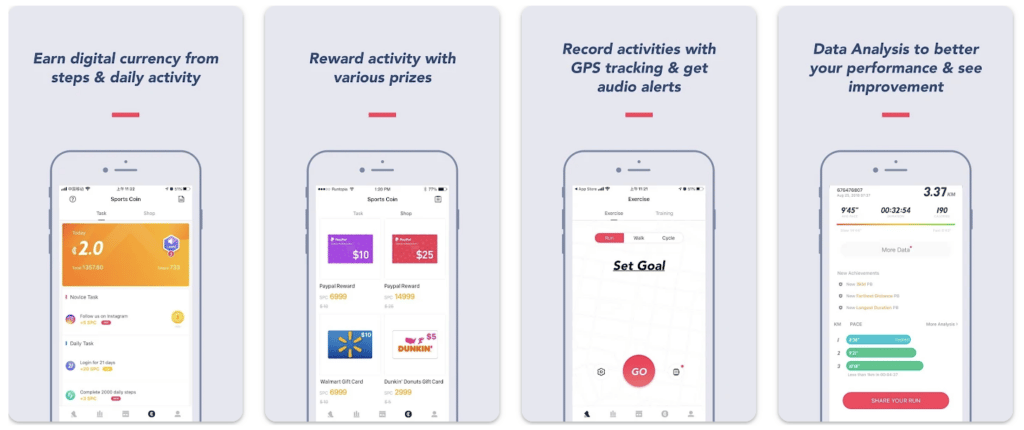 Runtopia is a health app that motivates and enables one to achieve goals for health. Users can convert sports activities into cash and gift cards. The app offers real-time audio-assisted exercise for users who wish. Users can access personalized training plans according to their individual needs. Additionally, Runtopia records pace, distance, steps, calories burned, and more, and rewards users for every record with its efficient medal system.
StepBet
Price: Free/In-App Purchase: Up to $79.99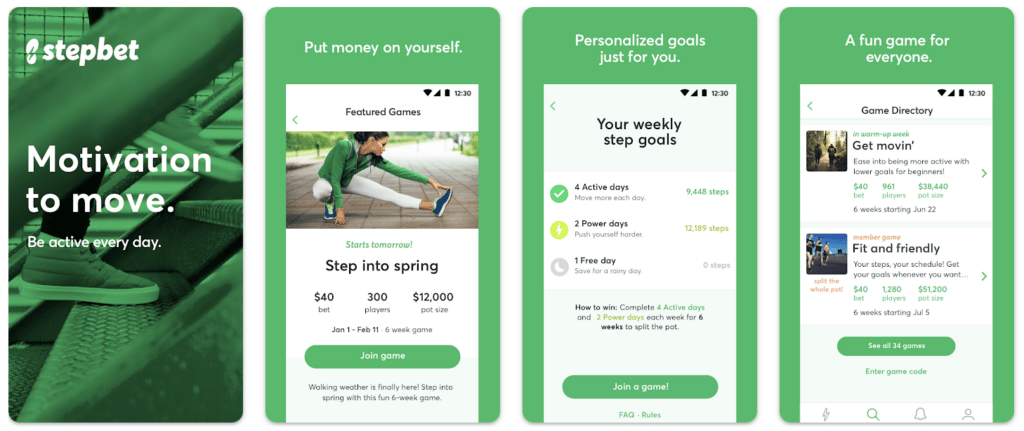 StepBet is a beneficial app that tracks activities and exercises and helps plan new goals based on the past. StepBet stands out among the apps that pay you to walk. The app aims to encourage its users to achieve their goals by paying real money. Users can browse and join exercises that fit their style in the app. StepBet supports wearable devices such as Fitbit, Apple Watch, Google Fit, and Samsung Health. For more information, check out StepBet's website.
---
Also Read: The Best Home Workout Apps
---
LifeCoin
Price: Free/In-App Purchase: Up to $49.99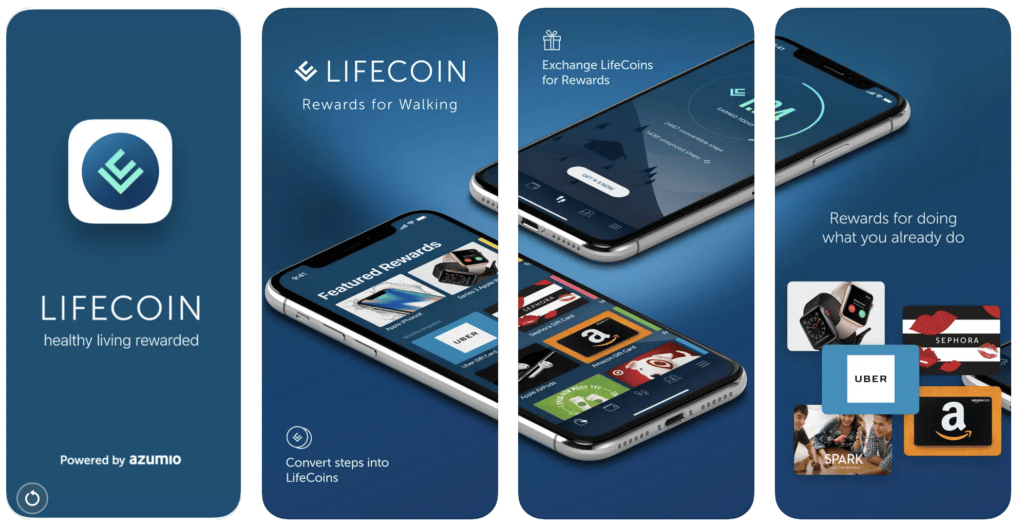 LifeCoin is a rewards app where you can earn money by walking, running, or actively moving. LifeCoin automatically counts your steps, and users are rewarded with redeemable gifts. The app automatically tracks earned coins and offers users gift cards, gadgets, discount codes, and more. Furthermore, LifeCoin deserves to be among the apps that pay you to walk with the rewards and features it offers. Browse LifeCoin's website to learn more detailed information about the app.