According to Sensor Tower, it now takes $4.2 million in gross revenue per month across the App Store and Google Play to become the top-ranking Health and Fitness app in Europe, up 23% from the $3.5 million required per month in 2021.
Per the report, Spain, France, Italy, and the United Kingdom are among the markets that have seen an increase in the necessary median monthly gross revenue over the past few years.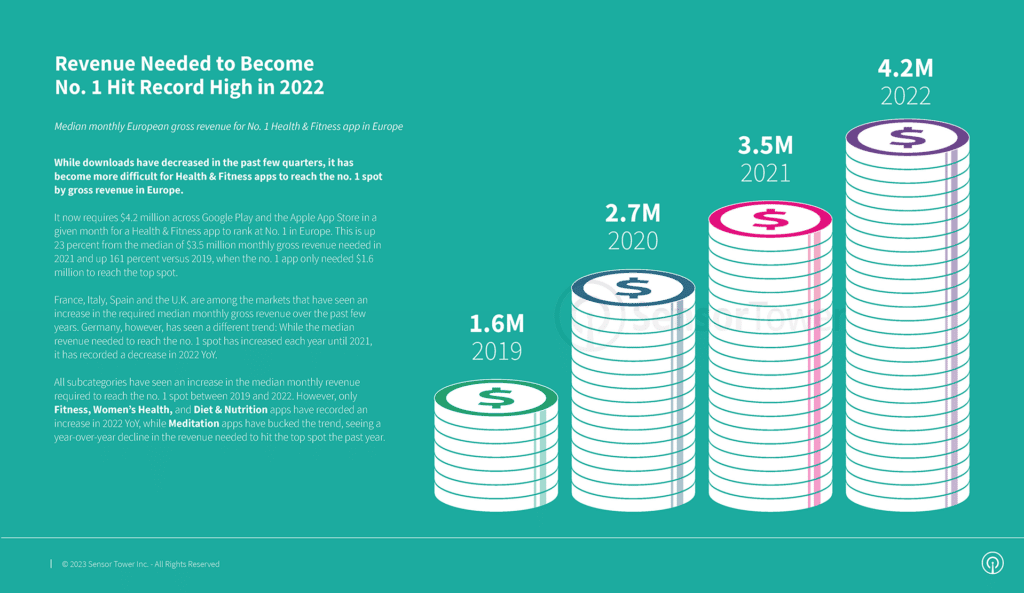 Between 2019 and 2022, the median monthly income necessary to take the top rank has increased across all subcategories. However, only the diet and nutrition, fitness, and women's health apps had a gain in 2022 YoY, while meditation apps defied the trend and experienced a YoY fall in the required revenue to claim the top rank over the previous year.
In 2022, Health and Fitness apps in Europe reached 232 million downloads, an increase of 16% compared to 2019, according to the report. Quarterly downloads of top Health & Fitness apps soared in 2020, at the height of the pandemic.
Turkey, one of the fastest growing markets in Europe since the first quarter of 2020, achieved an increase in European adoption in the 4th quarter of 2022, followed by Italy.
Fitbit had the most interactive user base of any fitness app in 2022. In the fourth quarter of 2022, about 36 percent of the app's active Google Play installs worldwide opened the app more than ten days a month. Other apps such as Garmin Connect, Strava and Sweatcoin followed with 31 percent, 27 percent and 8 percent respectively.