The number of downloads that social apps need to become No.1 on app stores in Europe has dropped 30% to 260,000 in the last three years, according to new data from Sensor Tower.
In order to reach the top spot on Google Play Store and App Store in Europe, social apps needed an average of 360,000 downloads per day in the third quarter of 2019, and 552,000 installs in the second quarter of 2020 when lockdowns led users to social media platforms to stay in touch with each other.
However, while there has been a downward trend in social app adoption in Europe over the last few years, user engagement is on the rise thanks to a number of new trends across the category.
European spending on social apps reached a new high in 2022
According to the report, European users spent a new record of $1,900 per minute on social apps in the first ten months of 2022. Total spending reached $830 million, with an 86% increase from the previous year.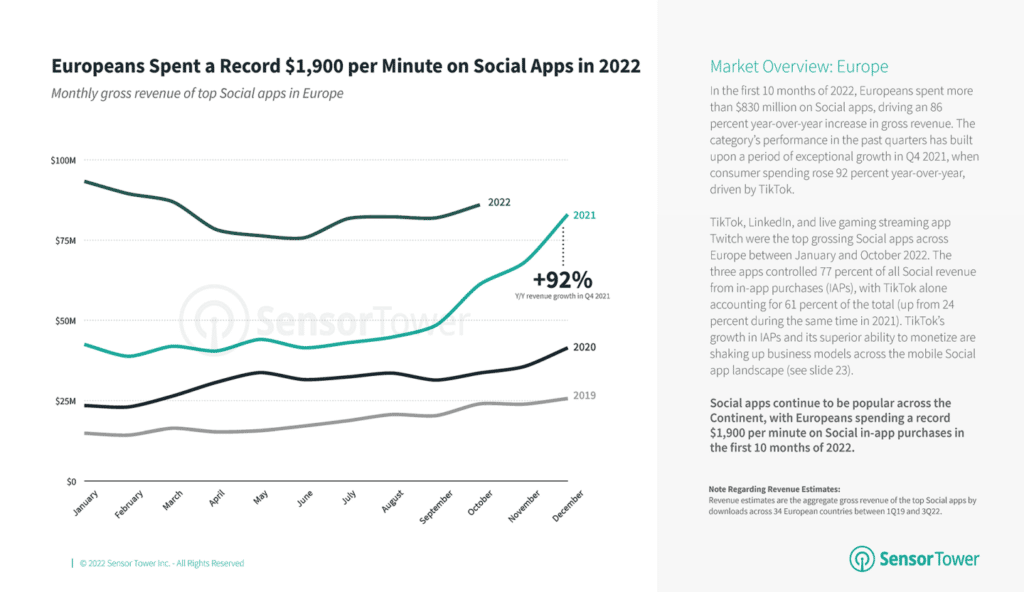 TikTok, LinkedIn and Twitch accounted for 77% of the total revenue social apps generated from in-app purchases, becoming the top grossing apps in the category between January and October.
Meanwhile, TikTok alone accounted for 66% of the total IAP revenue, but the report suggests that its consumer spending could now be slowing down, as its revenue increased by only 3% Q/Q in Q3 2022, compared to 46% in the third quarter of 2021. However, it still managed to see a sharp increase in its gross revenue in Germany, which grew from $15 million to $85 million between 2021 and 2022.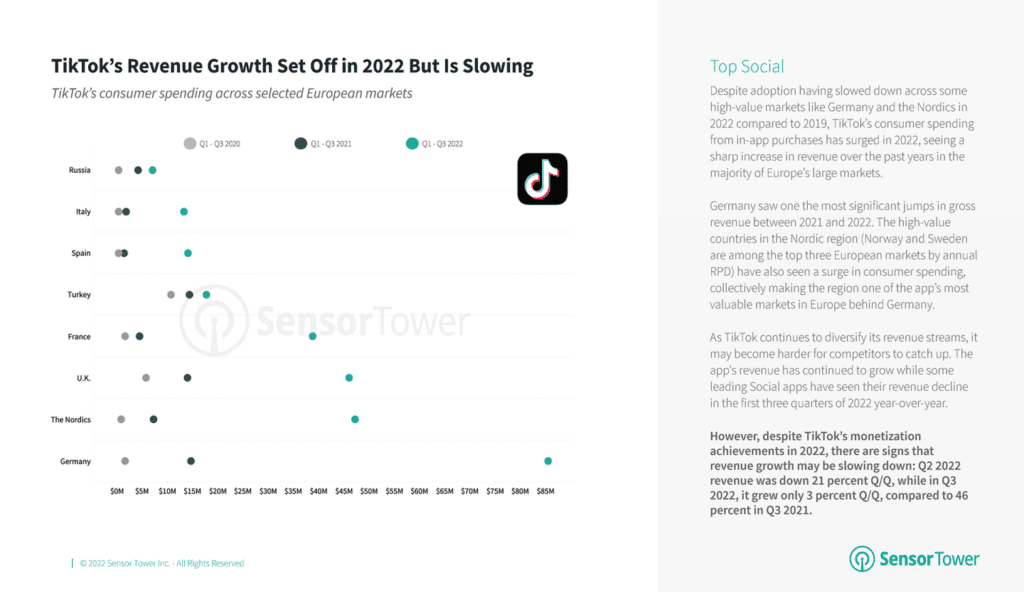 In addition to the ByteDance-owned short video platform, BeReal is also becoming a strong competitor to social media titans. Following the success of the app's dual-camera feature, other platforms have also launched similar features like TikTok Now in order to lure users.