Sensor Tower estimates that European users are set to spend more than $200 million on Dating and Social Discovery in-app purchases in the first quarter of 2022, or $1,600 per minute.
While global consumer spending on dating apps reached $4.2 billion in 2021, Europeans spent over $780 million on Dating and Social Discovery apps, up 20 percent year-over-year. 
Consumer spending across the continent saw a significant increase during the 2021 summer months when revenue increased 30% year-over-year. While social discovery apps have grown faster overall, dating apps still account for the larger share of revenue, with more than 80% in 2021.
Tinder and Badoo were the top grossing dating apps across Europe, while Azar and LivU, live video chat apps, were the top Social Discovery apps.
With strong growth potential among the 20- to 34-year-old demographic, the Social Discovery category has seen a significant increase in first-time downloads since the outbreak of the COVID-19 pandemic. Per the report, Turkey was one of the most competitive markets for Social Discovery apps in 2021, followed by Russia and France.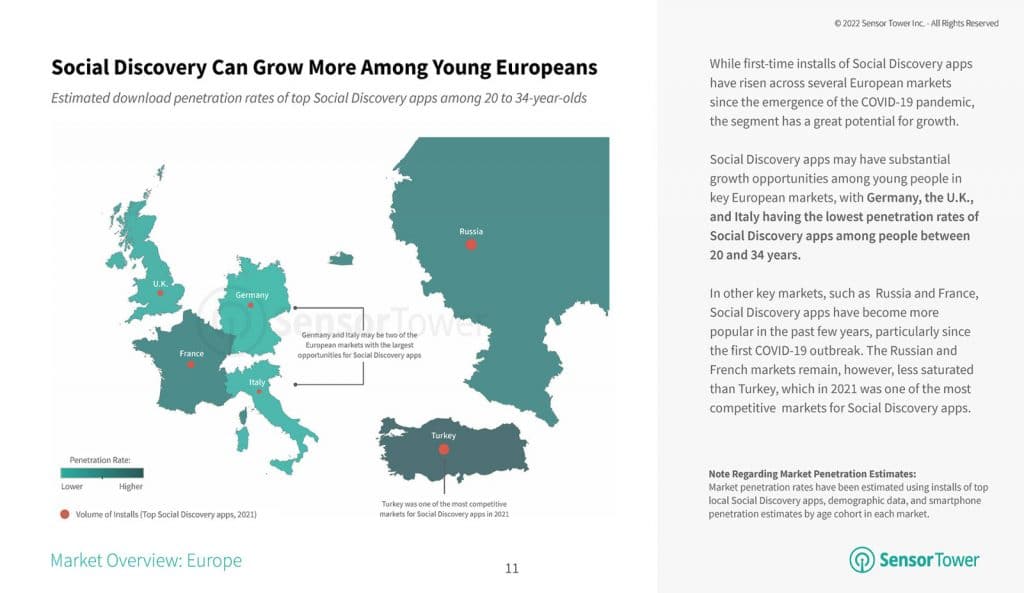 Germany and Italy, on the other hand, may have the greatest opportunities for Social Discovery apps, as these countries have relatively low download penetration rates in the region.
With downloads of Dating and Social Discovery category apps reaching 112 million in 2021, Sensor Tower predicts installs to reach 28 million in Q1 2021. Sensor Tower also says dating app advertisers prefer Facebook as the mail advertising channel.