European mobile app spending reached approximately $14.8 billion across both Google Play Store and Apple's App Store in 2020, 31% up from 2019, according to Sensor Tower.
The growth was largely driven by the growing number of people staying at home during the COVID19 lockdowns and spending more money on app subscriptions, in-app purchases and premium apps.
While global mobile app spending reached $111 billion in 2020 with a 30% Y/Y growth, European countries saw nearly the same growth rate as it became the center of the pandemic in 2020.
Mobile App Spending & Downloads In Europe
According to the Sensor Tower data, Apple's App Store accounted for the majority (54%) of the total revenue in Europe generating $8 billion with a 31% year-over-year increase and Google Play app revenue reached $6.8 billion with a 30.8% growth rate.
Meanwhile, mobile app downloads across the App Store and Play Store in European countries reached a total of 28.4 billion installs last year, up 17.4% from 2019.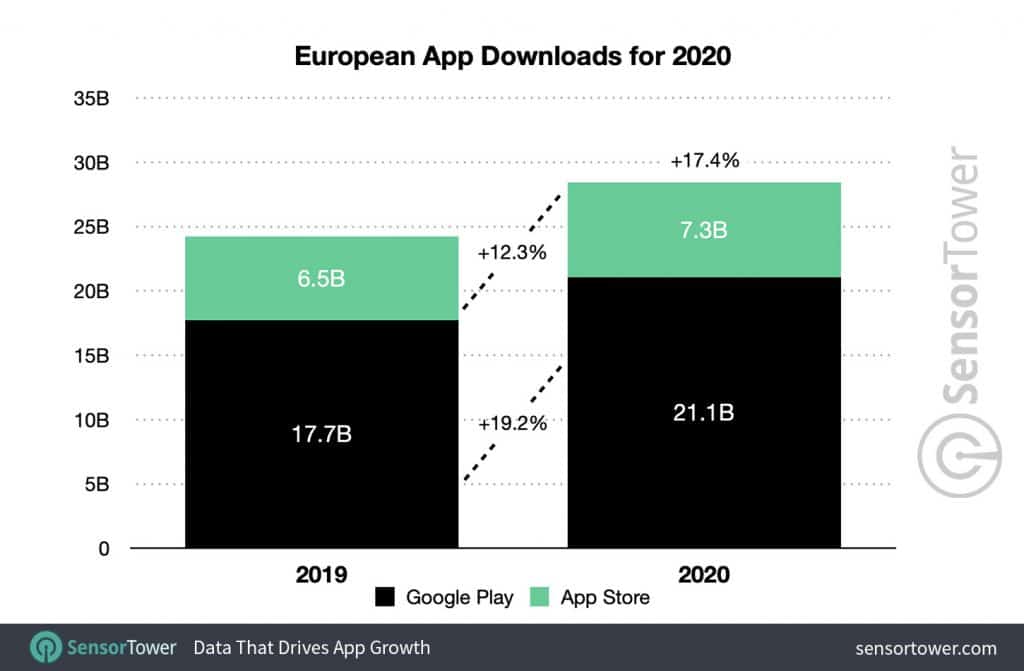 While Google Play accounted for 21 billion app downloads in 2020, Apple's App Store generated the remaining 7.4 billion installs.
Top Spending European Countries
According to Sensor Tower, the most spending European country in 2020 was the U.K. with $2.9 billion spent on both Android and iOS apps. It was followed by Germany with $2.8 billion and France with $1.7 billion.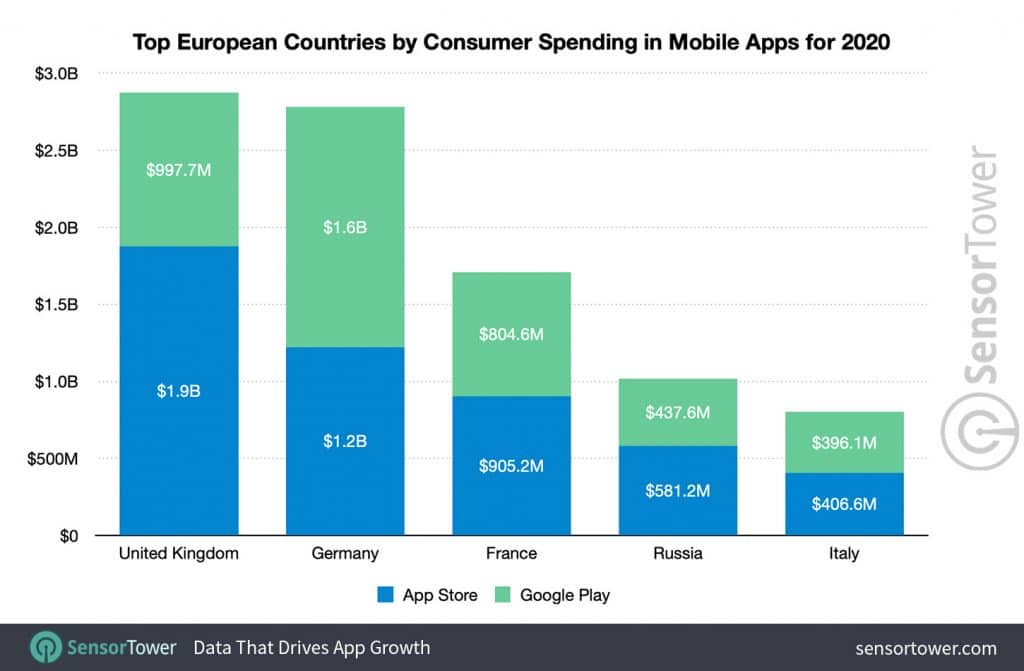 Meanwhile, Russia generated 6 billion downloads last year with a 12.8% increase and Turkey generated 3.9 billion downloads in 2020.
Top Non-Gaming Apps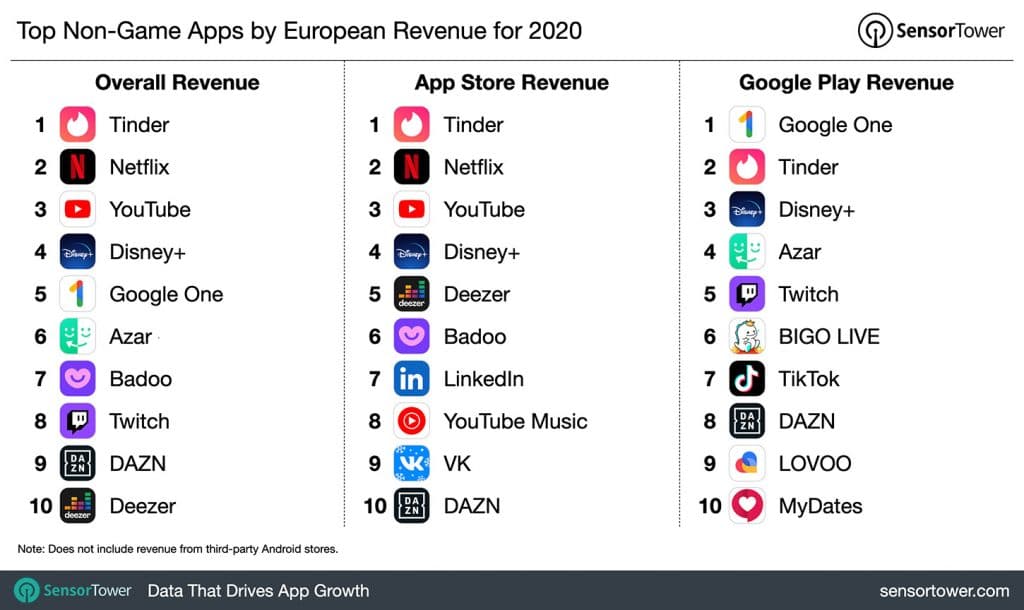 Similar to 2019, Tinder was the most earning non-gaming app in Europe last year with $329.5 million user spending, followed by Netflix and Youtube. (iOS users are redirected to the Netflix website for new sign-ups and this revenue wasn't included in Sensor Tower's data.)
---
Tinder Revenue And Usage Statistics
Youtube Revenue And Usage Statistics
---
When it comes to downloads, TikTok was the most downloaded non-game app generating 163 million new installs with a 78% Y/Y increase. It was followed by WhatsApp at No.2 and Zoom at No.3.
---
TikTok Revenue And Usage Statistics
WhatsApp Revenue And Usage Statistics
Zoom Revenue And Usage Statistics
---
The list continues with Instagram, Telegram, Messenger and Facebook respectively which clearly proves the increasing demand for social media apps as users looked for ways to communicate with family, friends and colleagues.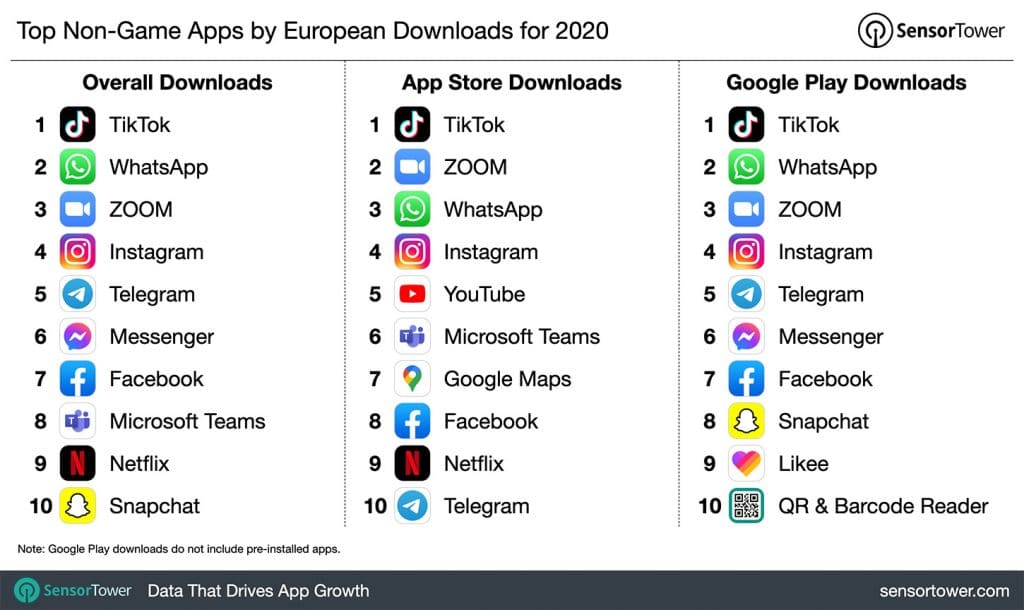 Mobile Game Spending & Downloads In European Countries
Mobile game spending reached $9.6 billion in Europe with a 28% year-over-year growth, accounting for 64.8% of the total mobile app revenue in Europe generated in 2020. While other categories including Social Networking and Entertainment saw more European users in 2020, Games category experienced a 66.4% Y/Y decrease in market share in 2020. Meanwhile, mobile game spending in Europe made up nearly 12% of the global mobile games revenue.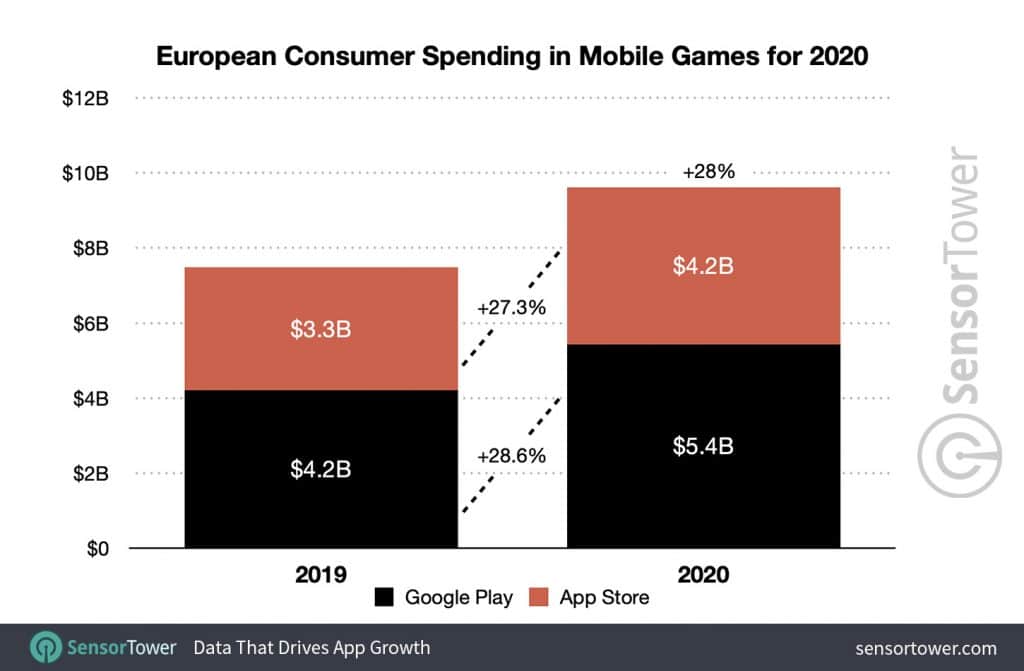 Google Play Store generated $5.4 billion, or 56.3% of the total revenue, in 2020 with a 28.6% growth. App Store represented the remaining 43.7% and iOS users spent nearly $4.2 billion, 27.3% up from 2019.
Top spending country in Europe was Germany with $1.3 billion spent on mobile games in 2020, 64.2% up from 2019.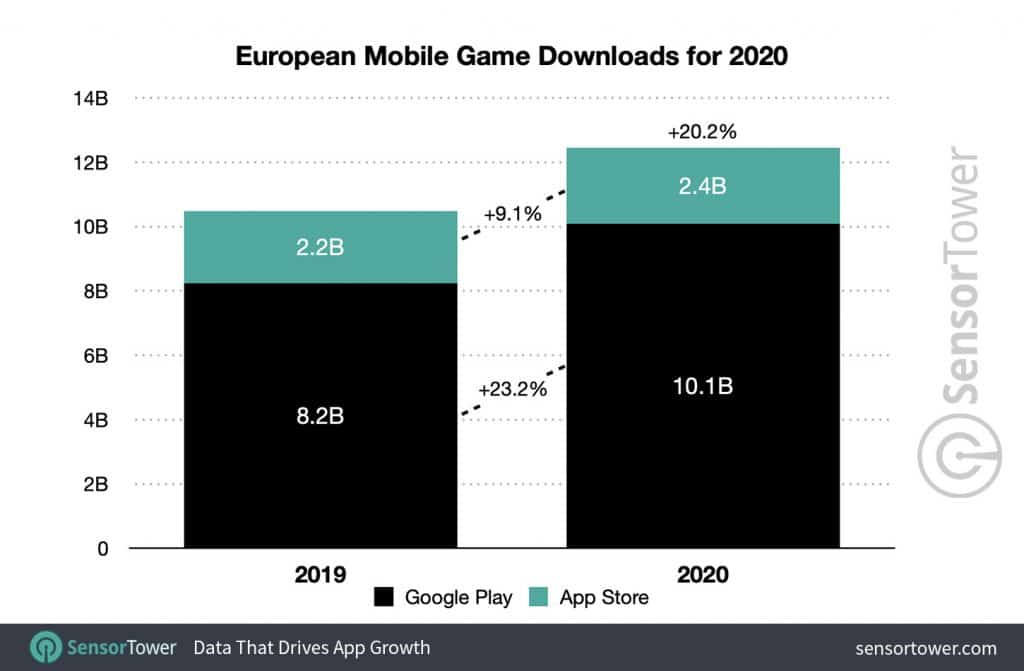 Google Play Store and App Store gaming apps generated 12.5 billion installs in total in 2020. While Google Play downloads increased by 23.2% to 10 billion, App Store downloads rose by 9% to 2.4 billion.
Top Mobile Games By Revenue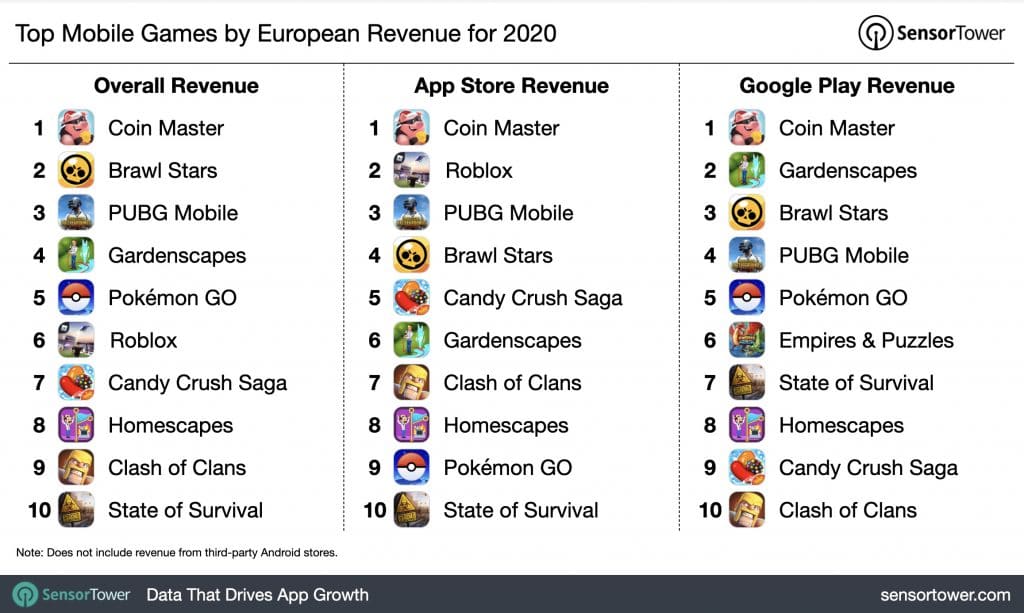 The top grossing app Moon Active's Coin Master which generated $398.2 million. It was followed by Supercell's Brawl Stars with $259 million and Tencent's PUBG Mobile which generated $253.5 million. Meanwhile, PUBG Mobile was the highest-grossing mobile game of the last year with $2.6 billion.
Top Mobile Games By Downloads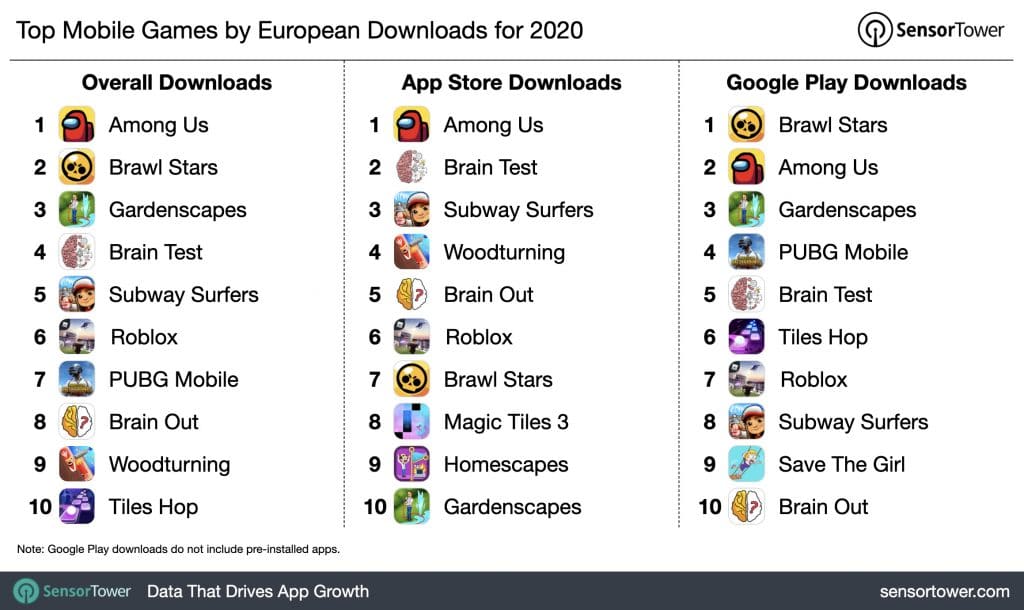 The most downloaded mobile game in Europe was Among Us from InnerSloth which generated 64.7 million new downloads in 2020. Last month, the popular social deduction title surpassed 500 million monthly active users.