What is YouTube?
YouTube is an online video sharing platform that allows global users to watch, share and upload videos with the mission of freedom of speech and freedom of information. Used by billions of users worldwide, YouTube is one of the most popular music and video streaming platforms available in Google Play and App Store along with the Web.
What is YouTube Premium?
YouTube is a free video sharing platform where users can consume its content just by watching ads without a paid subscription. YouTube Premium (formerly known as YouTube Red) is YouTube's paid subscription where users are allowed to listen and watch ad-free videos. It also enables users to consume the content "in the background" meaning users don't have to keep the app open to listen to videos. YouTube Premium users can download the data for offline usage.
Users can also prefer the YouTube Music Premium package for downloading and listening music within the app without ad interruption. It is also allowed to play the music in the background while using other apps or when the screen is off.
For the parents, YouTube offers a YouTube Kids package where kids are provided with a more contained environment to explore YouTube.
There is also a family plan that allows adding up to 5 family members (ages 13+) with all premium package features.
What is a private video on YouTube?
A private video is an invite-only video where the video owner limits and controls who will watch the video. Video owners should share the URL with the invitees in order to let them watch the video. It is an option available to everyone under "Visibility" while uploading a video to decide if a video will be private or public. Private videos on Youtube are not displayed on the YouTube homepage and they are not listed in the search results.
YouTube – Company Overview
In 2006, Google acquired YouTube for $1.65 billion.
YouTube User & Usage Stats (2022)
+ According to Alphabet, YouTube continues to boast more than 2 billion monthly logged-in users, who watch more than 1 billion hours of video daily. 
+ As of Q4 2021, the YouTube mobile app was counting 361.23 million daily active users (DAU) worldwide on iOS devices.  By comparison, YouTube users active on the platform daily via Android mobile app were only 6.98 million. (Statista)
+ As of June 2022, YouTube Shorts is now being watched by over 1.5 billion logged-in users every month. (Techcrunch)
+ As of the first quarter of 2022, YouTube Shorts generates 30 billion views daily, up 4x from the last year.
+ As of July 2021, with over 10 billion downloads, the YouTube app for Android has now become only the second app to surpass a whopping 10 billion downloads over on the Google Play Store. (9to5Google)
+ Each month, 1.5 billion people visit YouTube (Think with Google)
+ YouTube Music app was downloaded 4.21 million times on Google Play in February 2022. It was among the biggest music and audio app worldwide.
+ YouTube Music app was downloaded 1.2+ million times on the App Store in June 2020. (Statista)
+ Each visitor spends 11 minutes 24 seconds on average per day on YouTube. (Hootsuite)
+ In June 2019, video game reviewer PewDiePie had annual earnings of $13 million from YouTube. The highest-earning YouTube star was Ryan Kaji with annual earnings of approximately $26 million as of June 2019. (Statista)
+ 92.8% of video watchers in India are watching YouTube. (eMarketer)
+ In August 2021, South Korean boy band BTS broke a record for being the fastest viral music video on YouTube with 108.2 million views within 24 hours.
+ During the fourth quarter of 2021, a total of approximately 3.75 million videos were removed from the Google-owned video sharing platform YouTube. (Statista)
+ YouTube is localized in over 100 countries and 80 languages. (YouTube)
+ More than 70% of YouTube watch time comes from mobile devices. (YouTube)
+ More than 2.2 million YouTube videos were hit in the first half of 2021 with copyright claims that were subsequently overturned.
YouTube Channel Stats (2022)
As of March 2022, T-Series had reached almost 184.94 billion lifetime video views, making the most viewed YouTube channel owner of all time. This was followed Cocomelon – Nursery Rhymes whose channel was viewed 124.5 billion times.
The number of channels earning six figures per year on YouTube grew more than 40% year-over-year. (YouTube)
Who has the most subscribers on YouTube? (2022)
With more than 206 million subscribers, T-Series was the most popular YouTube channel as of March 2022. YouTube Movies follows it with 149 million subscribers.
YouTube Revenue Statistics (2022)
+ YouTube ad revenue increased by 14% to $6.87 billion in the first quarter of 2022. YouTube's parent company Alphabet's revenue for Q1 2022 was $68 billion, up 23% year-over-year.
| | |
| --- | --- |
| Quarter | YouTube Revenue |
| Q1 2022 | $6.87 billion |
| Q4 2021 | $8.63 billion |
| Q3 2021 | $7.20 billion |
| Q2 2021 | $7.00 billion |
| Q1 2021 | $6.00 billion |
| Q4 2020 | $6.88 billion |
| Q3 2020 | $5.03 billion |
| Q2 2020 | $3.82 billion |
| Q1 2020 | $4.03 billion |
| Q4 2019 | $4.71 billion |
| Q3 2019 | $3.80 billion |
| Q2 2019 | $3.60 billion |
| Q1 2019 | $3.02 billion |
| Q4 2018 | $3.65 billion |
+ In 2021, YouTube generated $1.2 billion worldwide, becoming the top subscription apps for t2022 by worldwide consumer spending across the app stores. The app generated $566.5 million in the United States. (Sensor Tower)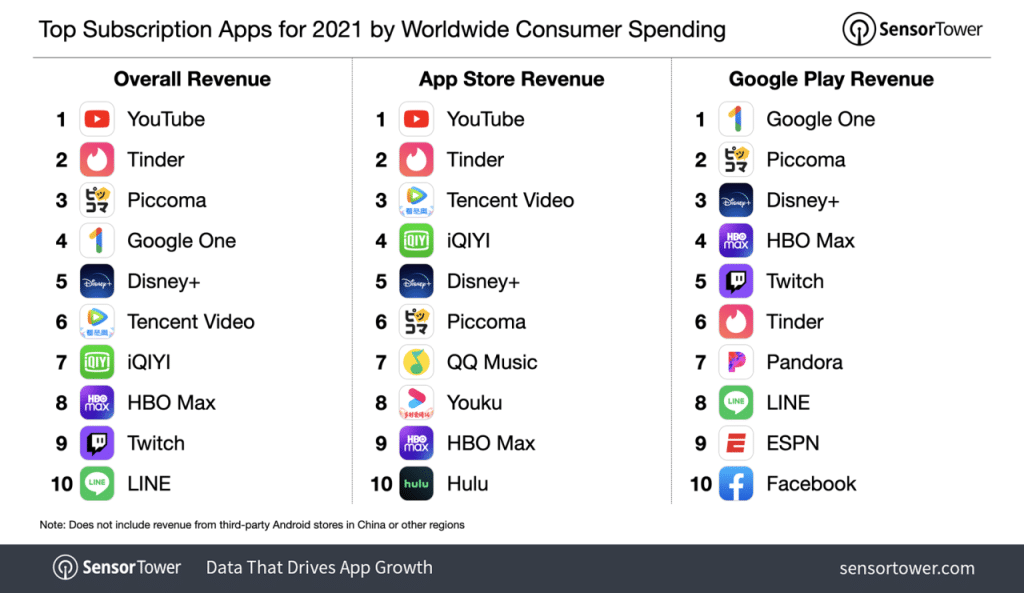 + YouTube has surpassed $3 billion in lifetime customer spend worldwide as of October 17, 2021 – entirely driven by iOS. YouTube is also not only the #3 application overall by global app store consumer spend of all time, but also #1 live streaming app by spend (combined on iOS and Google Play as of October 10, 2021). (App Annie)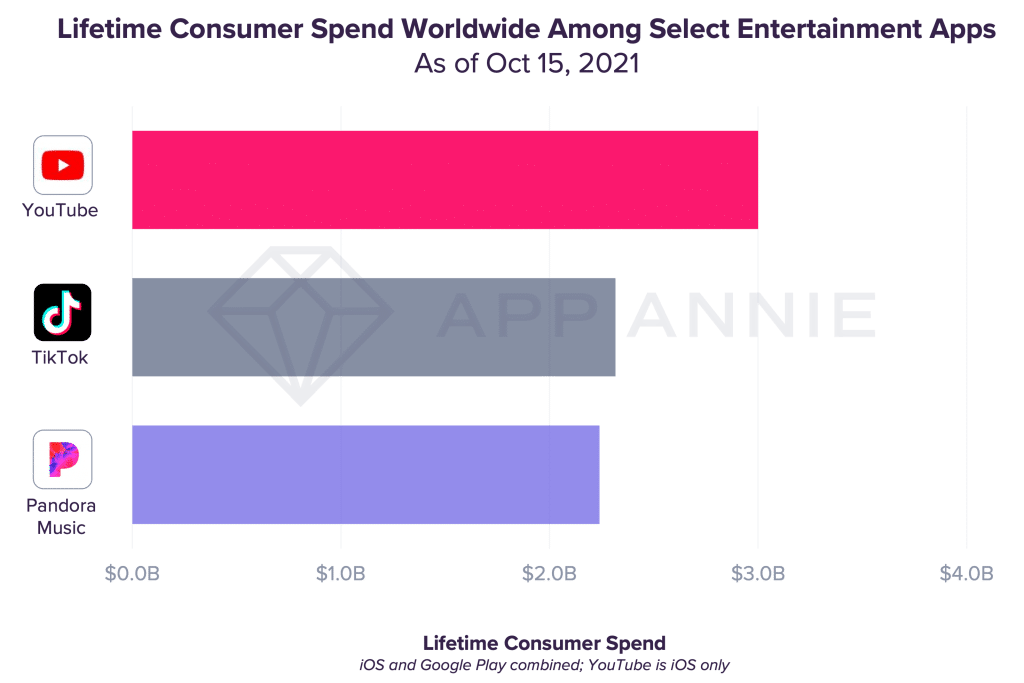 + In the second quarter of 2021, YouTube ad revenue reached $7 billion, up 84% from the same period last year.
+ In the first quarter of 2021, YouTube ad revenue reached $6 billion, up 49% from the year-earlier period. (Alphabet)
+ YouTube's ad revenue was around $19.8 billion in the full year 2020, increased $4,623 million from 2019 to 2020. (Alphabet)
+ YouTube's worldwide advertising revenue was $3.81 billion in the second quarter of 2020, up %5.8 year-over-year.
Google "other revenues," which includes its hardware, Play Store, and non-advertising YouTube revenues — reported $5.12 billion, up from $4 billion. (Verge)
YouTube Music vs Spotify (Stats)
+ In May 2021, Spotify was the most-downloaded music and audio app in the Google Play Store worldwide, while YouTube Music ranked #4 with 5.03 million app installs.
+ In January 2021, where YouTube Music generated 1.46 million app downloads, Spotify was the most-downloaded music app for iPhone in the Apple App Store worldwide with 4.3 million downloads.
What is the most viewed video on YouTube (2021)
As of February 2021, the most viewed video on Youtube is Baby Shark with 7.91 billion views. It is followed by "Despacito" by Luis Fonsi with 7.2 billion views.
What is the most disliked video on YouTube (2021)
YouTube Rewind 2018, one of YouTube's own videos, is the most disliked video on YouTube with 19 million dislikes as of June 2021. 'Sadak 2' trailer is the second most disliked video on YouTube with 13 million dislikes.
YouTube News
YouTube introduces $100M Shorts Fund to pay content creators
YouTube starts testing new designs to hide dislike counts
Twitter testing a way to watch YouTube videos directly in iOS app
YouTube now lets you play videos in 4K resolution on Android devices
YouTube introduces audio ads that target music fans
YouTube bans 2596 Chinese accounts to combat coordinated influence operations
Google announces how much money it made from YouTube Ads in 2019