Instagram Usage Statistics (2021)
As of July 2021, Cristiano Ronaldo is the most popular person on Instagram with more than 315.81 million followers, followed by Dwayne Johnson with more than 254.72 million followers.
There are nearly 1 billion monthly active users and 500 million daily active users on Instagram. (Adespresso)
The video posts ranked #1 in the median number of comments for Instagram post types as of July 2020, with a median of 11.1 comments per video post. (Statista)
63% of Instagram users, around six-in-ten users, visit their Instagram account daily. (Pew Research Center)
When we look at the Instagram usage by country, India ranked #1 among the leading countries on Instagram audience size as of July 2021, with 180 million users.
More than 130 million Instagram users engage with a shopping post every month. (Instagram)
More than 50% of Instagram accounts visit the Explore (or Discover) tab in the app each month. (Facebook)
As of July 2021, 15.7% of worldwide active Instagram users were man between the ages of 25 and 34 years. More than half of the Instagram population worldwide is aged 34 years or younger.
The like button of Instagram is hit an average of 4.2 billion times daily. (Wired)
"Power" influencers who have more than 30,000 followers make $775 per video, $507 per an image post, and $210 for a story, on average on Instagram. (eMarketer)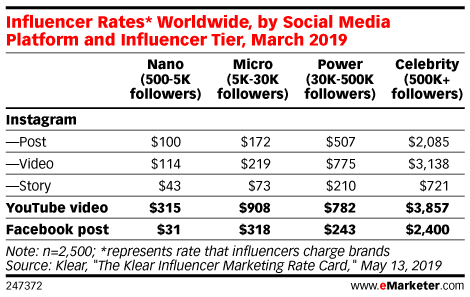 ---
Also read: Facebook Revenue and Usage Statistics (2021)
---
Instagram Revenue Statistics (2021)
Annual Instagram ad revenue in the United States is expected to reach $18.16 billion in 2021. 
Instagram brought $20 billion in ad revenue in 2019.(Bloomberg)
Instagram ad revenue accounted for 36.5% of Facebook's ad revenue in the United States in 2020 and it will reach 39.7% in 2021. (Statista)
The approximate Instagram revenue per user per year is $11.60. (Buildfire)
Projected revenue of Instagram for the last quarter of 2020 is $6.8 billion.
Frequently asked questions about Instagram
What is Instagram?
Instagram is one of the most popular social media apps in the world that allows users to share photos and videos for free. Available on iOS or Android devices, Instagram users simply upload photos and videos to the app and share it with their followers or with a selected group of people.
After uploading a photo or video to Instagram, the visual content platform enables users to choose filters and edit an image before publishing.
While users can post videos and photos they want to appear permanently on their profiles, they can also make posts that disappear after 24 hours using the Instagram Stories feature. Users can add different types of stickers to their Instagram stories including hashtag, location, GIF, countdown, poll, time, temperature, @mention, question, chat, music, and quiz.
In order to keep stories more than 24 hours, users can also use Stories Highlights, that appears on a user's profile at the top. If you want to add an old story that you previously shared, you can find it in the stories archive and reshare it.
If you want to make a story only visible to you, you can choose the related privacy option before sharing a story. There is also a close friend list option in Instagram that you can create to share your stories only with. To add people to the list, you can tap on the "Close Friends" in the side menu.
Hashtags are frequently used by brands, influencers and individuals to increase the reach of a post on Instagram, especially to increase the number of followers and interactions. There are a lot of popular hashtags preferred by users to increase reach including #photooftheday, #instagood, #love, and #happy. #tbt is one of the most popular hashtags that means Throwback Thursday. It is attributed to any nostalgia-including photo that reflects a positive moment from the past.
What does dt mean on instagram?
DT means "dedicated to" and it is used when someone dedicates an Instagram edit to another person. The term is sometimes used to mean "double tap" and it is used to ask people to double tap to like a photo.
What does IG mean in texting?
IG is the abbreviation for Instagram. It may also mean "I guess" but it is mostly used to say Instagram in short.
What is shadowbanned?
Shadowbanning on Instagram means getting a user's content banned on Instagram without the user's knowledge. If you are shadowbanned on Instagram, your posts won't be able to appear on people's feed if they are not following you.
In order to understand if you are shadowbanned or not, you can share a post by using a highly popular hashtag and ask a couple of people who don't follow you to search this hashtag. If any of them can't see your post in the hashtag, this is very likely means your account is shadowbanned.
You might be shadowbanned because of using bots, getting reported by other users, or using broken hashtags. In order to fix an shadowbanned account, you should avoid those and take a 48-hour break from using your account.
What happens when you unblock someone on Instagram?
When you unblock someone on Instagram, this person can now find you, send you a direct message and see your post and stories. However they cannot automatically follow you after you unblock them so they should start following you after you remove blocking.
When you block someone, their likes and comments are removed and after unblocking those likes and comments are not restored.
What does it mean to be verified on Instagram?
Being verified on Instagram means being confirmed by Instagram as a public figure or a well-known brand. Instagram gives a verified badge to verified accounts, shown as a check that appears next to an Instagram account's name in search and on the profile.
Instagram doesn't ask for a payment to verify an account and it can remove a verified badge from an account if the account doesn't comply with its rules and guidelines.
What is DMing on Instagram?
DM means Direct Message on Instagram and it is used to start a conversation. Via DM, you can send photos, videos, or text messages to one or more people at a time. In order to send a DM:
Tap in the top right or swipe left from anywhere in Feed.
Tap in the top right.
Select people you'd like to send a message to, then tap Chat.
Type a message. You can also tap to take and send a disappearing photo or video, or to select a photo or video from your library.
What is IGTV?
IGTV, also known as Instagram TV, is Instagram's free to use app for long form Instagram videos. Instagram only allows uploading videos of 60 seconds long, IGTV allows uploading videos for up to 1 hour.
Users can access IGTV via Instagram or its own app that can be found on Google Play and Apple's App Store.
Google Play: Store Link
App Store: Store Link
After accessing IGTV, you don't need to start following the accounts you already follow on Instagram over and over again to watch videos, IGTV starts broadcasting videos from the accounts you already follow. You can also upload and share your own videos by using the IGTV app.