Pokémon GO is an augmented reality game designed for iOS and Android devices, developed by Niantic and published by The Pokémon Company in July 2016. With the Pokémon GO game, players can catch and train Pokémon in the real world with their smartphones, join battles and trade Pokémon.
The world-popular augmented reality game was a great success in its year of release and became the most successful mobile launch in history. In 2020 and 2021, due to the coronavirus, Pokémon GO caught hype again and maintained its popularity by showing success over the year it was released.
Pokémon GO Events
Pokémon GO Player Stats
In the first quarter of 2021, Pokémon GO was ranked #4 among the top 10 grossing titles across Google Play and the App Store.
Pokémon GO users played 9% more minutes, during the first year of COVID (March 2020 – February 2021).
In 2020, Pokémon GO reached 166 million players worldwide, with around 1.1 billion downloads across Google Play and the App Store.
Pokémon GO Player Spending by Year
Pokémon GO surpassed $5 billion from player spending as Niantic's popular title celebrates its five-year anniversary since its launch back in 2016.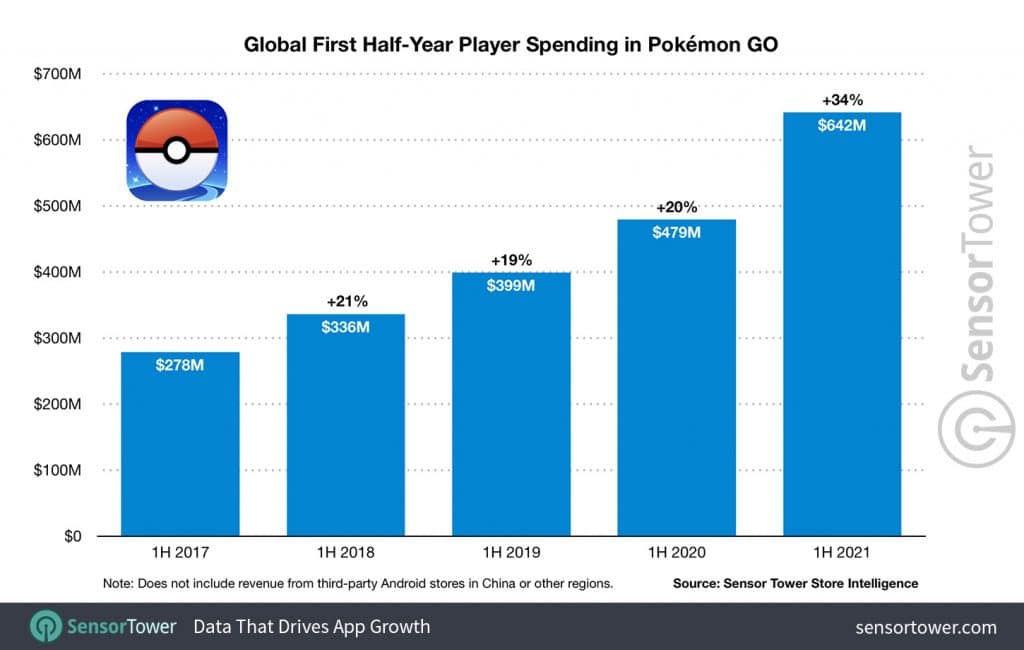 Google Play accounts for the majority of Pokémon GO player spending, accumulating $2.7 billion, or 52.8 percent, while the App Store has picked up $2.4 billion, or 47.2 percent.
In 2020, Pokémon GO generated a revenue of $1.3 billion globally from player spending, up 41 percent year-over-year.
In 2020, Pokémon GO generated more than 391 million U.S. dollars through in-app purchases across markets in Asia Pacific. The Americas were ranked second with 380 million U.S. dollars in annual app revenues.
Niantic's Pokémon GO game has generated close to $4.2 billion in player spending globally, according to Sensor Tower. $1 billion of this lifetime revenue was generated in 2020, making 2020 the best year of the game. The global player spending of Pokémon GO in the first ten month of 2020 increased by 11% as compared to the total player spending in 2019.
Pokémon GO was the most successful licensed mobile game in 2020 in the United States, generating approximately $480 million in U.S. player spending in 2020.
Pokémon GO made an estimated $1.92 billion in 2020 according to SuperData, by far a yearly record of the game, and in the top 5 of all global mobile games, despite its uniquely social focus that should have been hurt by the pandemic. (Forbes)
Following the PUBG Mobile and Honor of Kings, Pokémon GO has ranked #3 in global player spending in 2020.
In 2020, The United States has become the biggest market of Pokémon GO in player spending with $1.5 billion, followed by Japan with $1.3 billion.
53.4% of player spending has come from Google Play in 2020, while the App Store has accounted for the remaining 46.6 per cent.
In the week beginning March 16, 2020, player spending on the Pokémon Go game recorded a peak of $23 million worldwide. (Statista)
Pokémon GO Downloads by Year
According to Sensor Tower, Pokémon GO has generated around 600 million unique downloads worldwide from its launch to November 2020. The cumulative download numbers below represent all downloads including re-downloads and unique ones.
The Sensor Tower data states that The United States ranks #1 in number of downloads with 109 million installs, or 18.2% of the total, followed by Brazil with 65.2 million downloads, or close to 11%, and Mexico with 37.3 million, or 6.2%.
To date, Pokémon GO has picked up approximately 632 million downloads. The U.S. ranks No. 1 for installs, generating 115.5 million downloads, or 18.3 percent of the total. Brazil ranks No. 2 for installs, while India rounds out the top three.
| | |
| --- | --- |
| Year | Cumulative Downloads |
| July 2021 | 632 million |
| 2020 | 1.1 billion |
| April 2019 | 1 billion |
| May 2018 | 800 million |
| July 2017 | 750 million |
| September 2016 | 500 million |
Google Play has taken the lion's share of downloads, racking up approximately 487 million installs, or around 77 percent. The App Store, meanwhile, has generated 144.8 million downloads, or approximately 23 percent of the total.
Pokémon GO Lifetime Revenue
| | |
| --- | --- |
| Date | Lifetime Revenue |
| October 2020 | $4.2 billion |
| October 2019 | $3 billion |
| September 2018 | $2 billion |
| January 2017 | $1 billion |
| September 2016 | $500 million |
Pokémon GO News
Pokemon's LoL-style MOBA game is getting Android beta in March
Niantic and Nintendo teams up again for a Pikmin AR mobile game
Pokémon GO hits $4.2 billion in global player spending
Niantic selects 1,000 local and small businesses to add as PokéStops or Gyms in Pokémon GO, for free
Pokémon GO integration with Pokémon Home will be available by the end of 2020