Developed by Nintendo and Intelligent Systems and released by Nintendo for Android and iOS on February 2, 2017 as a mobile spin-off of the Fire Emblem franchise, Fire Emblem Heroes is a free-to-play role-playing game.
Fire Emblem Heroes, currently Nintendo's highest-grossing mobile game, is among the most popular titles in its genre with millions of users.
Release Date: February 2, 2017
Genre: Role-Playing
Developers: Intelligent Systems, Nintendo Entertainment Planning & Development
Publisher: Nintendo
Platforms: iOS, Android
Google Play: Store Link
App Store: Store Link
Fire Emblem Heroes Revenue Statistics (2023)
As of February 2022, Nintendo has made more than 1.4 billion dollars in lifetime revenue from mobile games, with Fire Emblem Heroes taking the top spot with 778.98 million dollars in IAP spending throughout the studied period.
In the full year 2022, Gire Emblem Heroes generated around $77.99 million worldwide in in-app purchase revenues.
As of June 2022, Fire Emblem Heroes has surpassed $1 billion in lifetime global player spending since its launch, making it Nintendo's first mobile title to hit the $1 billion milestone, according to Sensor Tower. Japan accounted for 54% of total player spending, generating $540.6 million, followed by the United States and Canada.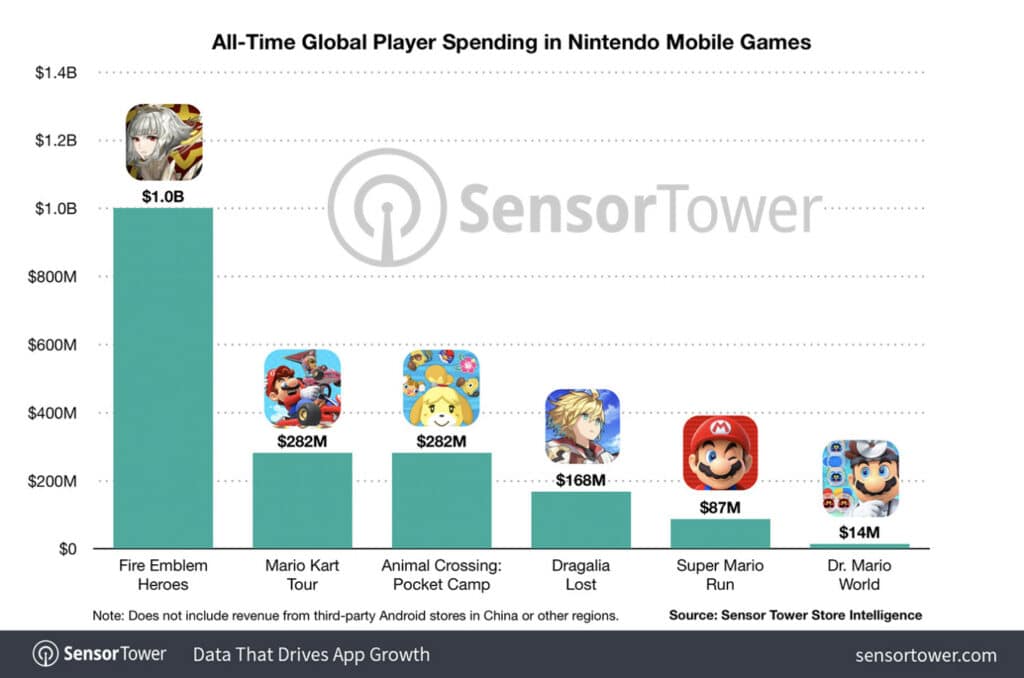 As of June 2022, Fire Emblem Heroes generated 58.3 percent of its total lifetime revenue from Google Play, accumulating $583.7 million.
In Q1 2022, Fire Emblem Heroes generated $29 million in global player spending across the App Store and Google Play. 
As of February 2019, two years after its global debut, Fire Emblem Heroes earned a lifetime revenue of $500 million. 56% of its total revenue came from Japan, accumulating $280 million. 
Fire Emblem Heroes generated $70 million in player spending in its first month. 
The game generated $2.9 million revenue in its first 24 hours of release. 
Fire Emblem Heroes Player Statistics
As of June 2022, Fire Emblem Heroes generated 17.8 million downloads. Japan accounted for 47% of all downloads with 8.4 million installs, followed by the United States and France. 
In Q1 2022, Fire Emblem Heroes generated 121,000 new installs. 
The game generated more than 2 million downloads in its first 24 hours of release. (Sensor Tower)