What is WhatsApp?
WhatsApp is an immensely popular free-to-download and multiplatform messaging and calling app that uses internet connection to send text messages, voice messages, to share media, and to make video and voice calls.
What made WhatsApp unique after its launch was its approach to combine traditional messaging with social media. Another strength of the messaging app is that it provides security of personal data via end-to-end encryption.
Via WhatsApp, users can share location, exchange contacts, set custom wallpapers and notification sounds, broadcast messages to multiple contacts at once, make group chats and group video calls, send photos, videos, documents, and voice messages, and more.
It is free to download and free to use apps that only use internet connection for sending messages and making calls. Users don't have to pay for a monthly subscription to use WhatsApp features. There is also no extra charge to send WhatsApp messages internationally.
Whatsapp uses contact lists in the smartphones to let users reach their Whatsapp contacts, meaning users don't have to add a friend or family member manually to communicate via WhatsApp if the person is added in their contact list.
The messaging app provides a feature called Messenger Rooms, where users are allowed to make video calls with a larger group of people. Available in Android, iOS, and WhatsApp Web, WhatsApp Messenger Rooms allows users to create and share a room link, join a room as a creator, and join a room as an invitee.
WhatsApp was acquired by Facebook for $19 billion, $4 billion in cash, $12 billion in stock, and $3 billion in stock grands, in early 2014. In the acquisition period, WhatsApp had reached 2 billion active users worldwide.
What is WhatsApp Web?
WhatsApp Web is WhatsApp's browser-based extension where users can send and receive WhatsApp messages from their computer. In order to use WhatsApp Web, WhatsApp app users can scan the QR code in the WhatsApp Web page with the WhatsApp mobile app.
Users are also provided WhatsApp Desktop, the browser-based application, which users can download to Mac or Windows PCs. After downloading the app, users can scan the QR code in the mobile app to start using.
What is WhatsApp Business?
WhatsApp Business is for small businesses to showcase their products and services. The free to download app also allows businesses to automatically reply to customer messages with reusable and automated messages. Business owners can create labels like "new customer" or "pending payment" to find the contacts and chats easily.
WhatsApp – Company Overview
WhatsApp User Stats (2023)
+ In 2022, WhatsApp was the third most downloaded app worldwide, generating 424 million across the App Store and Google Play.
+ In Q1 2022, 55% of WhatsApp's monthly active users used the app every single day, up 16% from the year-ago period (Sensor Tower)
+ In Q1 2022, WhatsApp held 26% of mobile usage among the top U.S. messaging apps.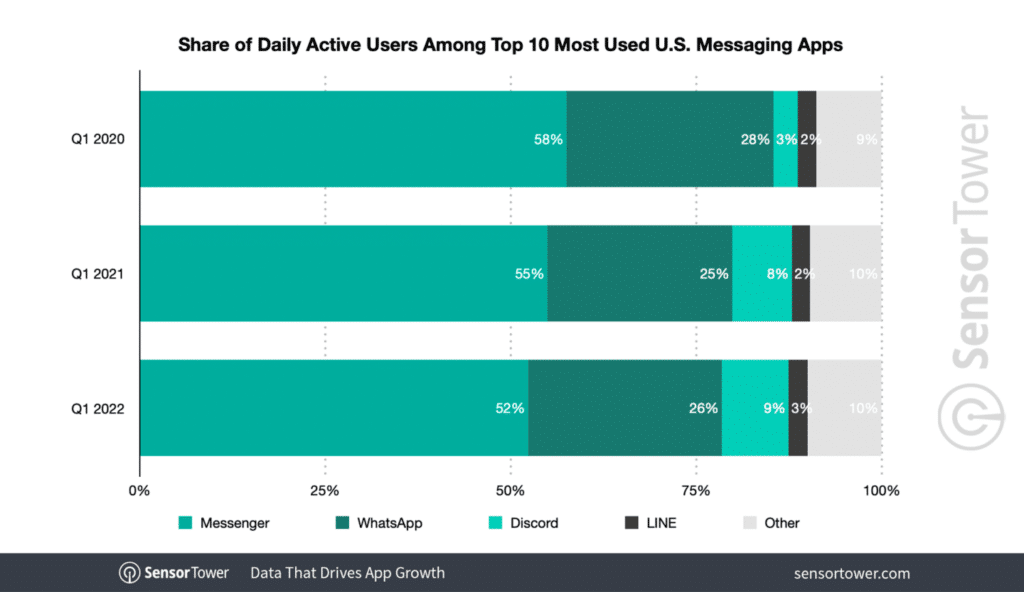 + In 2021, WhatsApp's user base in the world amounts to approximately 1,607.64 million users. The number of WhatsApp users worldwide is expected to reach 1,902.42 million users by 2025. (Statista)
+ In 2021, Number of monthly active WhatsApp users worldwide was 2.2 billion.
| | |
| --- | --- |
| Year | WhatsApp Users (Annual) |
| 2021 | 2.29 billion |
| 2020 | 2.10 billion |
| 2019 | 1.81 billion |
| 2018 | 1.56 billion |
| 2017 | 1.32 billion |
| 2016 | 1.08 billion |
| 2015 | 719 million |
| 2014 | 409 million |
| 2013 | 213 million |
| 2012 | 103 million |
+ In Q4 2021, India was the biggest market of WhatsApp in terms of app downloads from Google Play, with 12.5 million app downloads. Nigeria was the fastest-growing WhatsApp market, as downloads of the mobile messaging app increased by 78.8 percent compared to the previous quarter.
+ In Q4 2021, Hong Kong was the fastest-growing WhatsApp market, as downloads of the mobile messaging app increased more than 93.9 percent compared to the previous quarter. iOS users in the United States generated 4.53 million WhatsApp downloads in the first quarter of 2021.
+ In February 2020, WhatsApp was downloaded 96 million times, becoming the second most downloaded non-game app worldwide with a 42.4% increase from February 2019. (SensorTower)
+ The number of mobile phone users accessed WhatsApp in the United States is projected to grow to 85.8 million in 2023. (Statista)
+ As of 2022, WhatsApp is available over 180 countries and 60 different languages. (WhatsApp)
+ Within 2019, WhatsApp gained 760 million new users. (Forbes)
+ Time spent on mobile messaging apps among the US adults including WhatsApp Messenger will increase by 4 minutes in 2020, to 24 minutes per day. (eMarketer)
+ Over 65 billion messages were being sent every day via WhatsApp at the beginning of 2020. (Connectiva)
+ In September 2019, WhatsApp's largest market in terms of net users was India, with 340 million users, followed by Brazil with 99 million users and the United States with 68.1 million users. (eMarketer)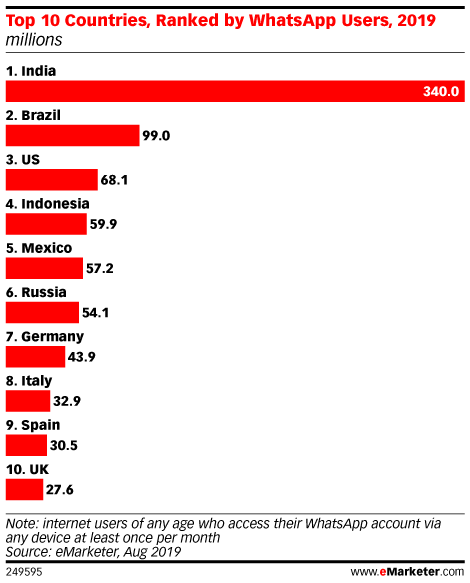 + During coronavirus, WhatsApp usage increased by 40%. The messaging app's usage grew 76% in Spain in the same period. (Mobile Marketing Reads)
WhatsApp Revenue
Though Facebook doesn't break down its revenue by company, estimated potential WhatsApp revenue for 2020 was $5 billion. The estimated ARPU(average revenue per user) is to be $4 by 2020.
| | |
| --- | --- |
| | WhatsApp Revenue (Estimated) |
| 2014 | $1 million |
| 2016 | $0.2 billion |
| 2018 | $1.3 billion |
| 2019 | 2.3 billion |
| 2020 | $5.5 billion |
| 2021 | 8.7 billion |
WhatsApp News