Short video app TikTok became the most downloaded app in 2022 garnering 672 million new installs around the world, according to new data from Apptopia. 
It was followed by Instagram (548M downloads), WhatsApp (424M), CapCut (357M), Snapchat (330M), Telegram (310M), Subway Surfers (304M), Facebook (298M), Stumble Guys (254M), and Spotify (238M) respectively.
The ByteDance-owned app was also the No.1 title in the United States last year (99M), where it has been recently banned by more than 20 states from government-owned devices.
The U.S. list continues with Instagram (72M), Cash App (64M), WhatsApp (63M), Snapchat (54M), Subway Surfers (51.4M), Roblox (50.9M), Amazon (47M), Messenger (46.3M) and Facebook (45.5M).
On the gaming side, Subway Surfers was the most downloaded title in the world in 2022 with 304 million installs, and it was followed by Stumble Guys (254M), Roblox (208M), Candy Crush Saga (138M), Race Master (128M), 8 Ball Pool (120M), Fifa Mobile (111M), Merge & Fight (110M), Garena Free Fire (109M), and Bridge Race (107M) respectively.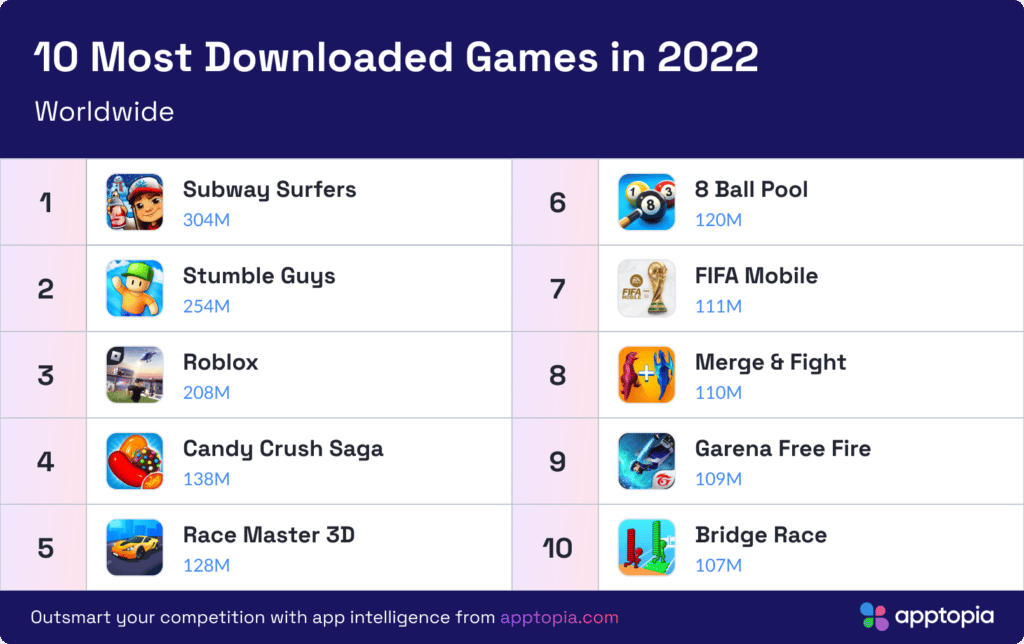 Below you can view the winners of other app categories that generated the most downloads in 2022.
Most downloaded apps in 2022 by category
Shopping
Worldwide: SHEIN (229M) 
United States: Amazon (47M)
Travel
Worldwide: Google Maps (113M)
United States: Uber (32M)
Entertainment
Worldwide: TikTok (672M)
United States: TikTok (99M)
Social Media
Worldwide: Instagram (547M)
United States: Instagram (72M)
Finance
Worldwide: PhonePe (94M)
United States: Cash App (64M)
Food & Drink
Worldwide: McDonald's (127M)
United States: McDonald's (40M)
Dating
Worldwide: Tinder (64M)
United States: Tinder (13.8M)
Education
Worldwide: Duolingo (98M)
United States: Duolingo (16.5M)
Business
Worldwide: WhatsApp Business (198M)
United States: Zoom (37M)
Music & Audio
Worldwide: Spotify (238M)
United States: Spotify (40M)
Health & Fitness
Worldwide: Sweatcoin (52M)
United States: Planet Fitness (18.3M)
You can check out Apptopia's report to view the top 10 titles in each category.