According to a new report from App Annie, TikTok topped the downloads charts globally on Christmas day, followed by Instagram and Facebook. The popular social media platform also became the world's most visited site in 2021, surpassing last year's leader Google.
According to Insider Intelligence, TikTok's global users have overtaken those of Snapchat and Twitter in 2021, marking it the third largest social network worldwide behind Facebook and Instagram.
In App Annie's list where WhatsApp is in the 4th place and Telegram is in the 7th, Shopee ranked #8 driven by strong uptake in LATAM, Southeast Asia, and India.
When it comes to games, Brain Story: Tricky Puzzle by Onesoft ranked #1, followed by Poppy Rope Game and Rocket League Sideswipe by Psyonix (Epic Games).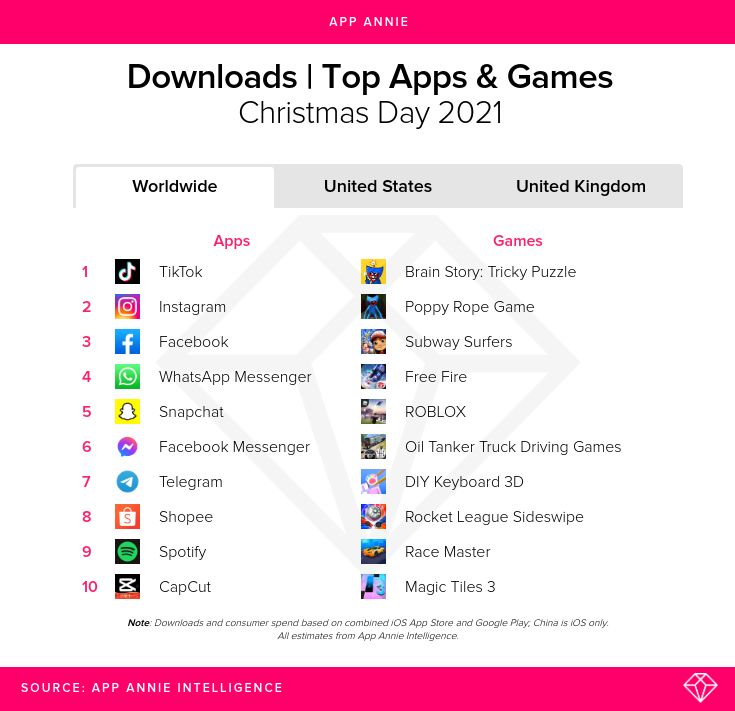 In the US, on Christmas day, the Oculus app surpassed all popular social media apps to take the first place, the report found, as a strong sign of the growing trend for metaverses and immersive experiences. YouTube was the #2 app by app downloads in the US, followed by TikTok, then Snapchat. Disney+ became the most downloaded video streaming app on Christmas Day in the US after YouTube. ROBLOX ranked #1 in the US in games.
TikTok also topped the consumer spend charts on Christmas day among non-gaming apps, followed by YouTube, Tinder, and Disney+. In the US, 5 of the top 10 apps by consumer spend on Christmas Day were video streaming apps including, HBO Max at #1, the report says.
In terms of games, ROBLOX saw the highest consumer spend, followed by Game for Peace, and Free Fire. Roblox was also the #1 game for spend in the US, followed by mostly core titles, except Candy Crush Saga.