What is Zoom App?
Zoom Cloud Meetings is a cloud-based video conferencing app helping individuals, businesses, and organizations set up video and audio conferencing across PCs, smartphones, and room systems. Zoom app is among the most popular video conferencing apps with its video and audio quality.
Google Meet vs. Zoom
Being used by millions of users each month worldwide, Google Meet and Zoom Cloud Meetings have similar features at their core but they also have different advantages and disadvantages over another.
Privacy and Security: One of the prominent competitive advantages of Google Meet is its features about protecting users' privacy and security. Both Google Meet and Zoom don't have end-to-end encryption but apparently Google Meet has much more security measures than Zoom.
Pricing: Both video conferencing tools provide free plans with some limitations.
Zoom's free (Basic) plan allows maximum 100 participants to host and 40 minutes limit on group meetings with 3 to 100 participants.
The Zoom Pro plan costs $14.99 per month per host, includes 100 participants and allows meetings up to 24 hours. The Pro plan allows purchase up to 9 hosts per account and it is basically enough for small teams.
The Business Plan costs $19.99 a month per host and it allows 300 participants, custom url for companies (e.g. mobilemarketingreads.zoom.com), company branding, custom emails and more. It starts at 10 hosts for $199.9 monthly.
The Enterprise Plan costs $19.99 a month per host allowing 500 participants with unlimited cloud storage. Enterprise Plus includes 1000 participants. The Enterprise plan requires at least 100 hosts for $1,999 a month.
In April 2020, Google announced that Google Meet will be available for free to everyone in order to compete with its biggest competitor, Zoom. Until now, it is free to join a Google Meet call users need a paid GSuite account to start a call.
The Basic Plan costs $6 per month allowing up to 100 participants. Zoom users don't have to pay for inviting up to 100 participants. The Business Plan which costs $12 per user per month allows up to 150 participants while the $25 a month Enterprise plan allows up to 250 participants.
Google announced that, through September 30, 2020, all G Suite plans get advanced Google Meet features, like larger meetings (up to 250 participants), live streaming, and recording.
Productivity: While both platforms are integrated with Google services including Google Drive, Calendar, and Chrome, Zoom Cloud Meetings app is one step ahead on productivity. It allows conducting polls, sharing whiteboards, and provides webinar add-on.
Both Zoom and Google Meet support up to 720p HD video, call recordings, screen sharing, and group messaging and both are available on Windows, Mac, Android, and iOS.
Zoom – Company Overview
Zoom User & Usage Stats (2022)
+ At the end of the forth quarter of 2021, Zoom reached approximately 509,800 customers with more than 10 employees, up approximately 9% from the same quarter last fiscal year.
+ Usage of mobile video conferencing apps including Zoom grew 150% in the first half of 2021. (Sensor Tower)
+ As of April 2020, Zoom surpassed 300 million daily Zoom meeting participants, up 30x in four months. (The Verge)
+ With an increase of 21% compared to the end of 2020, Zoom reached 12.92 million monthly active users (MAU) in February 2020. (CNBC)
+ As of March 22, daily active users of Zoom up 378% from a year earlier. (MarketWatch)
+ In the mid May 2020, the number of daily active users (DAU) of Zoom Cloud Meetings app on Google Play and the App Store reached 770+ thousand in the United Kingdom. (Statista)
+ Between 29 March and 4 April 2020, Zoom experienced the top in search volume.
+ During the week of March 15-21, 2020, Zoom saw a significant growth in the US, the UK, France, and Italy, at 14x, 20x, 22x, and 17x the weekly levels of installs in quarter 4, respectively. (App Annie)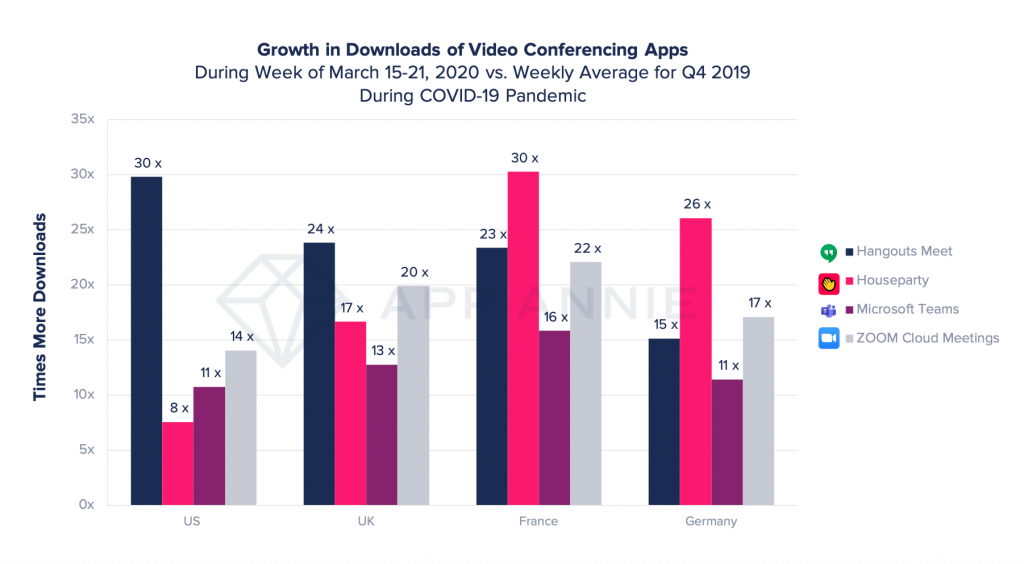 ---
Also Read: Robinhood Revenue and Usage Statistics
---
Zoom Revenue Statistics (2022)
+ For the forth quarter of 2021, Zoom revenue was $1,071.4 million, up 21% year over year; full fiscal 2022 total revenue of $4,099.9 million, up 55% year over year.
+ For the first quarter of 2022, Zoom expects to reach between $1.070 billion and $1.075 billion in total revenue.
| | |
| --- | --- |
| Period | Zoom Revenue |
| 2021 – Q4 | $1,071.4 million |
| 2021 – Q3 | $1,050.8 million |
| 2021 – Q2 | $1,021.5 million |
| 2021 – Q1 |  $956.2 million |
| 2020 – Q4 | $882.5 million |
| 2020 – Q3 | $777.2 million |
| 2020 – Q2 | $663.5 million |
| 2020 – Q1 | $328.2 million |
| 2019 – Q4 | $188.3 million |
| 2019 – Q3 | $166.6 million |
| 2019 – Q2 | $145.8 million |
| 2019 – Q1 | $122 million |
+ GAAP income from operations for 2021 was $1,063.6 million, compared to GAAP income from operations of $659.8 million for 2020. 
+ GAAP net income attributable to common stockholders for 2021 was $1,375.1 million, or $4.50 per share, compared to GAAP net income attributable to common stockholders of $671.5 million, or $2.25 per share for 2020.
+ 2,725 customers contributed more than $100,000 in trailing 12 months revenue, an increase of approximately 66% compared to the same quarter last fiscal year.