Video chat apps have been downloaded much more in almost all countries due to COVID-19 for both business and social purposes.

According to Priori Data, global downloads of Zoom, Skype, and Houseparty, the well-known video chat apps worldwide, surged by more than 100% in March 2020.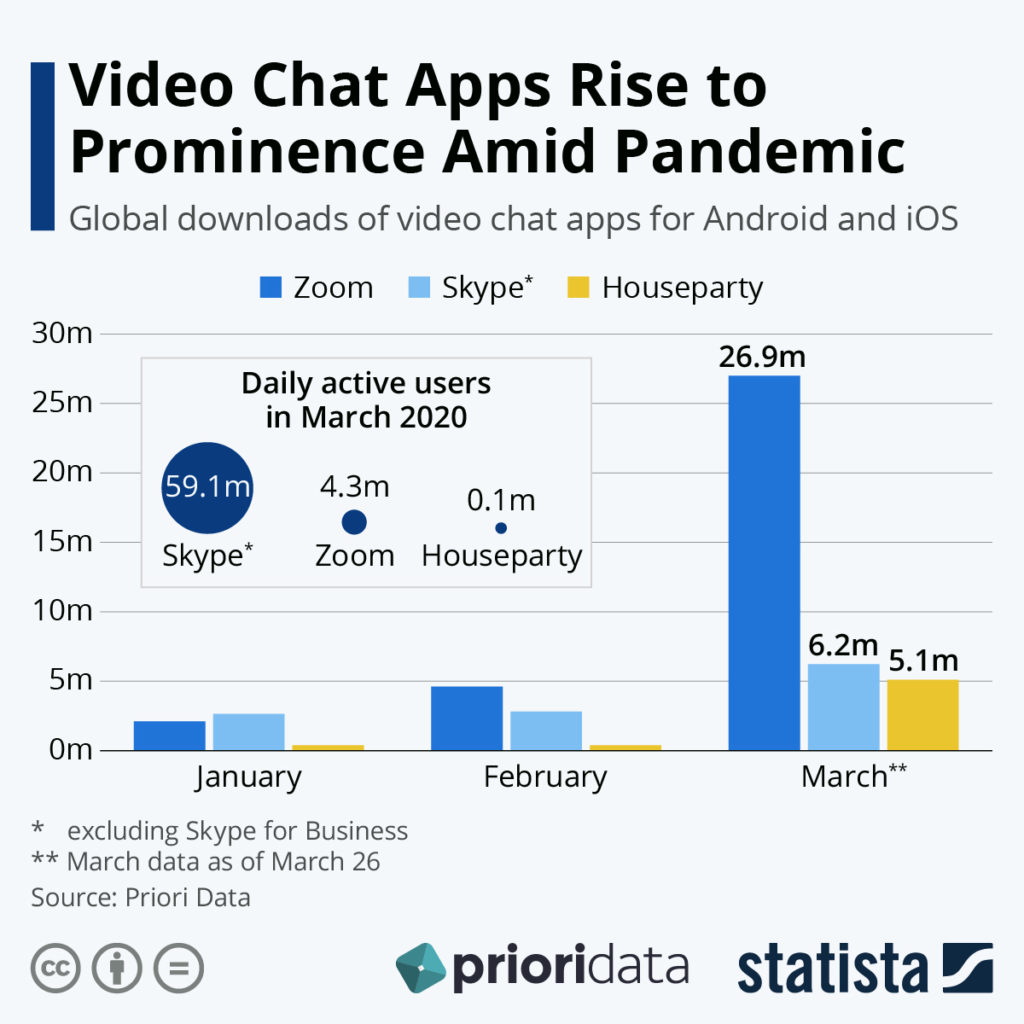 As the demand for video chat apps increases, the number of dating apps in Google Play and App Store has increased accordingly. Finding the best and the safest video chat app(s) has become harder for the Android and iOS users. As Mobile Marketing Reads, we have brought together the 8 best video chat /video call apps you can use. 
Zoom
Available in iOS, Android, Windows, and Mac, Zoom is one of the most popular video chat apps in Google Play and App Store worldwide. In the third quarter of 2021, Zoom revenue increased by 35% YoY and reached $1,050.8 million. It was downloaded 23 million times in September 2021.
Mostly used for business purposes, Zoom enables users to invite up to 100 people to join a video conference. The Zoom users can also use the app to receive and make phone calls.
The problem with Zoom is its poor security standards that makes the app unsafe for users. If you prefer using Zoom as your video calling app, it is highly recommended to avoid sharing sensitive and important information during the video conference.
---
Also Read: The 5 Best Translation Apps
---
Facebook Messenger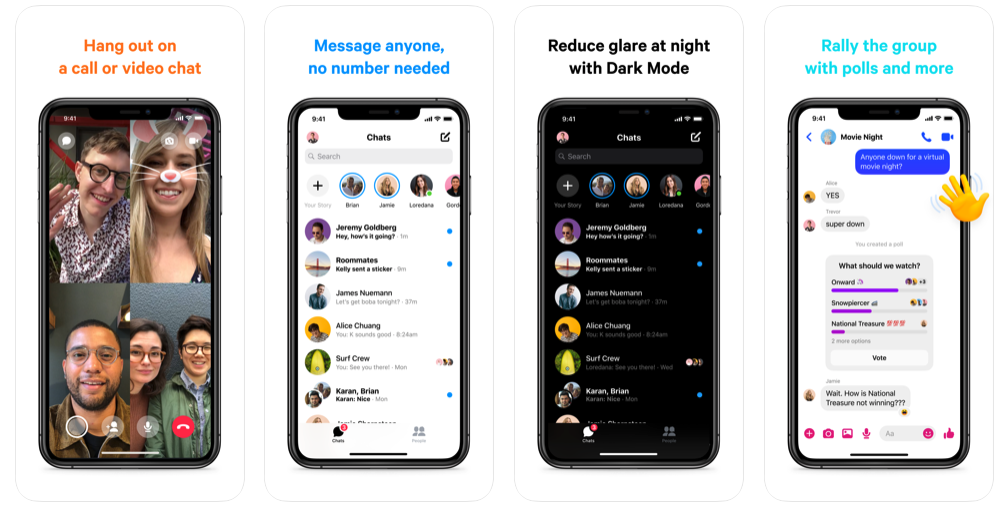 Requiring a Facebook account, Facebook Messenger is a text and video chat app allowing users to make text, voice, video, and group video chat. Mostly used for social purposes, it is a free video chat app available in Google Play and App Store. Messenger also enables users to record voice and video calls. Users can send stickers, gifs, emojis, files, photos, and videos, share their location, and call Facebook contacts via Messenger.
Used by millions of people worldwide, Facebook Messenger doesn't have end-to-end encryption that makes it open to privacy problems. However, as mostly being used for social chats, safety is not the number one priority of Messenger users.
Skype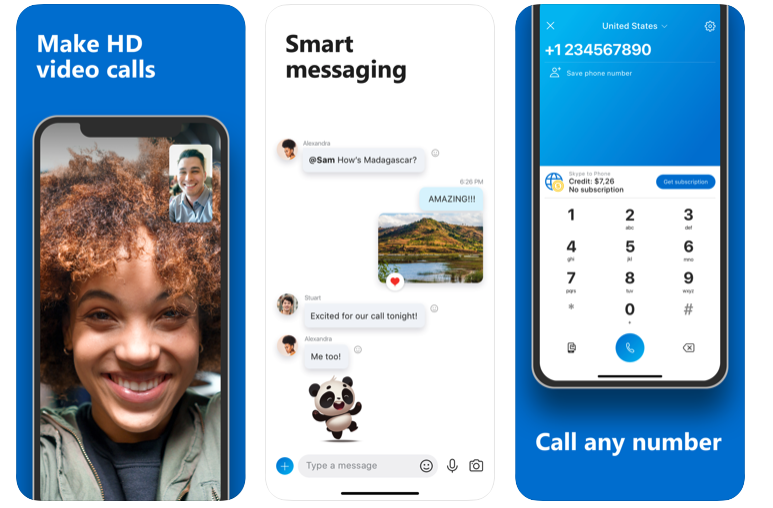 Available for Android, iOS, and Windows 10 Mobile, Skype is among the most downloaded video chat apps worldwide. The Skype app allows users to make video calls with up to 50 people, make group or single chat, make voice calls, and Skype to Skype calls for free.
The mobile app has Skype Credits as a pay-as-you-go option to make calls and send SMS to any number. Via Skype subscription options, users can choose a monthly calling plan to make unlimited or fixed-minute calls. The app allows four hours per call and 100 hours per month.
For regular calls, Skype doesn't have end-to-end encryption.
---
Also Read: The Best Apps for Productivity
---
Google Duo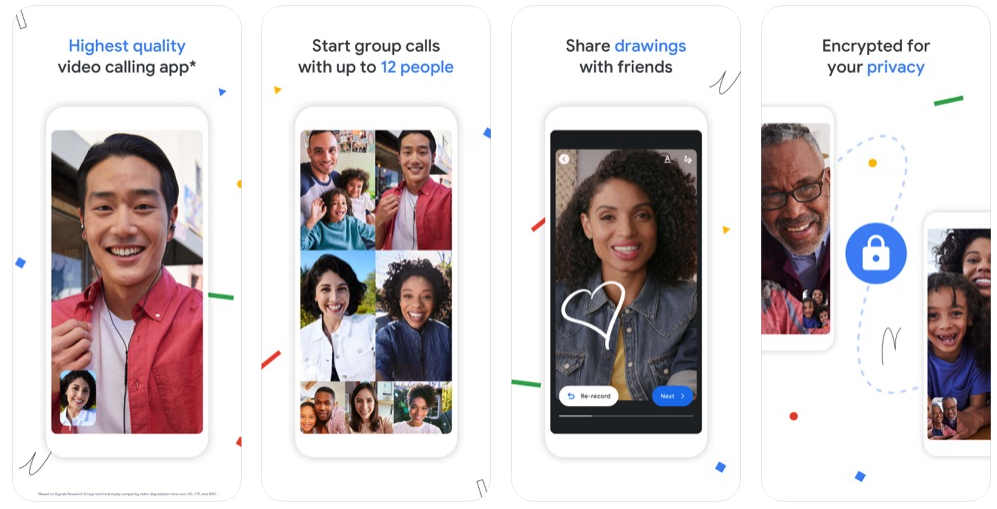 Google Duo is a free video call app where users can make group calls with up to 12 people, send video and voice messages, photos, and notes to a group, create personalized notes when they can't call or record a message, and reach video messages with emojis.
The app uses a user's phone number or a Duo account. In order to use Duo for video calling, the people you want to chat should also have a Duo account.
Duo has end-to-end encryption to keep conversations private.
WhatsApp Messenger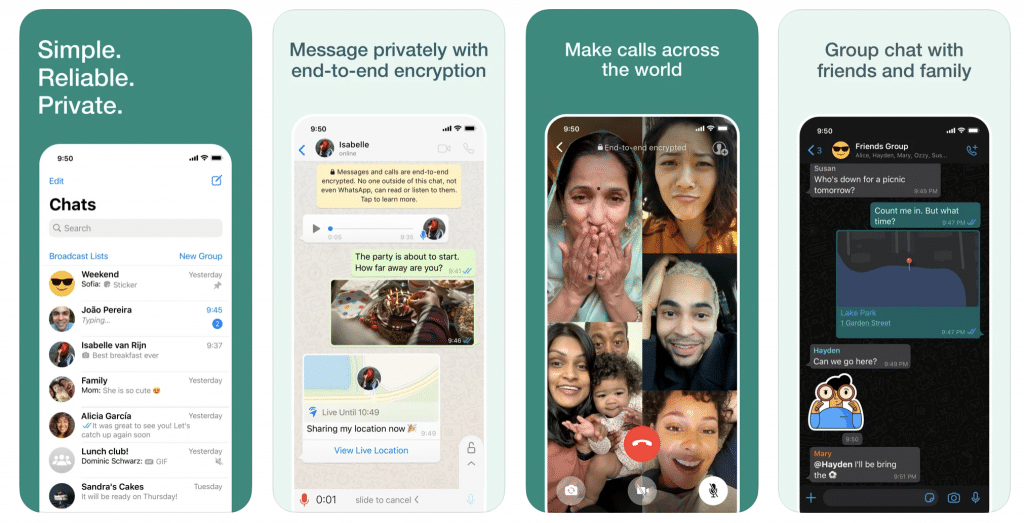 Whatsapp is a free text and video chat app that enables users to send and receive voice messages, videos, documents, and photos and make group chat with up to four people. It is free to chat with international users.
Whatsapp Messenger app has end-to-end encryption for both instant messaging and video calls.
Marco Polo
Available in iOS and Android, Marco Polo is a free text and video chat app allowing users to make unlimited one-to-one or group chats, save videos, and use filters and voice effects.
It is for communicating with friends and family only and the app doesn't allow users to search for names without phone numbers. The free app doesn't annoy users with ads in the free plan.
Marco Polo has end-to-end encryption for both instant messaging and video calls.
Discord
Discord is a gaming-related voice and video chat app where users can create invite-only channels to talk, create text, voice, and video chats, and bring gaming and music fans together.
Discord doesn't have end-to-end encryption that protects the app users from data breaches but the app is trying to protect users' privacy with in-app improvements.
Whereby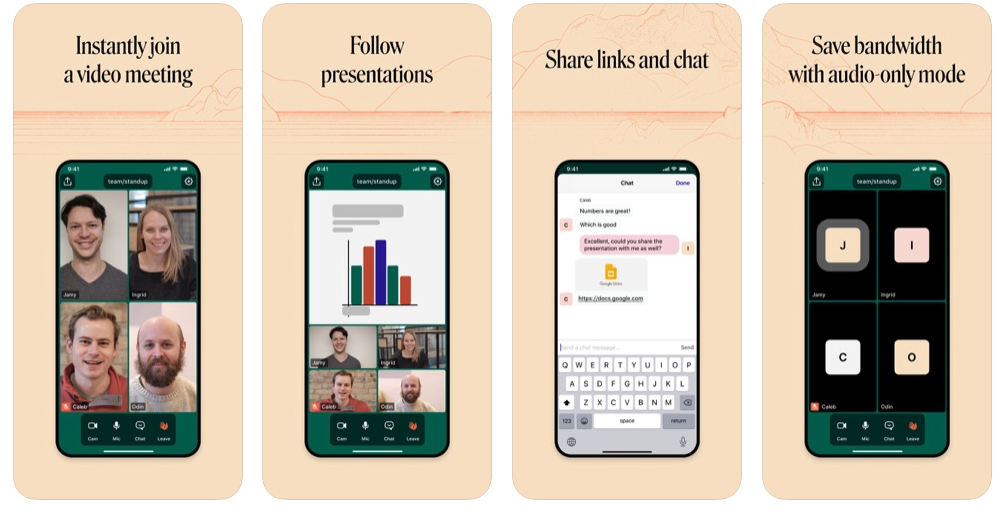 Whereby (formerly appear.in) is an alternative video chat app helping people instantly join a video call, share presentations and links during a chat, and save bandwidth with audio-only mode.
Downloaded by more than 1 million people worldwide, Whereby can also be used without downloading the app with a meeting link.