The Communities feature, which WhatsApp introduced in April and promises to unite several groups under one roof, has begun to roll out.
Communities introduce a number of new features to the messaging platform with the goal of enhancing communication and organization among businesses, clubs, schools, and other private groups. These features include enhanced admin controls, such as public announcement messages, and ability to remove problematic messages from everyone's chats.
The company said Communities have started to roll out globally and will be accessible to everyone over the next few months. 
"With Communities, we're aiming to raise the bar for how organizations communicate with a level of privacy and security not found anywhere else. The alternatives available today require trusting apps or software companies with a copy of their messages – and we think they deserve the higher level of security provided by end-to-end encryption," WhatsApp said.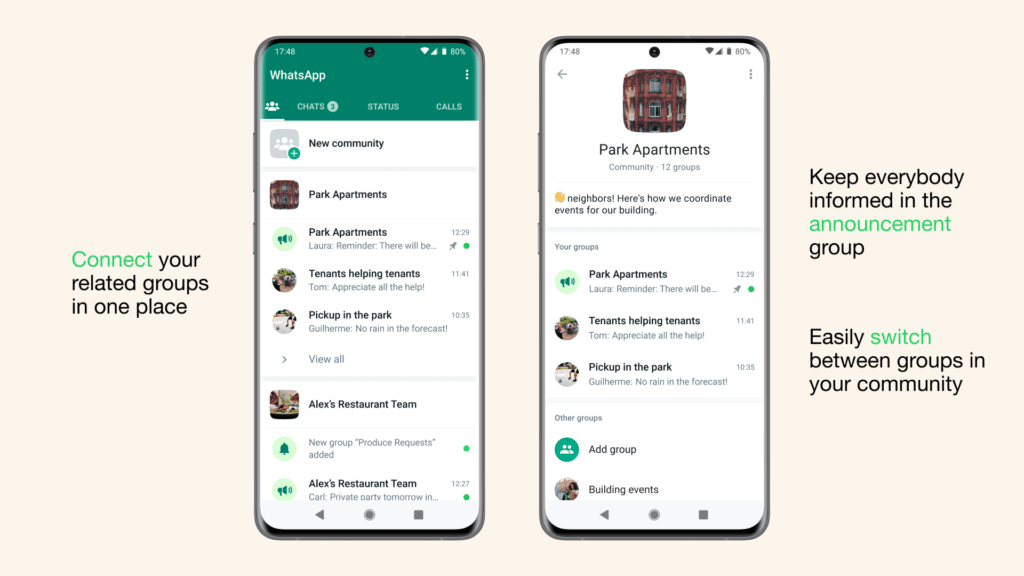 WhatsApp Communities will be hidden, in contrast to Facebook Groups which can be found on the site by searching. There won't be a search and discovery feature on Communities, which means you'll need to be invited to participate.
WhatsApp also announced that it has started rolling out three new features: in-chat polls, 32-person video calling, and the ability to create groups with up to 1024 users. The company says the new features can be used in any group, just like emoji reactions, larger file sharing, and admin deletion.
"We've been working with over 50 organizations in 15 countries to build Communities to meet their needs. We're excited that the feedback we've heard so far is these new tools are helping groups like these better organize and achieve their goals. There's a lot more we plan to build and we'll keep adding features over the coming months. For now, we're excited to get this into more people's hands and hear your feedback too," WhatsApp added.
To get started, you can now tap on the new communities tab at the top of your chats on Android and at the bottom on iOS. From there you can start a new Community from scratch or add existing groups.