What is Telegram?
Telegram is a cloud-based instant messaging app available in mobile and desktop with a focus on security and speed. The free-to-use messaging app was founded by Nikolai and Pavel Durov in 2013.
Telegram Messenger enables users to 'send messages, photos, videos and files of any type (doc, zip, mp3, etc), as well as create groups for up to 200,000 people or channels for broadcasting to unlimited audiences.'
Telegram offers Secret Chats where messages can be self-destroyed in a set amount of time. Messages cannot be forwarded from Secret Chats and when a member of a secret chat deletes a message, it is ordered to delete the message as well to the other person.
Telegram vs WhatsApp
WhatsApp has end-to-end encryption for all types of chats within the app but Telegram only uses it for Secret Chats and video calls.
As distinct from WhatsApp, Telegram lets users to access their chats from multiple devices because it is a cloud-based messenger.
Telegram has an open API and it welcomes developers to develop their own Telegram app. It also has a Bot API that helps users to build specialized tools for Telegram, integrate different services, and accept payments from users around the world.
Number of monthly active WhatsApp users worldwide in March 2020 was 2 billion so it is more popular than Telegram. This makes it more likely to be used by a user's personal network.
Telegram users can get a notification alert when someone takes a screenshot of a message. However it is not allowed in all operating systems. Telegram says, most notably, on some Android and Windows Phone devices it is not possible to detect screenshots taken.
As another competitive advantage over Whatsapp, Telegram stores all files, messages, and documents on the cloud to make it possible to reach them out from different devices.
Both Whatsapp and Telegram use contact lists in the smartphones to let users reach their contacts, meaning users don't have to add a friend or family member manually to communicate via WhatsApp or Telegram if the person is added in their contact list. Telegram also sends notification when a contact from the contact list joins Telegram.
Both Whatsapp and Telegram offer voice and video calls. Telegram announced video calls in August 2020.
Telegram allows media compression to let users save more space on their devices.
Telegram channels, a tool for broadcasting public messages to large audiences, provide a newsfeed-like experience for every taste. Users are also allowed to create their own channels.
Whatsapp has a feature called Messenger Rooms, where users are allowed to make video calls with a larger group of people.
Telegram has photo and video editing tools and an open sticker/GIF platform to make the user experience better.
Telegram User Stats (2022)
On June 2022, Telegram launched Telegram Premium, a subscription that offers exclusive features for the popular app's users.
As of June 2022, Telegram has reached 700 million monthly active users. Telegram's estimated user base for 2022 is 1 billion users.
| | |
| --- | --- |
| Year | Monthly Active Users |
| 2022 | 700 million |
| 2021 | 500 million |
| 2020 | 400 million |
| 2019 | 300 million |
| 2018 | 200 million |
| 2017 | 180 million |
| 2016 | 100 million |
| 2015 | 60 million |
| 2014 | 35 million |
Telegram founder Pavel Durov announced that more than 70 million new users joined the instant messaging app during the Facebook outage on October 6. The app also saw time spent climb 18% week-over-week during the Facebook outage.
In the first four months of 2021, Telegram's app downloads increased 98% YoY to more than 161 million, mainly due to WhatsApp's controversial privacy policy. (Sensor Tower)
Around three quarters of Telegram users chose the app for learning the latest news as of 2021.
In October 2021, South Africa recorded the highest growth of Telegram downloads on iPad and iPhone devices combined, with an increase of 167 percent compared to the previous month. (Statista)
More than one third of advertisers on Telegram had a monthly budget of up to 25 thousand Russian rubles as of 2021.
In April 2020, Telegram reached 400 million monthly users, up from 300 million a year ago. (Telegram)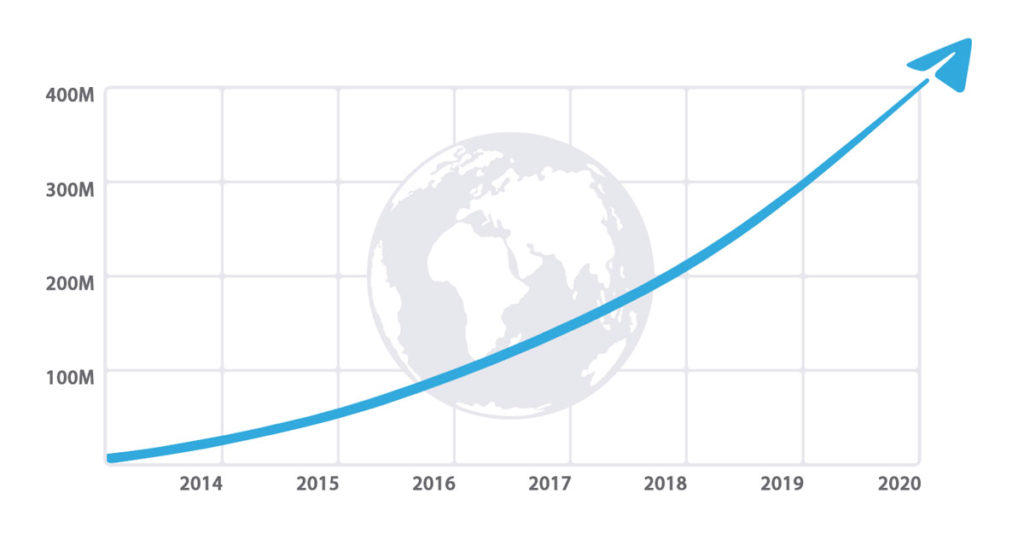 As of July 2020, Telegram ranked among the most popular global messenger apps based on the number of monthly active users. (Statista)